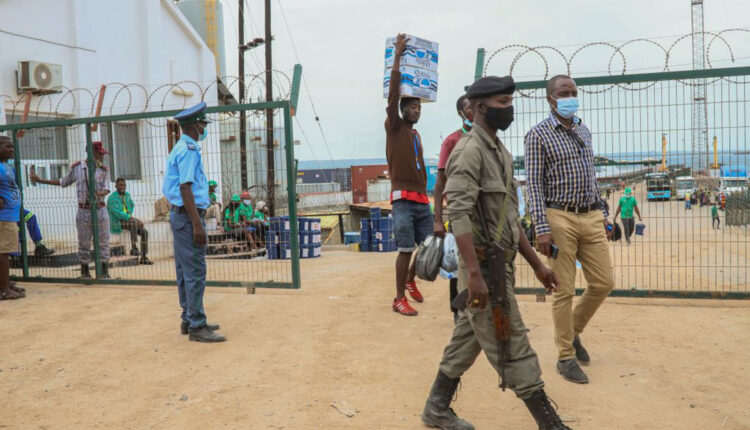 Reading Time:
2
minutes
ADF STAFF
Mozambique is getting some backup in its yearslong battle against Islamist terrorists in the northern province of Cabo Delgado.
Amid concerns that the conflict could expand and engulf the region, the Southern African Development Community (SADC) announced the creation of a military force "to be deployed in support of Mozambique to combat terrorism and acts of violent extremism."
Leaders of the 16-nation group met June 23 for an emergency summit in Mozambique's capital, Maputo, where they drafted a brief statement that was short on details, such as how many troops would be used and when they will mobilize.
After visiting Cabo Delgado to assess the theater in April, a technical team led by Botswanan Brig. Michael Mukokomani, chief of staff of the SADC Standby Force, recommended military intervention.
Mukokomani and the other military experts proposed a force of 2,916 Soldiers, four armed helicopters, two surface patrol ships, one submarine, one maritime surveillance aircraft and other logistical support.
The June 23 statement also urged member states and humanitarian organizations to continue to provide assistance in northern Mozambique, where nearly 1 million people need food, according to the United Nations World Food Program.
At the summit, Mozambican President Filipe Nyusi committed to establishing a base of operations for the SADC force in the port city of Nacala in Nampula, the province to the south of Cabo Delgado.
Nyusi, who historically has resisted foreign intervention, was clear that SADC troops would only support and enhance Mozambican military and police operations.
"These [SADC forces] will be important complements to the efforts which the country is undertaking to confront terrorism," he said at the close of the summit. He was careful to laud his country's "defense and security forces who are selflessly determined to guarantee our sovereignty and territorial integrity and to protect our population."
Although Nyusi resisted intervention over the past year, violence has escalated dramatically in the province, known for its rich deposits of natural gas. The insurgency, which began in 2017 as a local conflict in the coastal town of Mocimboa da Praia, has grown in size and violence.
In 2020, Mozambique confirmed for the first time that the rebel group Ansar al-Sunna was being supported by Islamic State militants in Cabo Delgado.
Nearly 3,000 have been killed in the conflict — half of them civilians — and about 800,000 people have fled their homes, according to the United Nations.
On March 24, 2021, hundreds of militants stormed the port city of Palma, which lies about 25 kilometers from the border with Tanzania. Dozens of people were killed and about 20,000 people are unaccounted for. ISIS claimed responsibility for the attack.
Because of security concerns, French oil company Total suspended its $20 billion natural gas project just a few kilometers from Palma.
Mokgweetsi Masisi, president of Botswana and chairman of the SADC Organ on Politics, Defence and Security Cooperation, confirmed on June 23 that SADC troops would not be deployed on an offensive mission but instead to help restore peace.
He also said the group has committed $12 million to the operation.
"It was not an easy decision to make, but at long last we believe we took the right decision," he said at the close of the June 23 summit. "SADC as a bloc is implementing some of its ideals such as ensuring that there is peace and stability in the region.
"An injury to one is an injury to all."