ADF STAFF
Before South African officials could tear down a makeshift bridge across the Limpopo River, they had to deal with the crocodiles.
Parts of the Limpopo have been infested with Nile crocodiles since 2013, when 15,000 of them were accidentally released into the river from floodgates at a nearby crocodile farm.
Locals shot at them, eventually driving them away on a Thursday afternoon in September 2021. With that, they set about destroying a smugglers' bridge linking South Africa with Zimbabwe. Military personnel later helped them finish tearing it down.
The bridge was a byproduct of the COVID-19 pandemic. Due to the pandemic lockdown, the two countries set up blockades at the bridges crossing the Limpopo beginning in March 2020.
Even with air patrols over the 250-kilometer border, smugglers moved goods such as food, fuel, vehicles, diapers and electrical equipment into Zimbabwe. Going the other way, cigarettes, minerals, wildlife and explosives made up the bulk of items smuggled into South Africa, The Chronicle of Zimbabwe reported.
Because of the smuggling, the two countries lost thousands of dollars in import duties. The situation was worse during the dry season, when some of the riverbed could be crossed on foot. Zimbabwe's side of the river had few vehicle patrols, and security personnel could cover only about 30 kilometers per day on foot. Nonetheless, in eight months in 2021, Zimbabwean security agents arrested more than 46,000 people for border crimes.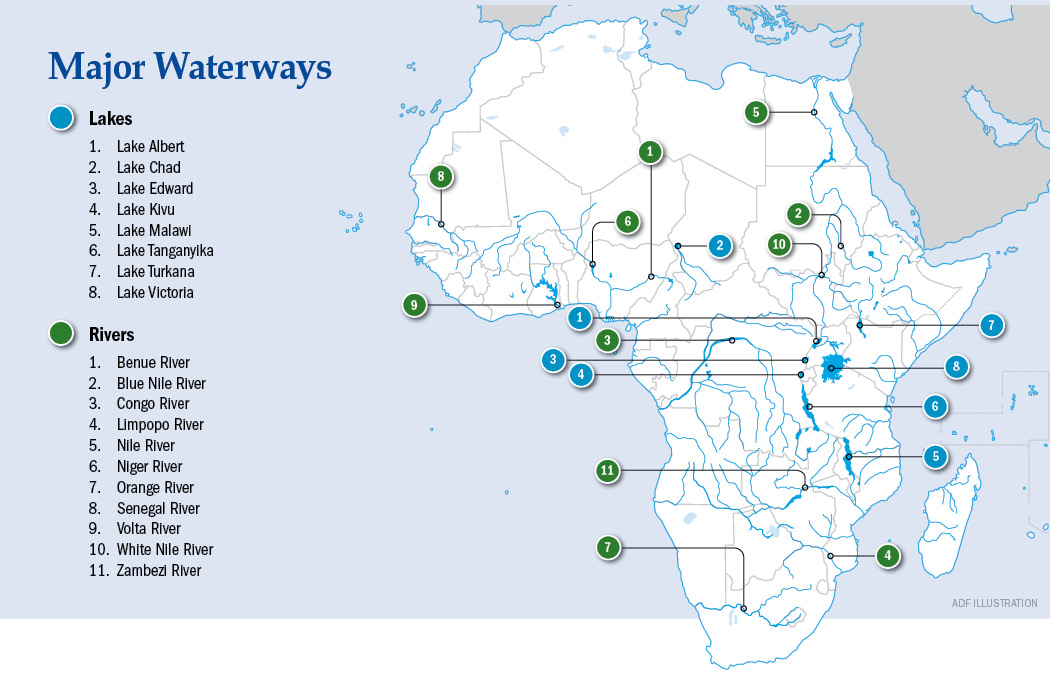 The 16 Major Waterways
The Limpopo, which begins in South Africa and flows 1,750 kilometers past Botswana, Zimbabwe and Mozambique before reaching the Indian Ocean, is a vital part of the lives of the millions of people of the four countries. It is one of Africa's 19 major inland waterways — 11 rivers and eight lakes. They are:
Africa's Great Lakes: Albert, Edward, Kivu, Malawi, Tanganyika, Turkana and Victoria
Lake Chad
The major rivers: Benue, Blue Nile, Congo, Limpopo, Niger, Nile, Orange, Senegal, Volta, White Nile and Zambezi
These waterways provide priceless resources, including fish, drinking water, transportation, irrigation, shipping and electricity. But their resources are frequently abused.  
In a 2022 report for the Institute for Security Studies, researcher David Willima wrote that, "The continent's lakes and rivers are increasingly threatened by illicit fishing, depredation of marine resources, illegal immigration and territorial disputes emanating from unclear borderlines." 
The threats, Willima said, include:
Illicit fishing and the plundering of fish stocks.
Illegal immigration.
Territorial disputes from unclear borderlines.
Boating accidents, made worse by crowded, unsafe boats.
A lack of search and rescue and lifesaving aid.
Disputes over ownership of newly discovered energy resources.
Some of the waterways, such as the 1,400-kilometer Benue River flowing through Cameroon and Nigeria, are especially dangerous during the rainy season. When a church outing on the Benue in July 2020 ended with 20 people drowned, officials cited high water levels as a contributing factor.
Crowded ferries also are a consistent factor in waterway accidents, such as a December 2014 ferry capsizing on Lake Tanganyika, with more than 120 lives lost.
The Freshwater Giant
With a surface area of more than 60,000 square kilometers, Lake Victoria is Africa's largest lake. It is the world's second-largest freshwater lake after Lake Superior in North America. It has an average depth of 40 meters and is twice that deep in some areas. Its shoreline is 7,142 kilometers. The lake is divided among Kenya, Tanzania and Uganda.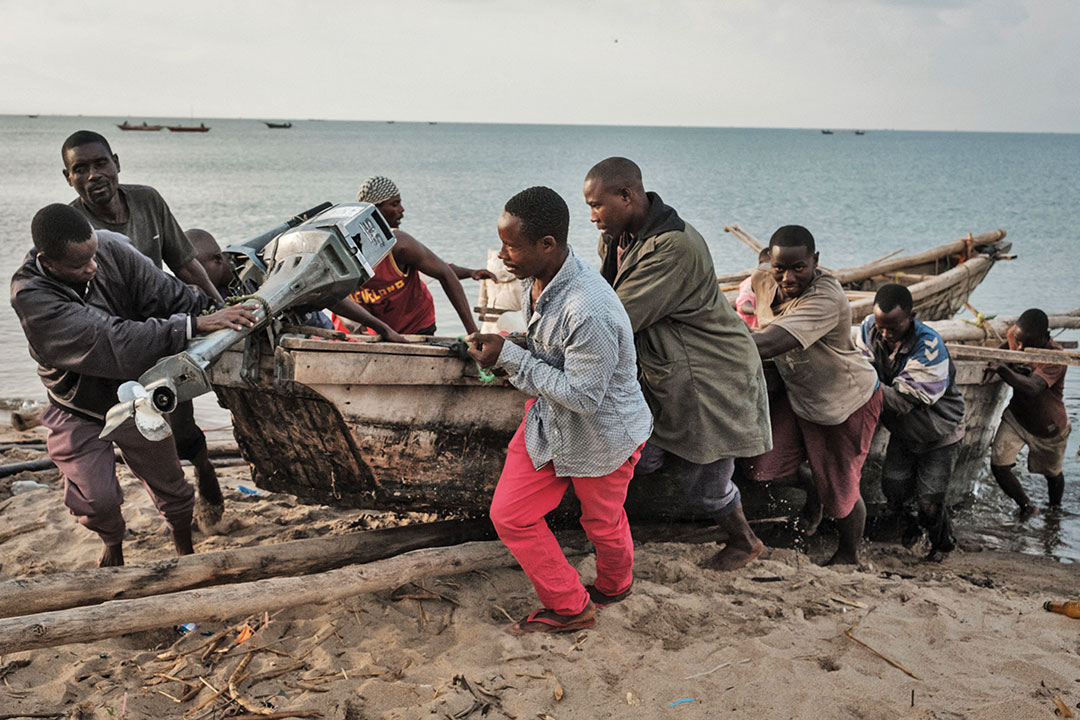 The fishing industry on Lake Victoria employs about 800,000 people, with 70,000 locally made small fishing boats operating in its waters. The small-scale fisheries sector alone brings in about $300 million in annual revenue among the three countries. Illegal, unreported and unregulated fishing by organized crime syndicates endangers the livelihoods of communities around the lake.
The lake has endured years of mismanagement. In the 1950s, the British introduced the nonnative Nile perch to the lake as a food source. Initially, the plan worked, but the perch wiped out other fish, perhaps even hundreds of species. The perch eventually were overfished, ruining the economies of villages that had become dependent on them.
Today, the lake is plagued with pollution that is killing the fish. In just two months in 2021, more than 100 tons of mostly Nile perch washed up on the shores of the three countries, according to a report by the African Arguments website. At up to about $4,000 per ton, it was the equivalent of about $400,000 in potential lost revenue. Local industries are being blamed for the pollution.
Regional authorities estimate that at least 200,000 vessels operate on the lake, engaging in transport and fishing. The lake has an enduring problem with boat safety. Negligence by boat owners is considered the main cause. The Standard newspaper of Kenya has reported that barely a month passes without a fishing boat capsizing. 
In September 2018, a ferry capsized on the lake near Mwanza, Tanzania. More than 200 people died, even though the vessel officially had only a capacity of 100 people. The Lake Victoria Basin Commission says that an average of 5,000 deaths are reported each year.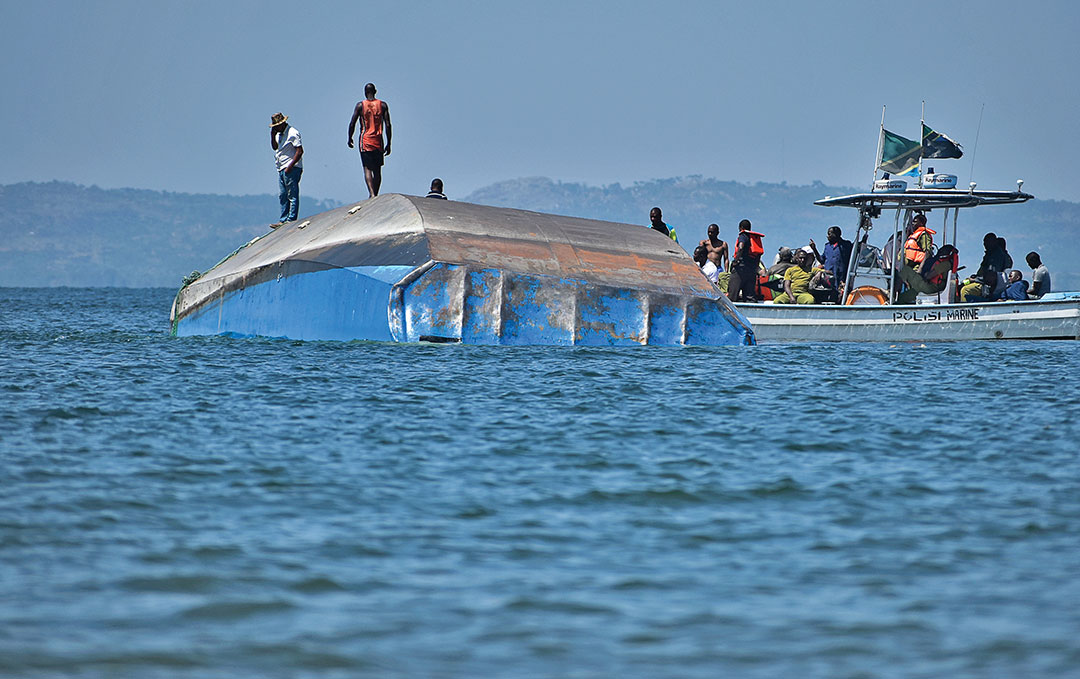 The Standard reported in May 2022 that the three countries were establishing search and rescue centers and a "strong communication system." Elias Bahanda of the commission said that improved safety will boost regional trade.
"The project has been endorsed by all the three partner States," he said. "Navigation will also be improved."
Kenya will host one of the rescue centers in Kisumu. Uganda's center will be in Entebbe. The regional rescue coordination center will be based in Mwanza. All the centers will be equipped with rescue boats that have medical equipment. Officials said that fast boats also will be used for patrols. According to Bahanda, the project could be ready in 2023.
A lack of equipment in weather stations makes it difficult to predict weather patterns on the lake in order to take precautions. The commission has prioritized modern technology to help locate vessels on the lake.
Death on The Congo
The Democratic Republic of the Congo (DRC) is one of the world's poorest countries and has few paved roads compared to its enormous size. For most people, the Congo River is the only real highway. The barges that travel the river are like "floating villages crowded with up to 2,000 people, mainly traders and their goods, from bags of sorghum to barrels of palm oil," NBC News reported. 
Travelers and traders making their way to the capital, Kinshasa, can spend weeks on the river on crowded barges and boats. A January 2022 accident on the Congo River in the DRC claimed 50 lives. In a single weekend in 2010, an estimated 270 people died in two accidents. In one accident, a boat caught fire and capsized. In the other accident, a boat running without lights hit a rock and capsized. 
Such accidents on the Congo and its nearby lakes are common, officials say, because many boat owners cannot afford to keep their crafts maintained. It is common for boat owners to bribe navigation department agents when inspections show problems.
With a length of 4,800 kilometers, the Congo is the continent's second-longest river, after the Nile. It is the world's deepest known river, with depths in excess of 220 meters. It is up to 16 kilometers wide at some points. Nearly the entire river above Livingstone Falls is navigable in sections, especially between the river ports of Kinshasa and Kisangani in the DRC. 
The Congo's three major waterfalls now are bypassed by railways, making the river more useful for travel and trade. A large amount of Central Africa's trade passes through it, including coffee, cotton, copper, palm oil and sugar. The river has the continent's most potential as a source of electric power but so far remains underused.
Researchers say that as useful as the Congo River is for transportation and shipping, it remains inherently dangerous to navigate. Most observers say that the solution to the perils of the river is to build more roads so that people can stay on land.
Stopping Illegal Fishing
Lake Nyasa, also known as Lake Malawi, is the ninth-largest lake in the world and the third-largest in Africa. Lake Malawi is home to more species of fish than any other lake in the world. 
Tanzania has come to recognize that its fish are critical to the country's economy and is working to protect them. 
In 2022, Tanzania acquired 16 speedboats to monitor fisheries in the country's lakes and in the Indian Ocean. Mashimba Ndaki, the country's minister for Livestock and Fisheries, said the boats will be used to monitor and control illegal fishing.
The boats will be allocated in Lake Victoria, Lake Tanganyika, Lake Nyasa and in the Indian Ocean to manage, protect and develop the country's fisheries resources. Ndaki urged leaders in regions and districts near lakes and rivers to support the government in its fight against illegal fishing.
Lake Nyasa has shoreline in Malawi, Tanzania and Mozambique, and who owns what parts of the lake is a source of consistent dispute. Malawi maintains that it owns the entire lake.
Malawi has a $660 million tourism investment master plan to ramp up infrastructure development. 
Like Lake Nyasa, the Zambezi River has problems with overfishing. The river is sometimes referred to as "The Great Zambezi River" because of its power and its features, which include Victoria Falls, one of the Seven Natural Wonders of the World. It is the fourth-longest river in Africa at 2,574 kilometers. The river begins in Zambia and touches six countries before flowing into the Indian Ocean.
Riverside communities fish the Zambezi for food, and game fishing is a tourism attraction, featuring safari lodges. But parts of the upper river have been heavily overfished. Officials have outlawed most types of nets and imposed an annual three-month fishing ban to allow the fish to breed. In recent years, floods and droughts have made fishing difficult, and now, the locals say, lower water levels seem to be a permanent thing.
Protecting Africa's inland waterways from extremists, overfishing, illegal immigration and territorial disputes will require a variety of approaches. Researcher Willima noted that Tanzania established mobile courts to prosecute illegal fishing in its seas, lakes and at dams. He noted that law enforcement in the continent's inland waterways was only as strong as its weakest link, "as weak efforts in one might undermine progress in another."
"Legal frameworks exist that oblige African countries to improve maritime security and safety standards," he wrote. "But most have not yet come into force due to insufficient ratifications."
The legal documents include the 2010 Revised African Maritime Transport Charter and the 2016 African Charter on Maritime Security and Safety and Development in Africa, which is also known as the Lomé Charter. 
Willima urged the continent's nations to "throw their weight behind" such charters and legal instruments.
Nations, along with the African Union, "must be capacitated to help states resolve existing and emerging maritime border disputes," he wrote. "Policies and regulations on illegal fishing need to be implemented not just in Africa's seas but also inland waterways.
"Failure to do so will mean that blue economies along the continent's rivers and lakes will be neither sustainable nor benefit Africans."  
---
U.S. Trains Forces To Combat Lake Chad Extremists
ADF STAFF
Lake Chad is critical to the lives of millions of people in Cameroon, Chad, Niger and Nigeria. It provides drinking water and supports fishing, agriculture and livestock. 
But it also is shrinking. Today, it is only about 1,500 square kilometers — a mere 10% of the size it was as recently as the mid-1960s. The United Nations has described the crisis of water loss as "one of the worst in the world."
The United Nations has been monitoring the situation for decades.
"The shrinking of the lake has also caused several different conflicts to emerge, as the countries bordering Lake Chad argue over the rights to the remaining areas of water," the U.N. noted in a 2012 report. "Along with international conflicts, violence between countries is also increasing among the lake's dwellers. Farmers and herders want the water for their crops and livestock and are constantly diverting the water, while the lake's fishermen want water diversion slowed or halted in order to prevent continuing decline in water levels resulting in further strain on the lake's fish."
Into this already critical situation comes the terrorist group Boko Haram. The group is believed to be responsible for at least 35,000 deaths and has forced 2.5 million people from their homes.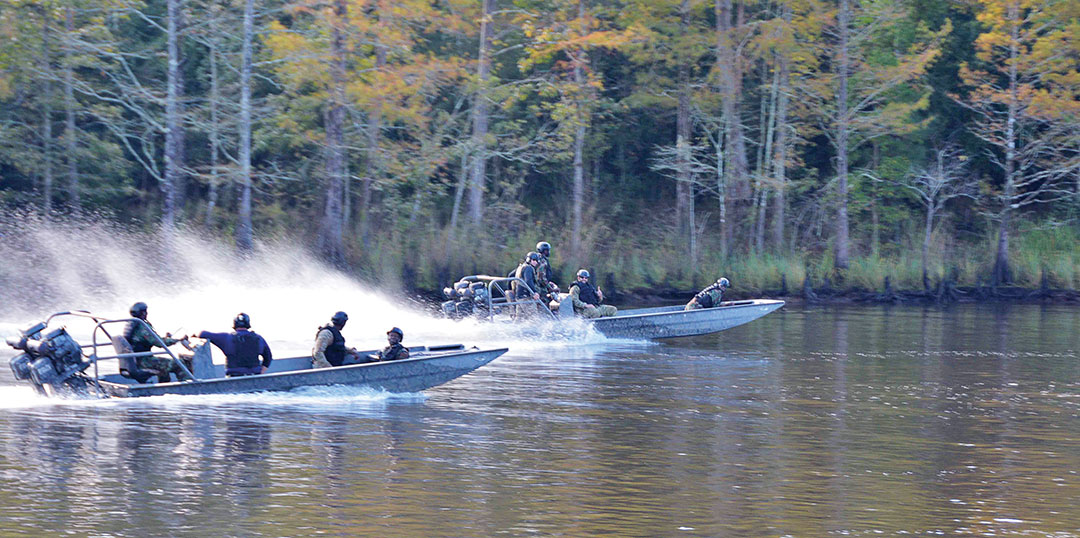 In an effort to improve security around Lake Chad, the U.S. Naval Small Craft Instruction and Technical Training School established the Lake Chad Basin Initiative at its facilities at the John C. Stennis Space Center in the U.S. state of Mississippi.
In its inaugural session in December 2017, the school worked with almost 50 security professionals from Cameroon, Chad and Niger.
Offering 20 formal courses of instruction for the Lake Chad Basin Initiative, the Naval Special Warfare Command incorporated seven tactical, operational and strategic courses into the training. In addition to leadership training, the courses included such instruction as outboard motor maintenance, welding, boat hull repair, instructor development and small arms maintenance.
The classes include in-residence training at the center and mobile team training engagements in Cameroon, Chad and Niger.
About 600 foreign troops get training at the facility each year. Representatives from 124 countries have trained there.
The second year's session had more than 90% of the students coming from the Lake Chad region. Because the region's primary language is French, the school again partnered with interpreters from Belgium, Canada and France. The permanent staff now includes an officer from Cameroon.
Along with partner nation instructors and interpreters, observers from the United Kingdom Royal Marines participated as role players in a surveillance and reconnaissance insertion exercise during the school's Patrol Craft Officer Riverine course. Commandos from the Royal Netherlands Army, who were training at the school in support of another operation, played the role of opposition forces. 
---
How to Protect, Improve Africa's Water Supplies
ADF STAFF
Before such issues as security, overfishing and water safety can be addressed, nations first must protect their water supplies and keep them clean.
A United Nations study titled "Africa Water Atlas" makes these recommendations for Africa's freshwater resources:
Make safe drinking water available to more people. Improving access to drinking water also reduces the incidence of water-related and waterborne diseases such as cholera. One means of making drinking water more accessible is to encourage entrepreneurs to get into the water purification and water bottling business. Governments should promote water disinfection technology.
Ensure access to adequate sanitation. Many waterways in Africa also serve as wastewater dumps. Governments and private enterprise should recognize the potential for revenues generated by sanitation technologies. Experts say that a cultural shift in personal sanitation is needed throughout Africa. 
"Learn from the extraordinary expansion of mobile phones," the U.N. study noted. "Encourage and support simple solutions from entrepreneurs; introduce urban water tariffs; increase sanitation's share in total aid; adopt system financing."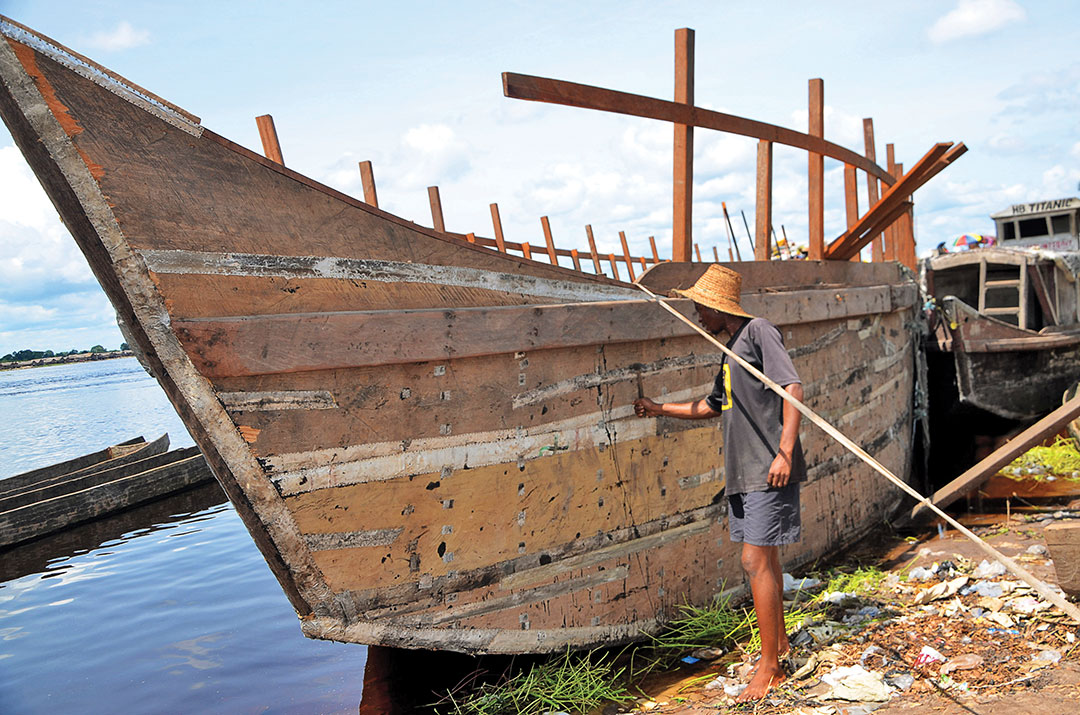 Reduce potential conflicts over water by improving cooperation at transboundary water sources. Africa has 63 shared water basins. Although there is the potential for conflict over water resources, there already are almost 100 international water agreements in place on the continent. Nations need to recognize and build on water as a binding factor in transboundary cooperation.
Provide water for food security. Agriculture is the greatest user of water in Africa. Even so, a great percentage of Africans live with chronic hunger. Africa's irrigation capacity is greatly underdeveloped. The challenge is to invest in simple and inexpensive irrigation technologies, avoid the pitfalls of overirrigation, and tie irrigation development to environmental sustainability.
Develop hydropower. Africa has enormous hydroelectricity potential. The Congo River alone is a source of vast untapped power. Developing hydropower will boost the economy and improve people's lives. Bringing electricity to rural areas will slow the migration of young people to the slums of the big cities.
Prevent land degradation and water pollution. The Sahel in particular has suffered from land degradation with saltwater intrusion polluting groundwater. The solution is to foster the greening of the continent by encouraging adaptation to droughts and support scientific assessments of land degradation and water quality.
Improve the capacity to address water management and shortages. Reform water institutions, improve public-private partnerships and educate the public on how to manage water supplies.