Power Play
Russia's and China's Designs on Naval Bases Could Imperil the Continent's Maritime Security and Sovereignty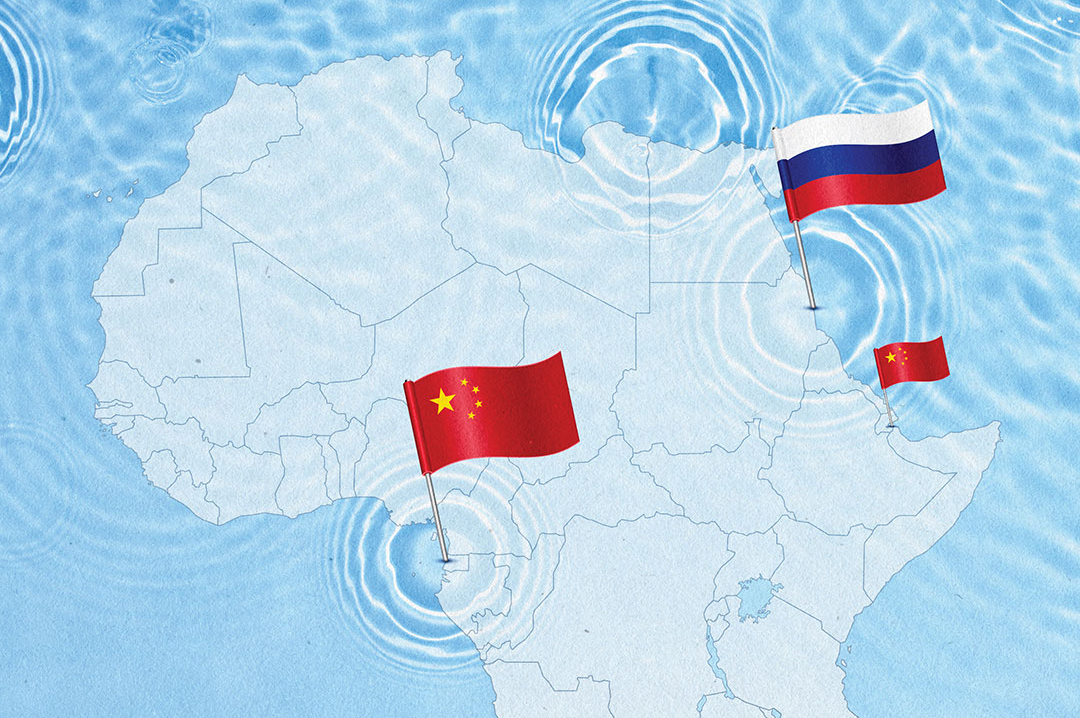 ADF STAFF
AsRussian armored personnel carriers and tanks trundled into Ukraine carrying more than 100,000 conscripts, Sudanese Gen. Mohamed Hamdan Dagalo, known as Hemedti, was meeting with Russian Foreign Minister Sergey Lavrov in Moscow.
Hemedti, deputy chief of Sudan's sovereign council, and other national leaders arrived willing to bolster cooperation between the two nations — one, which is prosecuting a brutal war against civilians and the other, which recently dislodged a move toward democratic rule with a coup.
During the eight-day visit, Hemedti reportedly renewed the prospect of Russia establishing a naval base on the Red Sea coast north of Port Sudan, giving President Vladimir Putin a coveted African naval presence in an increasingly strategic and crowded region.
Across the continent in the Gulf of Guinea, the Chinese government has engaged for decades with Equatorial Guinea, chiefly through infrastructure projects. It now appears to be working to establish a permanent naval base, most likely at the port of Bata on the nation's mainland.
The Bata port has two commercial piers, either of which could handle any ship from the People's Liberation Army Navy (PLAN), according to a December 2021 article by the Center for Strategic & International Studies (CSIS). 
The port is tailor-made for Chinese use. An adjacent oil facility makes refueling convenient, and warehouse space eases resupply work. In fact, the China Communications Construction Co.'s First Harbor Engineering Co. built the port in 2014. The China Road and Bridge Corp. later upgraded it. The Export-Import Bank of China provided funding.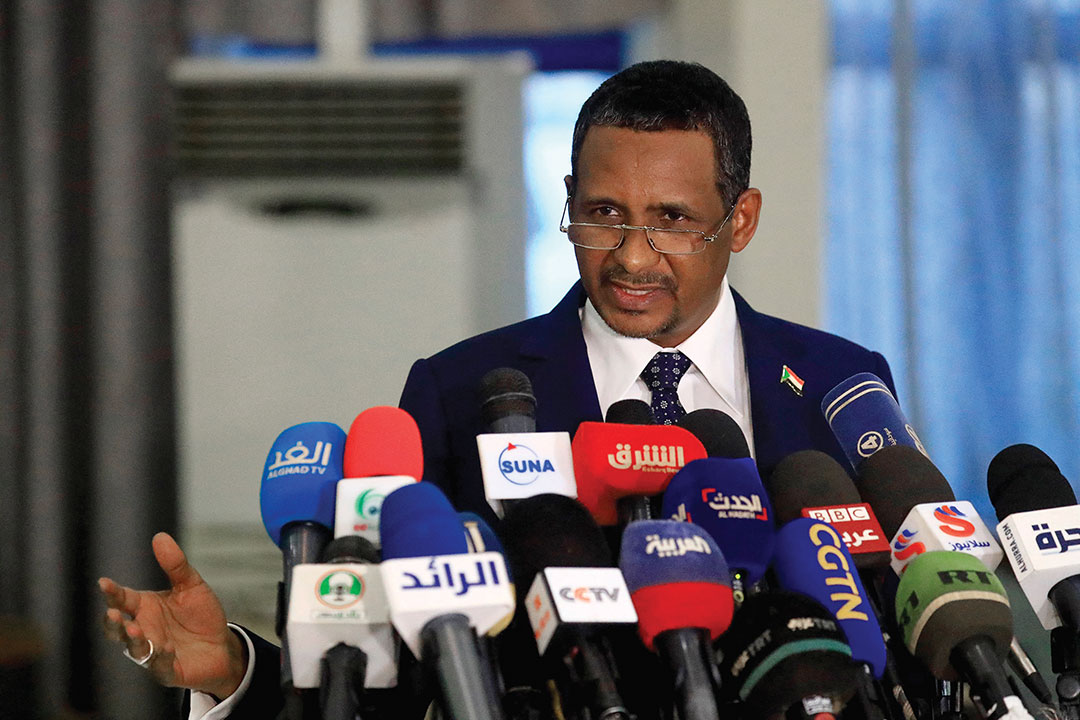 China even built the hydroelectric plant that supplies most of the port's power.
"China has strengthened defense and security ties with Equatorial Guinea directly through bilateral engagements and indirectly by increasing its activities in the Gulf of Guinea," the CSIS report states. "In 2014, the PLAN began port calls with Gulf countries and launched its first anti-piracy drills with local navies. From 2014 to 2019, China engaged in 39 military exchanges with Gulf counterparts, many involving PLAN vessels conducting anti-piracy operations."
A Chinese naval base on the West African coast would complement its military base in Djibouti, established in 2017. In Djibouti, China joined France, Germany, Italy, Japan, Saudi Arabia, Spain, the United Kingdom and the United States in establishing bases along the strategic Suez-Red Sea-Gulf of Aden corridor.
Russian and Chinese efforts to bolster their naval presence along the continent's coastline raise serious questions about how nations can control their exclusive economic zones, especially as it relates to the fishing industry, the extraction of natural resources and other financial concerns. National governments will have to consider long-term ramifications of such deals as efforts continue to make the continent ground zero among great power competitors.
RISKS TO SOVEREIGNTY
Any time a foreign government finances, builds and operates a major infrastructure project in another country, there are inherent risks. Much has been written in recent years about how China uses its Belt and Road Initiative (BRI) to strike one-sided infrastructure deals that provide major projects using Chinese labor while building up billions of dollars in crushing debt for host nations. Such BRI projects already exist across the continent and in Asia.
Base and port deals open nations to vulnerabilities on at least three levels, according to "Influence and Infrastructure: The Strategic Stakes of Foreign Projects," a study for CSIS by Jonathan E. Hillman, a former senior fellow.
Financing is the broadest category of potential influence. As a project is negotiated, the lending country can win concessions and set repayment conditions. As funding is disbursed, the lender holds the power of reward or punishment. Debt, which can be profound and outside a host nation's ability to repay, can be leveraged against the infrastructure if the recipient can't meet payment terms. Countries such as China or Russia could exert unwelcome control over infrastructure if payments aren't made.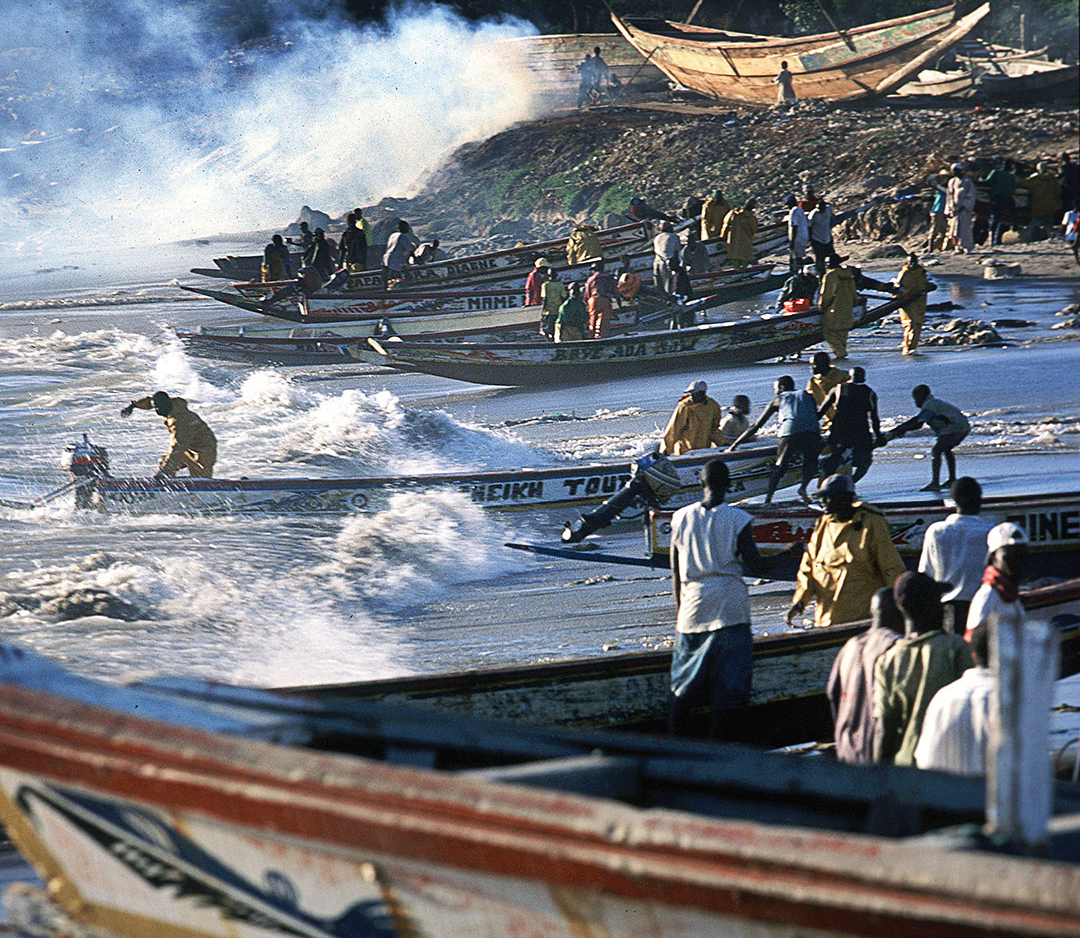 Intelligence-gathering is among the risks at the design and construction stage, Hillman wrote. "For example, Soviet intelligence agents produced highly-detailed maps that included not only a bridge's basic location and dimensions, but also its height above water, the construction material used, its weight limit, and other details," he wrote. Risks also could include the installation of surveillance equipment.
Such was the case with the African Union headquarters building in Addis Ababa, Ethiopia, which China built as a "gift" for the AU. Authorities learned in 2017 that each night between midnight and 2 a.m., confidential data was being transferred from AU servers to servers in Shanghai, a charge China denied. Three years later, Chinese hackers were found to have rigged a system to copy surveillance video footage from AU headquarters, Reuters reported.
Finally, ownership and operation can limit competitors' access to strategic areas and help owners accrue regional influence "as they own and control a broader network of infrastructure assets," Hillman wrote. Again, this can aid in intelligence-gathering.
"There is a long history of countries using commercial ports for intelligence operations, whether to gain information or conceal the movement of goods or people," he wrote.
Ownership also affords logistical advantages. The potential for such advantages would be profound for China were it to succeed in establishing a naval base in Equatorial Guinea, or anywhere along the West African coast.
EXPLOITING RESOURCES
China and Russia are known to sponsor vessels that fish illegally off the African coast. But China's distant-water fishing fleet (DWF) is in a class by itself. It's not clear how many ships the DWF comprises, but most conservative estimates put it at 3,000 or so.
The fleet already has siphoned away a substantial quantity of West Africa's fish stocks, and a naval base in Equatorial Guinea — or anywhere on the Gulf of Guinea coast — would make enforcement efforts nearly impossible. Maritime law expert Ian Ralby, CEO of I.R. Consilium, said the addition of a Chinese naval base in the tiny West African nation would result in a "really grim picture."
"It's already a cataclysmic situation vis-a-vis Chinese illegal fishing across almost all of West and Central Africa," he told ADF. "If they then also have the naval assets to protect that from any interference, there's just no hope."
With Chinese ships stationed at the center of the Gulf coast, nations such as Cameroon, Gabon, São Tomé and Príncipe, and others would be hard-pressed to stand up to a great power navy if it sought to protect its nation's fishing vessels.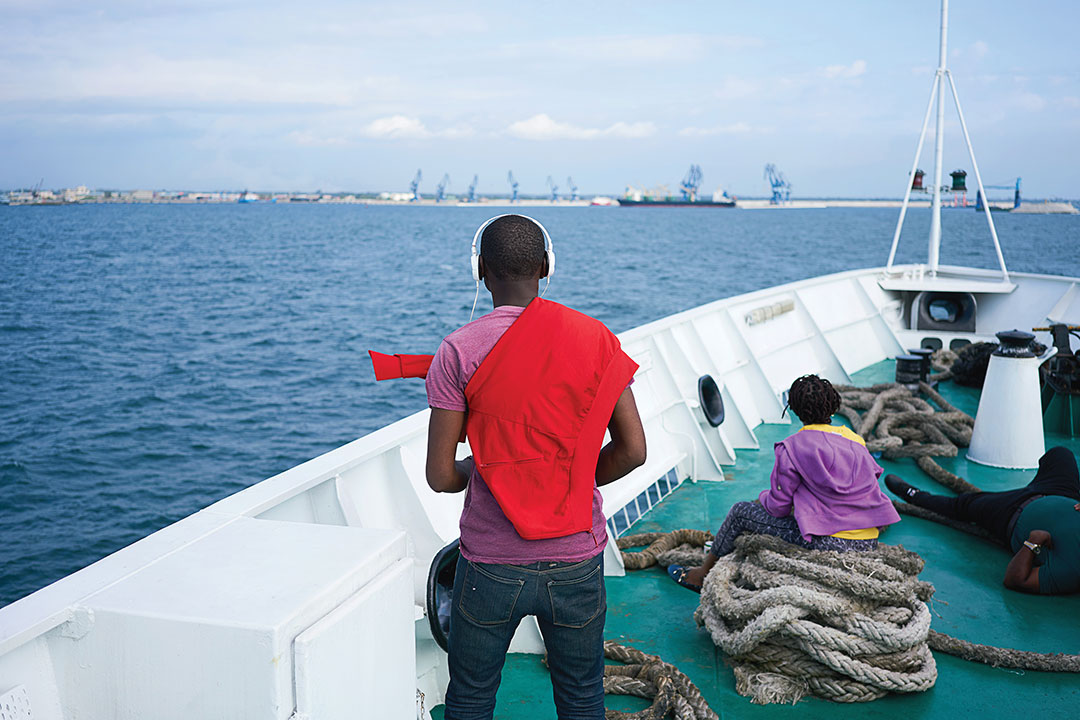 The potential problems don't stop with just fishing. Ralby said a heightened Chinese naval presence also could harm economic development in Equatorial Guinea and the region. The effects could extend to marine and coastal tourism, and they could affect blue economy efforts such as the harvest of seaweed or other marine resources for use in soap, cosmetics and medicines.
Across the continent, Russia's relationship with Sudan threatens to plunder other resources, chiefly those from Africa's interior.
Sudan's ties with Russia are nothing new. When Putin invited African leaders to a summit in Sochi in 2017, Sudan's then-dictator Omar al-Bashir said "Sudan would become Russia's key to Africa," Mohammed Elnaiem, a London-based Sudanese activist, told German media service Deutsche Welle. 
Sudan is strategically important for Russia because it "stands at the confluence" of the Sahel, Horn of Africa and the Red Sea basin, Sudan expert Kholood Khair said. Such a base would afford the Kremlin a range of new geopolitical advantages, she said.
"A Red Sea base for Russia would allow it to have a presence between two international chokeholds — one, the Suez Canal and the other, the Bab el Mandeb Strait between Yemen and Somalia," Khair, a founder and managing partner of Insight Strategy Partners, a Sudanese policy think tank in Khartoum, told ADF. "And so it will allow it to be able to potentially control, if not influence, some of the trade that goes through there and also allow it to expand its trade, including, of course, bringing in resources into Russia — for example gold coming out of not just Sudan, but Central African Republic, Mali, etc."
The proposed base reportedly would accommodate nuclear-powered vessels and be available to Russia for 25 years with built-in renewal opportunities. It could refuel Russian and allied vessels. Perhaps most important, said Khair, it offers a sea outlet for the extraction of mineral resources by Russia's Wagner Group private mercenary force.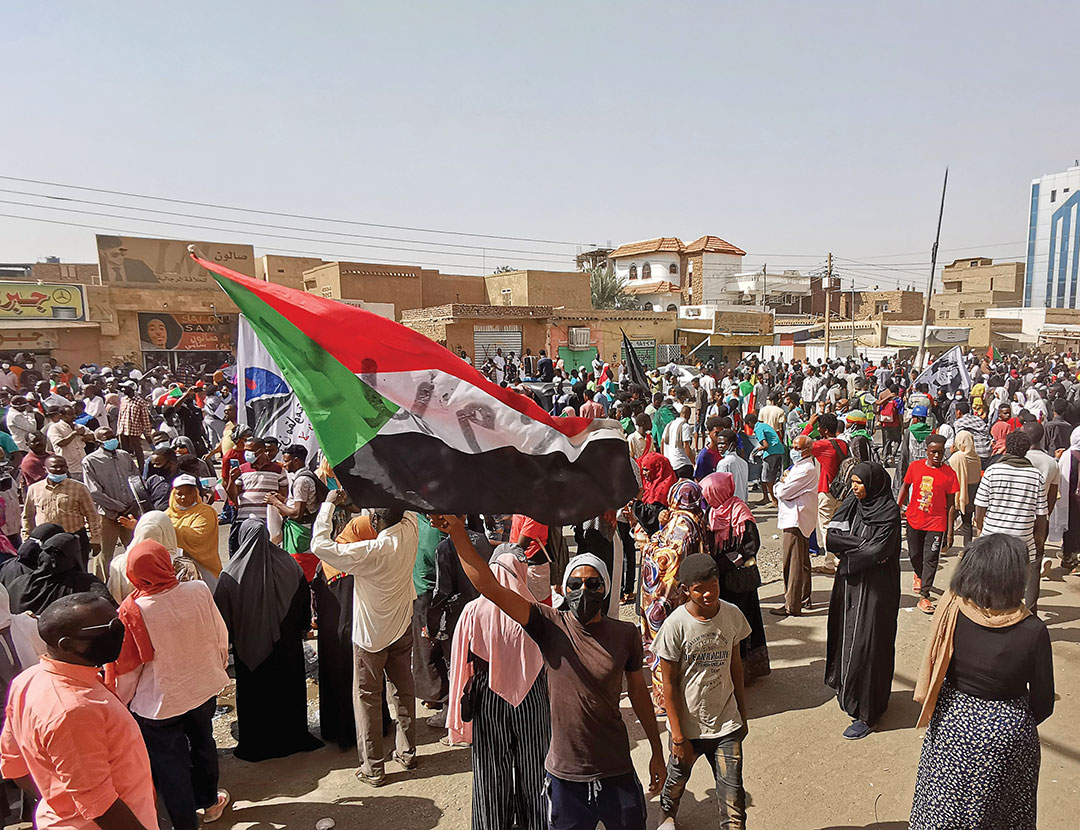 Wagner operatives are active in the Central African Republic, Mali and Sudan. "Wagner is a military asset that is there for economic reasons," Khair said. It is used to funnel resources such as gold out of landlocked countries to bolster President Vladimir Putin's war chest. A base on Sudan's coast significantly eases that task.
Aligning with an increasingly isolated Russia represents a gamble for Sudan. The Kremlin saw renewed opportunity in Sudan with generals such as Hemedti and Abdel Fattah al-Burhan calling the shots. And Russia offers Sudan a significant ally that won't pressure it to pursue human rights or democratic governance, Khair said.
The military regime is losing money and access to debt relief and financing, so Russia offers markets for gold and bolsters Sudan's financial standing. It is, Khair said, a reversion to al-Bashir-era politics.
However, now that Russia is facing global isolation, the initial calculus might not pay off as expected. The Ukraine invasion has made Putin a pariah. Sudan's military wants legitimacy, but it also wants to maintain power. Those two desires, mixed with Russian ties, are difficult to reconcile. The prospects for lasting civilian rule also suffer as a result.
"For the pro-democracy movement, it's bad news," Khair said. "It means that the generals' role is sort of externally strengthened by a patron such as Russia that also sees no reason to cultivate any kind of democratic will."