Rosewood Theft Drives Corruption Along Cameroon-Nigeria Border
ADF STAFF
In the Bamanga forest of northern Cameroon, the sound of axes biting into tree trunks has become a part of everyday life. The axes are often wielded by local poachers or by those crossing the border from Nigeria. Their target: rosewood trees.
Africa's rosewood trees, also known as kosso, are a prized resource for Chinese makers of luxury furniture. Environmental activists say China's lust for rosewood lumber drives a black market that is corrupting government officials and tribal leaders, undercutting international protections, and devastating the environment.
According to Raphael Edou, Benin's former minister for environment, rosewood poaching in Cameroon also weakens the rule of law there. Benin was an early target of the Chinese-driven rosewood trade.
"Cross-border trafficking is usually rooted in well-organized criminal networks that link certain community leaders, timber traders (local, regional and national) and foreign businessmen in charge of export," Edou, who is now Africa program manager for the nonprofit Environmental Investigation Agency (EIA), told the Museba Project. The project investigated rosewood poaching in Cameroon and Nigeria.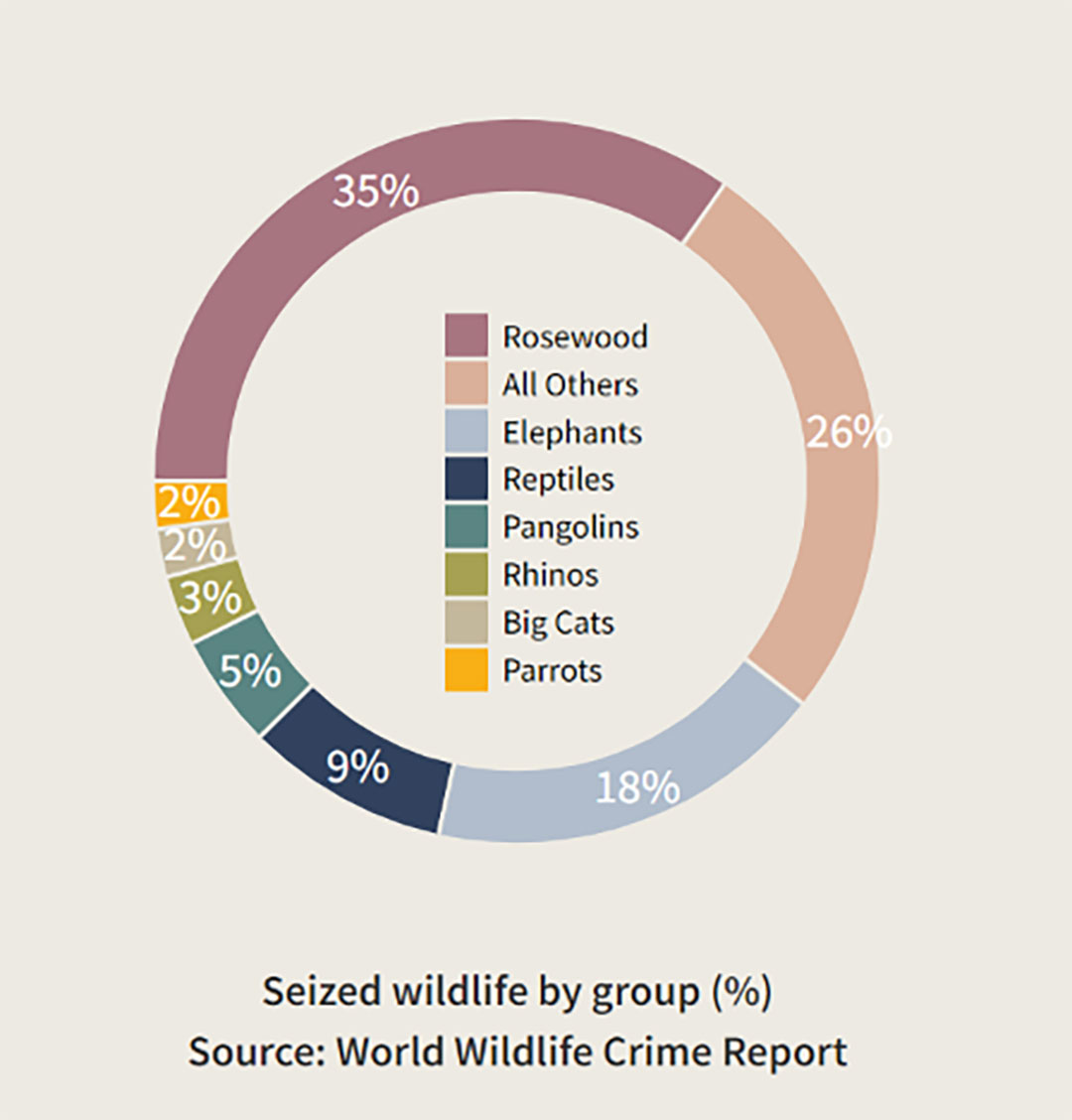 $12 Per Log
The story of rosewood poaching in Cameroon starts with farmers and herders looking to make extra money. At 25 to 30 meters tall, a mature tree can be worth hundreds of dollars — many times the average monthly income in Cameroon.
Each tree is cut into logs about 2 meters long and half a meter on each side. Each log is worth about $12 for poachers. The dimensions are mandatory for the logs to stack in shipping containers for their trip to China. Bribes clear the path for the logs past Cameroonian forest rangers, Nigerian tribal chiefs, Nigerian environmental officials and, ultimately, port authorities in Lagos.
From there, the logs disappear into a global market for tropical hardwoods valued at more than $3 billion. Eighty percent of that lumber ends up in China, according to the United Nations' "World Wildlife Crime Report 2020." One-fifth of the trade is described as rosewood.
China's appetite for rosewood has made the commodity the world's most trafficked wildlife product. The trafficking of rosewood logs account for 35% of all illegal wildlife trafficking —more than elephants, rhinos, pangolins and reptiles combined, according to the World Wildlife Crime Report.
In 2017 and 2018, African countries accounted for virtually all the rosewood lumber imported by China, according to the report.
The rosewood poaching happening between Cameroon and Nigeria echoes similar practices that have gone on for many years along the border of The Gambia and Senegal's southern Casamance region.
The Gambia exports millions of dollars of rosewood logs from its port in Banjul every year, despite the fact that poaching has virtually erased its own rosewood supply.
A BBC Africa Eye report found that many of those logs come from forests in Casamance, where they are illegally trucked into The Gambia, warehoused and later certified as legal products of that country. Senegal has banned the cutting of rosewood trees. The leaders of both countries have pledged to crack down on rosewood poaching.
Bypassing Protections
The most popular rosewood species, Dalbergia and Pterocarpus, are protected under CITES, the Convention on International Trade in Endangered Species. Nigeria was the second country to sign on to CITES when it was adopted in 1974. Cameroon joined in 1981. Senegal and The Gambia also are part of CITES.
Under CITES, countries must ensure that rosewood harvesting is done legally and sustainably. It's not clear that either of those conditions are being met in the Bamanga forest.
Nigeria remains Africa's largest exporter of rosewood. According to a 2017 EIA investigation, more than 40 shipping containers packed with rosewood logs left Lagos bound for China every day between January 2014 and June 2017. In 2017 alone, the country shipped more than 475,000 cubic meters of rosewood abroad, according to the U.N.
How much of that rosewood came from Cameroon? It's hard to say.
What's clear is that Nigerian poachers and their Chinese backers moved into Cameroon after destroying their own rosewood stocks in the northern states of Cross River, Adamawa, Taraba, Kaduna and Ondo. Cameroon's 22 million hectares of tropical forest were ripe for exploiting.
"When Nigerian traffickers saw that forest resources were depleted when they had to continue to meet Chinese demand, they began crossing the border to illegally cut Kosso into neighboring Cameroon," the Museba Project reported.