CAR Violence Grows With Addition of Russian Land Mines
ADF STAFF
The ongoing fight between government forces and rebels in the Central African Republic (CAR) has taken an explosive turn with the addition of land mines and improvised bombs, putting civilians directly in harm's way.
In the latest demonstration of how the situation in the CAR is escalating, a roadside bomb in September exploded under a relief convoy in the nation's northwest, killing one aid worker.
A United Nations analysis found that Russian mercenaries known as the Wagner Group are driving the increased violence. Wagner forces are working with the CAR government under President Faustin-Archange Touadéra to put down a rebellion by the Coalition of Patriots for Change (CPC) led by former President François Bozizé.
The Wagner Group entered the CAR in 2017 to act as military advisors and security for Touadéra. Since then, Wagner's numbers have expanded from fewer than 200 to more than 2,100 today spread across 30 bases, according to a report by the U.N.'s Panel of Experts on the Central African Republic.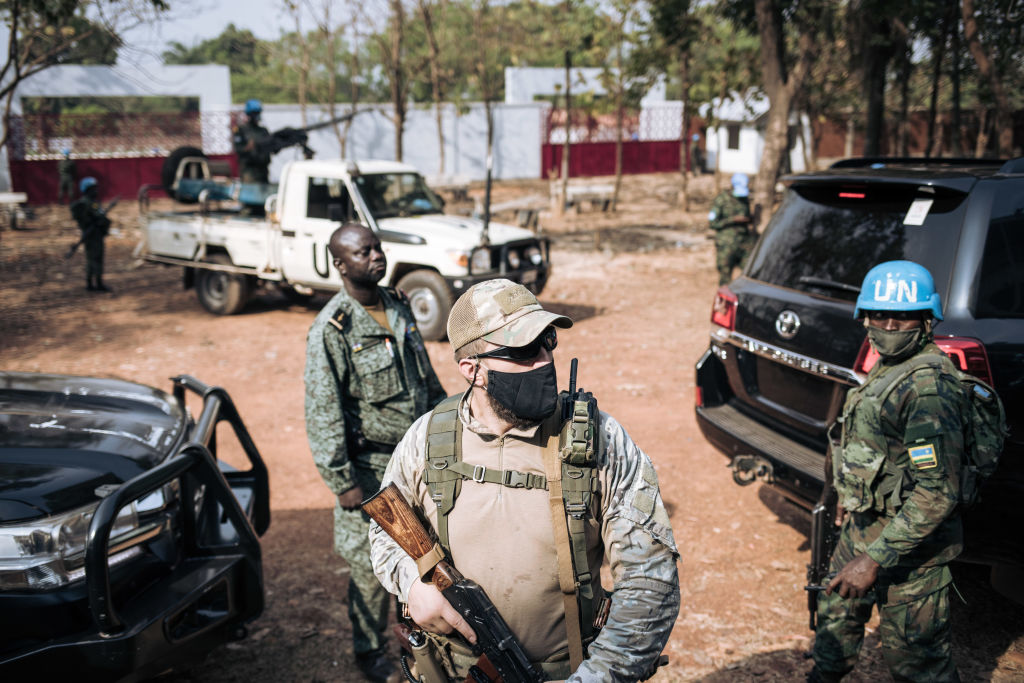 Representatives of the CAR's military told the U.N. that they were not receiving training, contrary to Russian claims, and also said Russian mercenaries operated quite separately from the CAR Armed Forces.
Instead of advising, Wagner mercenaries have taken the lead in battling CPC fighters. Wagner fighters have added anti-personnel land mines to CAR's already volatile environment, violating international law and creating potentially deadly situations for peacekeepers, aid workers and noncombatants.
The first reports of mines occurred in mid-2020, and land mine attacks have increased dramatically this year, according to the U.N. analysis. In more than 24 incidents from January to August, explosives killed at least 14 civilians and injured 21. Among the dead were a pregnant woman and two children. The injured included two peacekeepers.
According to the U.N., Wagner is using the type of anti-personnel mines the group used in Libya. In that case, Wagner forces planted booby-trapped mines in residential neighborhoods.
In the CAR, mines have been laid along roads and outside schools. According to weapons experts, the land mines being deployed in the CAR appear to have come from Libya, where the Wagner Group remains active, and Chad and Sudan.
CPC rebels have responded by deploying their own improvised explosive devices (IEDs) to target CAR military and U.N. peacekeeping vehicles.
"It's a very worrying trend," David Lochhead, a senior researcher with the Small Arms Survey, told the BBC. "An IED may cost $35 to build, and you can defeat an armored vehicle that costs $500,000."
Land mines and IEDs are making roads impassable and cutting off civilians from outside aid by peacekeepers and humanitarian groups. The fighting has displaced more than 1.4 million people.
The U.N. mission in the CAR recently reported it was forced to suspend demining efforts by the CAR military and its Russian advisors.
In a letter to Ivan Mecheten, the Wagner Group's chief in the CAR, the U.N.'s Working Group on the use of mercenaries accused Wagner of making things worse in the country: "The deployment of your personnel appears to have contributed to the rapid escalation and intensification of hostilities, in turn resulting in civilian harm and suffering."