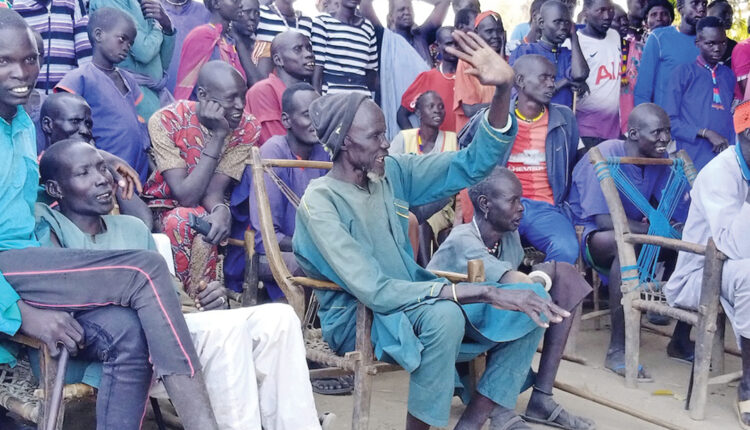 Reading Time:
2
minutes
ADF STAFF
Conflicts caused by the annual cattle migration are common in South Sudan. Cows sometimes eat or destroy the crops of farmers, who may react by killing the cattle. This escalates to warfare between families or villages. The United Nations Mission in South Sudan (UNMISS) is supporting an effort that travels from village to village facilitating dialogue to resolve disputes. 
"Our objective in coming here today is to encourage you to opt for dialogue to resolve any disagreements instead of resorting to violence," said Joseph Ngoriakou, UNMISS civil affairs officer, as he addressed a gathering in Warrap State in early 2021, according to ReliefWeb.
About 200 people, including women, young people and local leaders from the region, gathered to discuss how to make the ongoing cattle migration season as peaceful as possible for herders and farmers. 
"Please, do not let your cows destroy our crops. We [farmers] are ready to share the resources that exist with you in a peaceful way," Wol Ngong Uchala, a resident of Bab-Chok in the Malual Muok area, said when speaking to cattle herders at a UNMISS event. 
The U.N. also is supporting a mobile court to issue judgments in disputes that can't be resolved through dialogue alone. The groups signed the Marial Bai agreement in 2016 that states how conflicts should be resolved, how herders should seek permission to move cattle and how compensation should be paid in the event of a loss.
Speakers at the event stated a need to reduce the amount of illegal weapons circulating in the region. 
"In the past, humans would run for safety from lions attacking them. These days, humans run for their lives because of other humans," said Kerubino Mayar, a cattle herder from Tonj. "They have guns and kill each other. It must stop. Let there be reconciliation, let us stop these problems from happening."