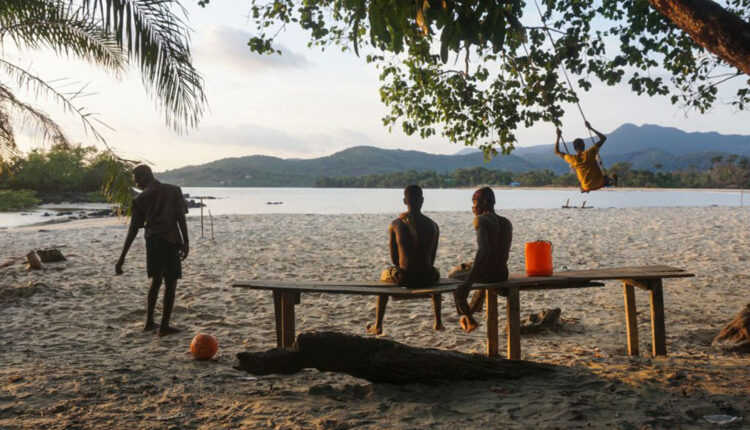 Reading Time:
3
minutes
ADF STAFF
Sierra Leone's plan to build a $55 million industrial fishing harbor on 100 hectares of beach and protected rainforests continues to cause controversy among fishermen and conservationists.
The Chinese-backed project at Black Johnson Beach includes a fish processing plant in a tourist area 35 kilometers south of Freetown, the capital. It borders virgin rainforest that is home to chimpanzees and protected bird species, as well as Western Area Peninsula National Park, where endangered species such as duiker antelope and pangolins live.
A nearby lagoon is a breeding ground for fish and turtles and opens up into a river during the rainy season, while the waters of Whale Bay brim with sardinella, sardines, barracuda and grouper.
An opinion piece in the Sierra Leone Telegraph newspaper predicted that the project will threaten national food security, destroy pristine fish-breeding sites and devastate the livelihoods of artisanal fishermen, who already compete with scores of foreign trawlers, many of which use illegal tactics to net massive hauls. More than 200,000 people work in the country's small-scale fisheries.
Currently, 140 vessels are licensed to operate in Sierra Leonean waters, almost half of which are owned by Chinese companies and 40% are owned by companies based in the European Union, according to Greenpeace, the global conservation organization. Because much of the catch is exported, Sierra Leone derives little benefit from the fish caught in its waters.
In May, the Fisheries and Marine Resources Ministry issued a news release saying the government has "yearned" for a fishing harbor since the 1970s. The harbor also will create jobs, increase the fish stock, enhance the country's capacity to export fish and will include a waste management component, the release said, without offering details.
Project critics, such as Tommy Gbandewa, a local eco-lodge owner, say no one conducted the proper environmental assessments before the deal was signed.
"If the Chinese come here, the environment will be stinking," Gbandewa told Agence France-Presse (AFP). "The beaches will be smelling."
Sierra Leone's government has refuted widespread rumors that the plan will include a fishmeal factory, saying it is a "fish harbour" allowing large tuna vessels and others to anchor and process their catch for sale. "The facility will comprise a waste management component which will involve recycling of marine and other wastes into useful products," Minister of Fisheries and Marine Resources Emma Kowa-Jalloh wrote in a statement.
Fish meal factories are viewed as a scourge in the Gulf of Guinea region over their harmful effects on local ecosystems and the environment. They also offer locals few jobs with low pay.
Two legal groups have written to the government demanding to see the environmental impact assessment studies, and Green Scenery, a local environmental nongovernmental organization, has urged the government to cancel the project.
"Black Johnson is the only eco-tourism destination left within Freetown; we need to protect it," Joseph Rahall, the group's executive director, told AFP.
Others worry that the harbor will encourage even more illegal, unreported and unregulated (IUU) fishing, which costs Sierra Leone $29 million a year. About 75% of IUU incidents in the country are connected to China, according to estimates by China Dialogue Ocean.
Like other West African nations, Sierra Leone has struggled for years to restrict IUU fishing. In March, the Sierra Leone Navy — with the help of Sea Shepherd Global — arrested five trawlers, including two flying Chinese flags, on illegal fishing charges in two days.
Sierra Leonean President Julius Bio acknowledged that the project is part of China's Belt and Road Initiative, which is meant to expand trade by building roads, ports, dams and railroads in Africa and elsewhere. The initiative's financial deals are notoriously opaque with few details made public.