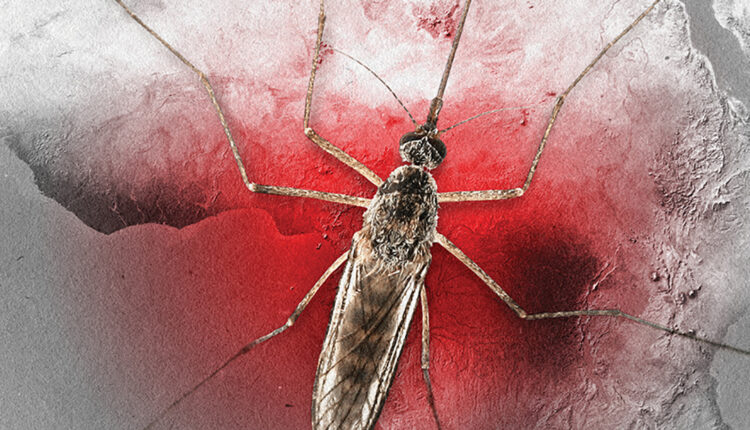 Reading Time:
8
minutes
ADF STAFF
In the swamplands of central Tanzania is a place called Mosquito City. It has the world's largest captive colony of mosquitoes used for researching the spread of malaria and other mosquito-borne diseases, such as Zika virus and dengue fever. Scientists with the Ifakara Health Institute are working to understand mosquito behavior, such as when they mate. The goal is to learn how to best trap, repel and kill mosquitoes.
"Part of our work here is to innovate and create new tools so we can just keep pace," Fredros Okumu, chief scientist at the institute, said in a video on GatesNotes.
Malaria once was so widespread in the region that it infected 80% of the population. Many babies never reached their first birthdays. In fact, the meaning of the town's name, Ifakara, is "The place people go to die."
But researchers are making progress. Malaria deaths in Tanzania were cut by more than 50% between 2014 and 2019, according to MalariaSpot. Scientists now have an even more ambitious goal: eradication.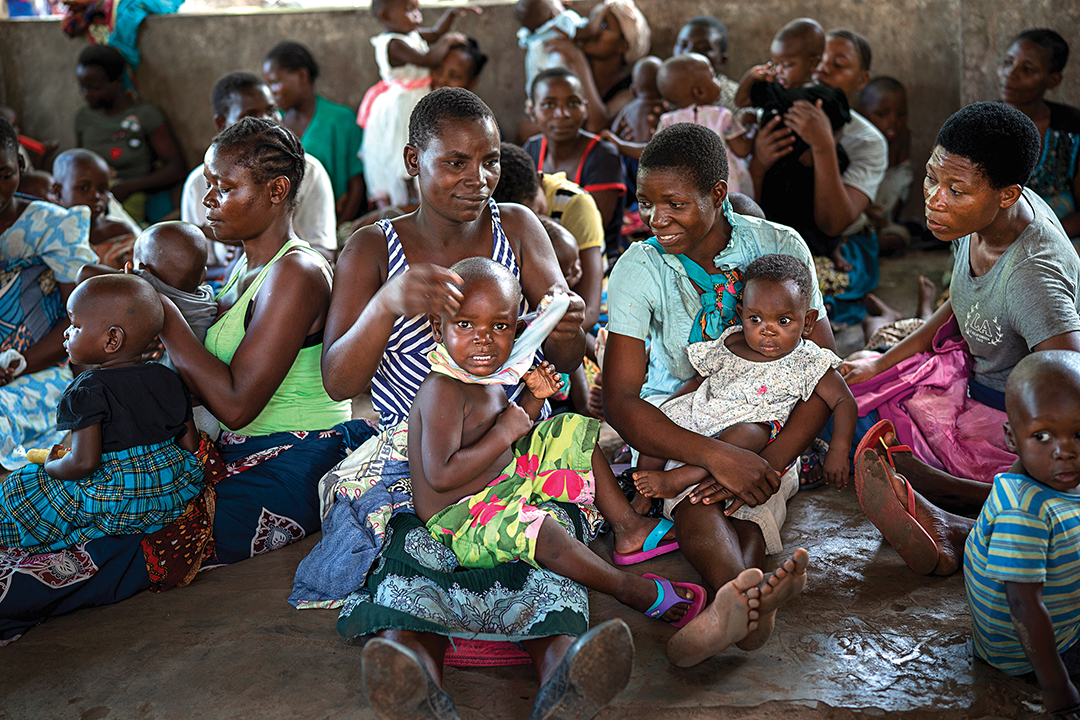 "For the mosquitoes that carry malaria, we see no need to continue sharing this beautiful, beautiful planet with them," Okumu said.
One Disease on Top of Another
The spread of COVID-19 has slightly weakened, but not stopped, efforts to eradicate malaria in Africa.
More than 90% of anti-malaria campaigns across four continents were on track at the end of 2020. During the year, officials distributed 200 million mosquito nets in 30 countries. They sent antimalarial drugs to 12 countries in and around the Sahel. The RBM Partnership to End Malaria reported that Kenya, Malawi and Ghana had immunized more than 300,000 children against the disease in a pilot program started in 2019.
"This year, under the worst of circumstances, countries have proven they don't need to choose between protecting populations from COVID-19 or malaria; they can, and should, do both," said Abdourahmane Diallo, who heads the RBM (formerly Roll Back Malaria) Partnership.
"Despite the unprecedented challenges faced, it is a remarkable achievement that countries and their partners around the world have successfully sustained planned malaria efforts, including distributing record numbers of insecticide-treated nets, and [are] continuing the march to zero malaria — ensuring that communities remain protected from the deadly mosquito bite," he said, as reported by the partnership.
Health officials have said that the worldwide spread of COVID-19 is affecting the treatment of other illnesses. During the 2014 Ebola outbreak in West Africa, malaria, tuberculosis and HIV/AIDS caused more deaths than Ebola because the epidemic disrupted local health care systems. Health officials have expressed fear that the same could happen with COVID-19.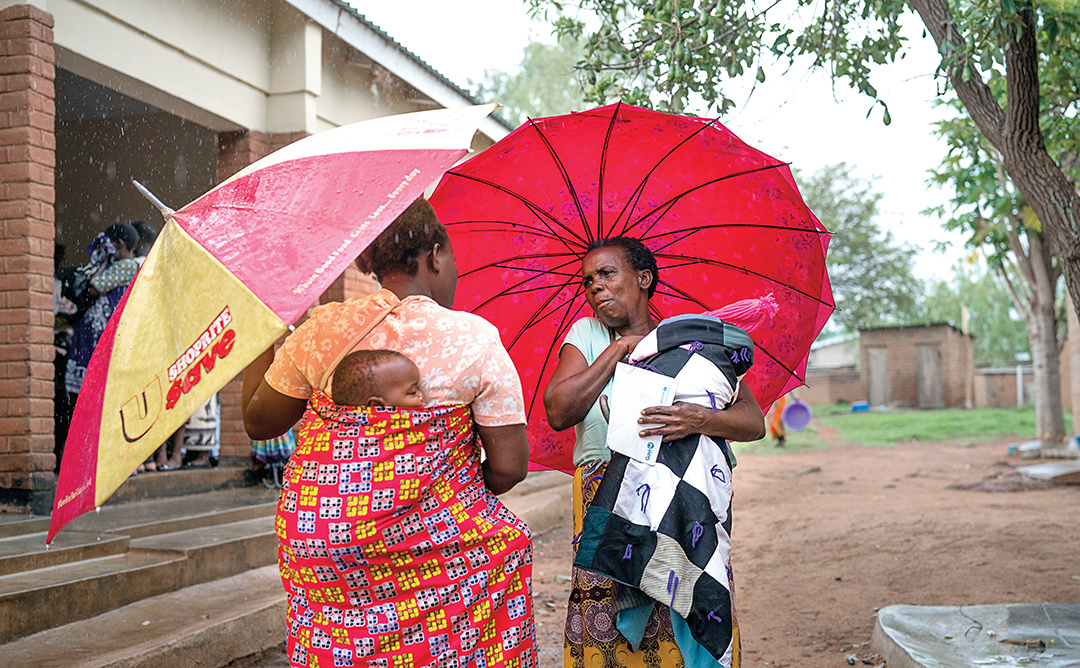 "We must use COVID-19 as an opportunity to learn lessons to improve collaboration and innovation, as well as set our ambitions higher for achieving zero malaria," said Peter Sands of the Global Fund to Fight AIDS, Tuberculosis and Malaria, as reported by The Guardian.
The World Health Organization (WHO) has advised governments to adapt their malaria campaigns to protect health care workers and people distributing supplies and mosquito nets from COVID-19.
Although COVID-19 has devastated the world's economy, malaria remains a potent killer. The WHO says that in 2018 there were 212 million cases of malaria in Africa and 381,000 deaths, which were both lower figures than for 2017. In 2020, it was estimated that for every COVID-19 death in Africa, there were seven to eight malaria fatalities.
In 2018, six countries accounted for more than half of all malaria cases worldwide. A fourth of the world's cases originated in Nigeria, with 12% in the Democratic Republic of the Congo, 5% in Uganda, and 4% each in Côte d'Ivoire, Mozambique and Niger. Children under 5 years old accounted for two-thirds of all malaria deaths worldwide.
Even amid the COVID-19 pandemic, organizations such as the RBM Partnership, Malaria No More and the Gates Foundation are working not just to limit the number of malaria cases, but to eradicate the disease.
The U.S. Centers for Disease Control and Prevention (CDC) is precise in its language about controlling malaria, as opposed to eliminating it. It says its goal is to reduce malaria transmission to a level where it is no longer a public health problem.
"'Control' of malaria differs from 'elimination' or eradication of malaria," the CDC reports. "'Elimination' is local or regional in scope. Eradication is 'global elimination.' Eradication is not achieved until malaria is gone from the natural world." The center says that recent increases in resources, political will and commitment have led to discussions of the possibility of malaria elimination and, ultimately, eradication.  
---
Ground Zero For Malaria
ADF STAFF
African societies have battled malaria for thousands of years and, despite scientific advances, it continues to be deadly. Here are several reasons why Sub-Saharan Africa is ground zero for malaria:
Africa's malaria-bearing mosquitoes are highly efficient in transmitting the disease.
There is a high prevalence in Africa of the deadliest species of the parasite.
Sub-Saharan Africa's climate is favorable to mosquitoes.
The countries hardest hit by the disease have low capacity for taking preventive measures.
Antimalarial medication is widely available, which raises the question: Why not give the drugs to people living in countries where the disease is most prevalent? It's not that simple. Recommendations for drugs to prevent malaria differ from country to country because of the various strains of the disease. No antimalarial drug is 100% effective and must be combined with personal protective measures such as mosquito nets. Such drugs also must be taken daily or weekly.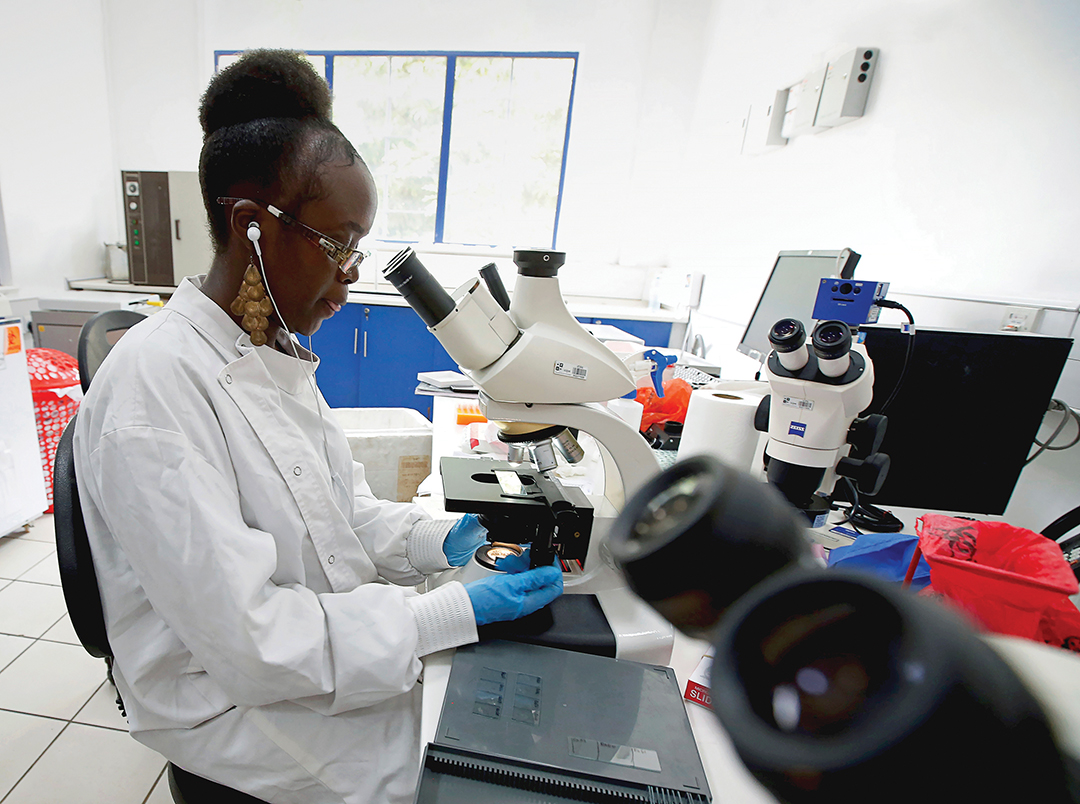 Since vaccinations remain unproven, the best way to stop malaria is by using effective, safe, and tested prevention and control measures. Health officials list six categories of preventive measures: insecticide-treated nets, preventive treatment of malaria in pregnant women, preventive treatment of infants, indoor residual spraying, larval control and mass drug admisitration.
The first line of defense is effective mosquito netting in sleeping areas, because mosquitoes are most active between dusk and dawn. Better still, the CDC says, are insecticide-treated bed nets. In communitywide trials in Africa, treated nets reduced malaria-related deaths in children under 5 by 20%.
Insecticides used for treating bed nets kill mosquitoes and other insects. They also repel bugs, reducing the number that enter a house, which also reduces the risk to everyone in the house. In communities where such nets are widely used, mosquito numbers go down, along with the insects' life spans. Health officials say that at least half the people in a community must use treated nets to get such results.
Treated nets have been shown to pose "very low health risks" to humans and other mammals, the CDC says. Until fairly recently, such nets had to be regularly re-treated with insecticides. But several companies have developed long-lasting insecticide-treated nets, known as LLINs, that are effective for at least three years, even after repeated washings.
Between 2008 and 2010, health officials distributed 294 million LLINs in Sub-Saharan Africa. The CDC said funding for LLINs gradually increased from 2004, when officials distributed 5.6 million nets, to 2010, when they delivered 145 million nets.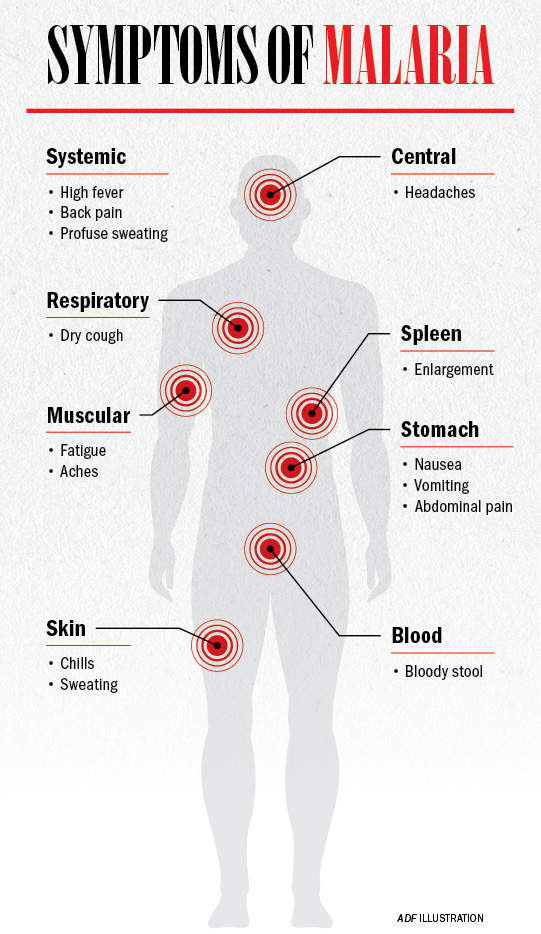 Officials say the economic harm caused by COVID-19 will lead net distributions to plateau or even decline in the coming years. Researchers are working to increase the life spans of treated nets from three to five years. Such five-year nets would save $3.8 billion over 10 years.
Health officials say that during pregnancy, the mother and the fetus are at risk of malaria. The mother's natural immunity is reduced. Adverse effects of malaria during pregnancy include maternal anemia, fetal loss, premature delivery, intrauterine growth retardation and low birth-weight infants.
Preventive treatment of malaria in pregnant women includes the use of LLINs, effective pregnancy case management, supplements to prevent anemia and folic acid supplements to reduce birth defects. Children born to mothers with malaria are particularly prone to spinal and brain deformities.
Preventive treatment for infants consists of a full therapeutic course of the drug sulfadoxine-pyrimethamine at intervals corresponding to routine vaccination schedules — usually at ages 10 weeks, 14 weeks and 9 months — given to infants at risk of malaria. The drug lowers the risk of anemia and contracting malaria.
Indoor residual spraying is coating the walls and other surfaces of a house with an insecticide. The insecticide will kill mosquitoes and other insects that come in contact with these surfaces for several months. The spraying does not prevent mosquitoes from biting. Instead, it usually kills mosquitoes after they have fed and have come to rest on the sprayed surface. To be effective, the spraying must be done in at least 80% of the homes in a community.
Larval control requires eliminating any standing water where mosquitoes can breed. Eggs laid in water will hatch into larvae within 24 to 48 hours and mature to mosquitoes in seven to 10 more days. Just about any standing water will support larvae, so eliminating breeding spots is difficult. Countries throughout Africa have not attempted larval control on a large scale, but in other parts of the world, it has been highly effective.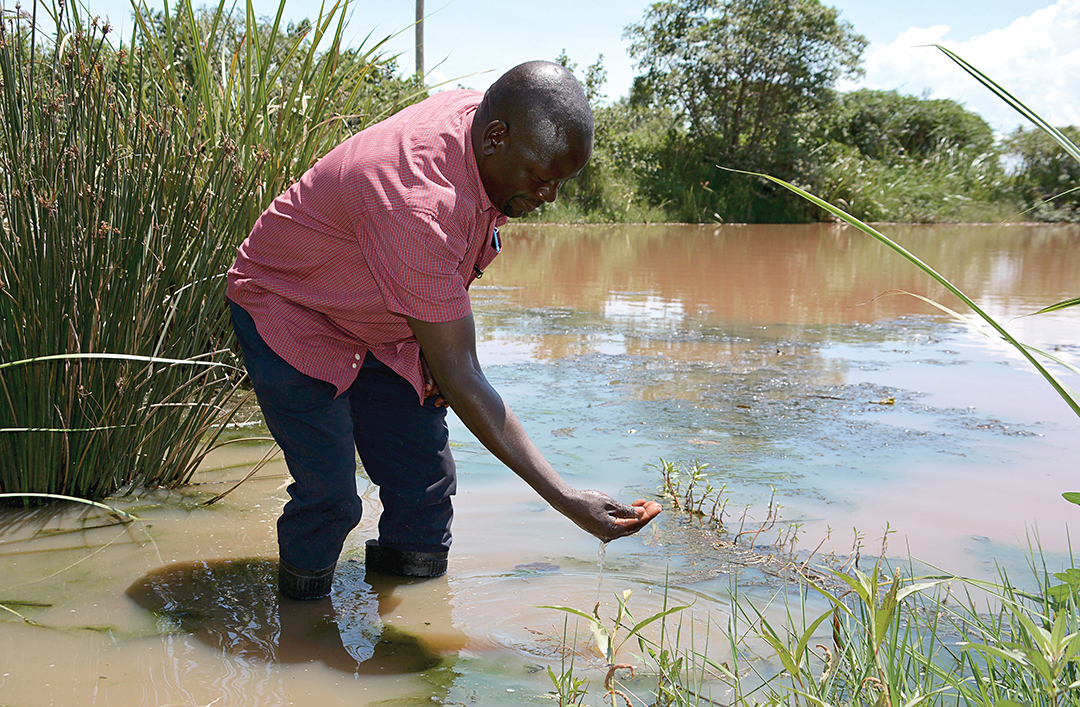 The CDC says that larval control in Africa may be useful for specific settings such as urban environments or desert fringe areas where puddling water is more predictable.
Large-scale larval control generally requires environmental modifications, such as draining and filling, or the use of larvicides. Biodegradable oil can be sprayed on water, suffocating the larvae and pupae.
In times and places where malaria has reached epidemic proportions or has become particularly lethal, medical workers have used mass drug administration, or MDA. Every person living in a defined area is given antimalarial medicine.
P. falciparum, the most lethal of malarial parasites, has forced communities to use MDA.
The World Health Organization recommends MDA only in extreme circumstances, where the health system is overwhelmed and unable to serve the affected community. In lesser circumstances, where the incidence of malaria is merely high or moderate, MDA has not proved to be practical.  
---
Africa Has Stopped Diseases Before
ADF STAFF
Organizations around the world are working to wipe malaria from the face of the earth.
There are African precedents in wiping out diseases. In August 2020, the U.S. Centers for Disease Control and Prevention (CDC) announced that Africa was officially polio-free.
"This incredible public health achievement — the interruption of wild poliovirus transmission from every corner of the African region — began 24 years ago with a call-to-action by the late South African President Nelson Mandela," the CDC reported. "He challenged African heads of state and leaders to mobilize to 'kick polio out of Africa.' At the time, 75,000 African children a year were being paralyzed by polio."
Nigeria was the last country in Africa to be declared free of so-called wild polio, as opposed to polio acquired from the vaccine itself. In August 2019, Nigeria passed three consecutive years without a reported case of wild polio, which opened the door for the official certification process to review data and documents and declare Africa polio-free. As of 2020, Afghanistan and Pakistan are the only two countries where the disease is still classified as endemic.
Africa also is on the verge of eradicating Guinea worm disease, in which a worm larva swallowed in drinking water grows up to 80 centimeters long, tunneling through the host body to emerge from the victims' feet. In 1986, the United States-based Carter Center assumed leadership of a program to eradicate the disease, which at that time was infecting 3.5 million people annually in 21 countries in Africa and Asia.
The Carter Center has achieved stunning results. It reported a provisional total of 53 cases of Guinea worm disease worldwide in 2019. The disease has proved harder to totally eradicate than expected because of a rise in the infections in animals, primarily dogs in Chad.
"The time to eradicate Guinea worm is now," Adam Weiss, director of the Carter Center Guinea Worm Eradication Program, told Outbreak News Today. "To prevent unnecessary suffering, the remaining endemic countries are going all out with every intervention available."