Extremist Groups Threaten Security Across the Continent
ADF STAFF
A United Nations peacekeeping mission battles al-Qaida-linked extremists and others in Mali. The African Union Mission in Somalia holds al-Shabaab militants at bay. Nigeria has teamed with Benin, Cameroon, Chad and Niger to battle Boko Haram in and around the Lake Chad Basin. 
There are big players and smaller groups launching attacks. The following is a look at what terrorism is, who is using it and what can drive people to participate in it.
Terrorist Groups in Africa
According to "Terrorism in Africa: A Quantitative Analysis" by Adriana Lins de Albuquerque, 218 known organizations have perpetrated terrorist acts in Africa. However, only a handful of groups are behind most of the major incidents.
The paper's study period of 1997 to 2015 shows that nine organizations were responsible for two-thirds of all terrorist attacks in Africa. Boko Haram and al-Shabaab were responsible for nearly 50 percent of attacks in the same period.
---
Terrorism: A Definition
Although there is no international agreement on exactly what constitutes terrorism, the Global Terrorism Index defines it as "the threatened or actual use of illegal force and violence by a non-state actor to attain a political, economic, religious, or social goal through fear, coercion, or intimidation."
---
Profiles of Terrorist Groups
Boko Haram
The Nigeria-based Islamist insurgency movement has existed since 2002. Its name means "Western education is a sin." In 2009, it began violent operations to create an Islamic state in northern Nigeria, declaring a caliphate in areas of control five years later. In 2015, Boko Haram pledged allegiance to ISIS. In August 2016, the group split into two factions. Various cooperative efforts between Sahel nations have recaptured most territory, but the human cost has been significant. Boko Haram has killed more than 30,000 people as of August 2018, either through terrorist acts or through clashes with security forces, according to the Council on Foreign Relations.
Al-Shabaab
The name means "the youth" in Arabic. Al-Shabaab is a Somalia-based Islamist extremist group that grew out of the former Islamic Courts Union in 2006. It is thought to have up to 9,000 fighters and has imposed strict Sharia in areas it controls. The African Union Mission in Somalia has made progress in taking back territory and ensuring better security in Mogadishu, but the group remains active and lethal. About 18,000 fatalities could be attributed to al-Shabaab as of mid-2017, according to the Council on Foreign Relations. The group has killed more since then.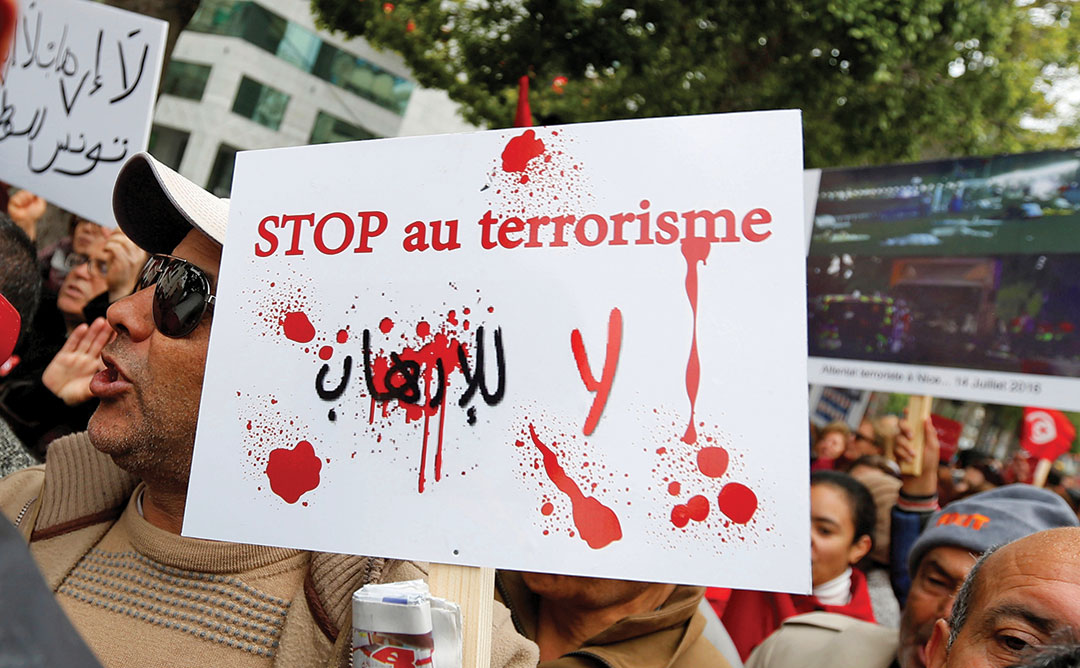 Lord's Resistance Army (LRA)
The LRA began in Uganda in 1986 when Joseph Kony began a series of uprisings. The LRA kidnapped thousands of children for use as fighters, porters and wives. Kony claimed he was fighting to defend the Bible's 10 Commandments. Operations stopped in Uganda in 2006, but the LRA continued attacks in the Democratic Republic of the Congo, the Central African Republic and South Sudan. Kony still has not been captured, but the group's influence has decreased substantially in recent years.
Al-Qaida in the Islamic Maghreb (AQIM) 
AQIM is a Salafist terrorist group that operates in Africa's Sahel and Sahara regions. Its origins go back to a guerrilla Islamist movement called the Armed Islamic Group, which opposed secular leadership in Algeria. AQIM grew out of a faction called the Salafist Group for Preaching and Combat (GSPC). AQIM was particularly active in Mali in the aftermath of a 2012 coup. The group worked with Tuaregs in the northern cities of Gao, Kidal and Timbuktu. AQIM began to suffer setbacks after a French-led military intervention in 2013.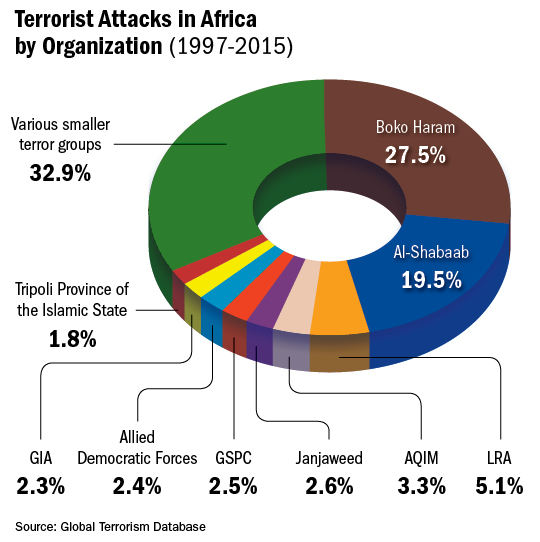 Janjaweed
This Arabic militia is active in Sudan's Darfur region. The name Janjaweed has been translated as "devils on horseback." The Sudanese government supports and coordinates the Janjaweed militias in its counterinsurgency campaign in Darfur, according to Human Rights Watch.
Salafist Group for Preaching and Combat (GSPC)
This group wanted to establish an Islamic state in Algeria and destroy Western targets, according to Terrorism Research & Analysis Consortium. The GSPC merged with al-Qaida in 2006, forming AQIM.
Allied Democratic Forces
The Allied Democratic Forces began in 1995 in the mountain region along the border of the Democratic Republic of the Congo (DRC) and Uganda. Its personnel are thought to total several hundred, but the United Nations reported in 2013 that it was between 1,200 and 1,500 armed fighters. The group was particularly active in the late 1990s, but after a period of dormancy it resumed activity about 2005. It is known to recruit and use child soldiers and has attacked United Nations peacekeepers in the DRC.
Armed Islamic Group
(Groupe Islamique Armé)/(GIA)
The GIA was based in Algeria and was founded by fighters returning from Afghanistan in the early 1990s, according to the U.N. The group is associated with al-Qaida and has been known to indiscriminately target civilians. It has conducted hijackings, bombings and ambushed Algerian security forces. It also has attacked French targets. It is no longer active, but elements from the GIA have joined AQIM and other groups.
Tripoli Province of the Islamic State
Starting in late 2014, three groups in Libya pledged allegiance to the Islamic State's leader: Tripoli Province in the west, Barqa Province in the east and Fezzan Province in the south, according to a 2016 report in The Wall Street Journal. Tripoli Province is the most dominant. It operates in Libya's most populous territory, and it controls the city of Sirte on the Mediterranean Sea.
---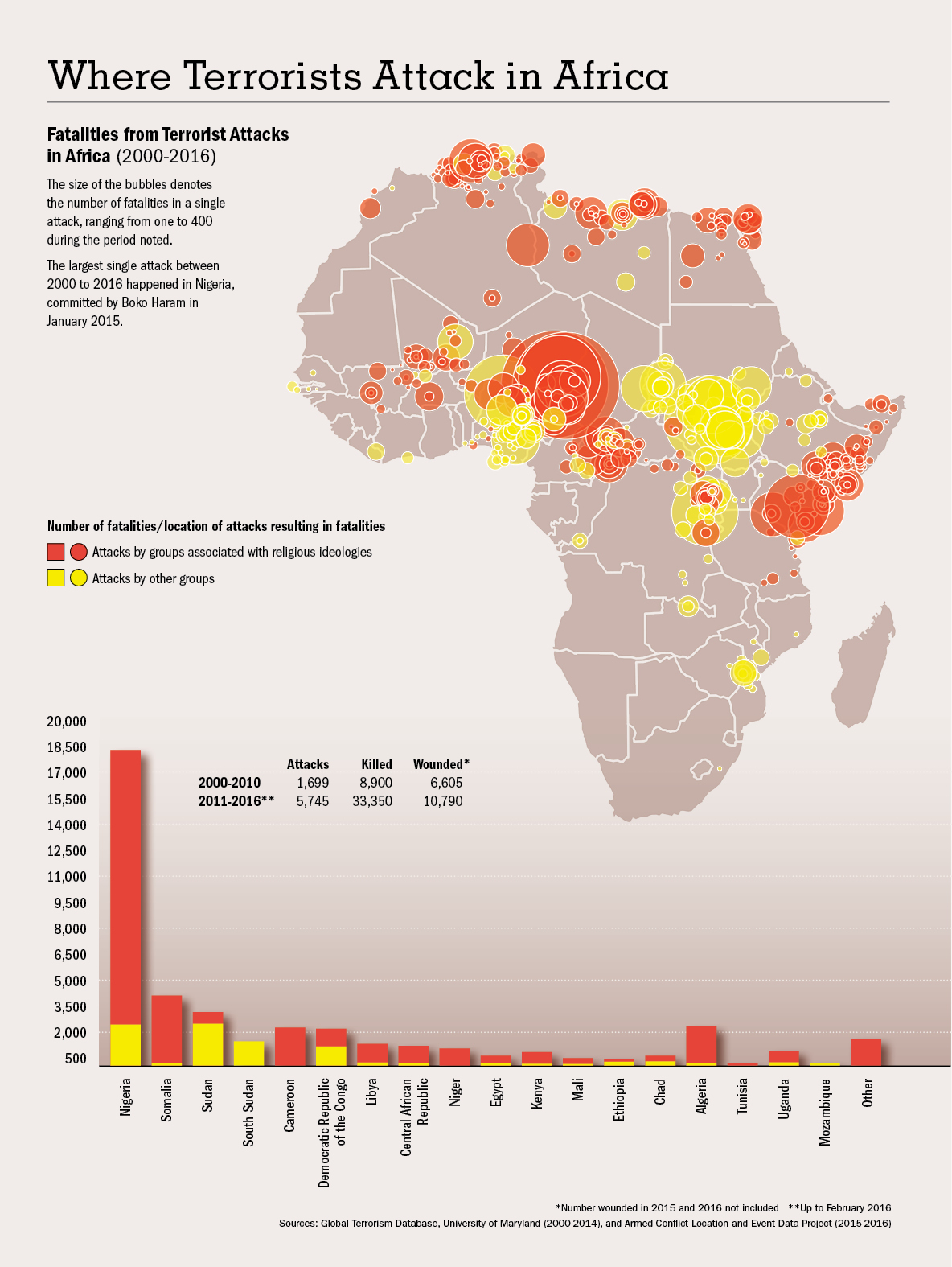 ---