Nigeria's North West Sees Rise in Arms Trafficking by Women
ADF STAFF
Nvou Michael had 15 handmade rifles and 400 rounds of AK-47 ammunition when police intercepted her on an expressway in Kaduna State in 2022.
Nigeria Police Force public relations officer Olumuyiwa Adejobi elicited Michael's confession during a media briefing in Abuja: She had been selling AK-47s for 15,000 naira (about $20) each to various bandit groups that have plagued Nigeria's North West region for more than a decade.
"What a man can do, a woman can do even better," Adejobi said. "The suspect specializes in smuggling arms and ammunition to various states, such as Kaduna, Katsina, Zamfara and other various bandit camps.
"She knows many bandits, and she's been helping us to get more information on them."
In recent years, heavily armed bandits have overwhelmed the region, increasingly with the help of women who traffick arms to them.
"They sell them to bandit criminals who are terrorizing us in this country, and enough is enough," Adejobi said. "We need to decimate their activities so that they will not continue to encourage these criminals."
Between 2018 and 2022, attacks by bandit groups increased by 731%, from 124 to 1,031 incidents, according to the Armed Conflict Location & Event Data project, which also reported that bandits killed about 13,485 people between 2010 and May 2023.
In the North West region, bandits forced hundreds of thousands to flee their homes between 2018 and 2020, according to the United Nations International Organization for Migration.
"A combination of factors makes Nigeria's North West susceptible to attacks," Oluwole Ojewale, regional organized crime observatory coordinator for the ENACT project, wrote in an August 14 article for the South Africa-based Institute for Security Studies (ISS).
"These include poorly managed security resources, conflicts between pastoralists and farmers, illegal gold mining, declining rural livelihoods, poor management of Nigeria's international borders, weak law enforcement and a failure of security intelligence."
Between December 2022 and February 2023, police in Zamfara State arrested several female gunrunners on charges of supplying arms and ammunition to bandits.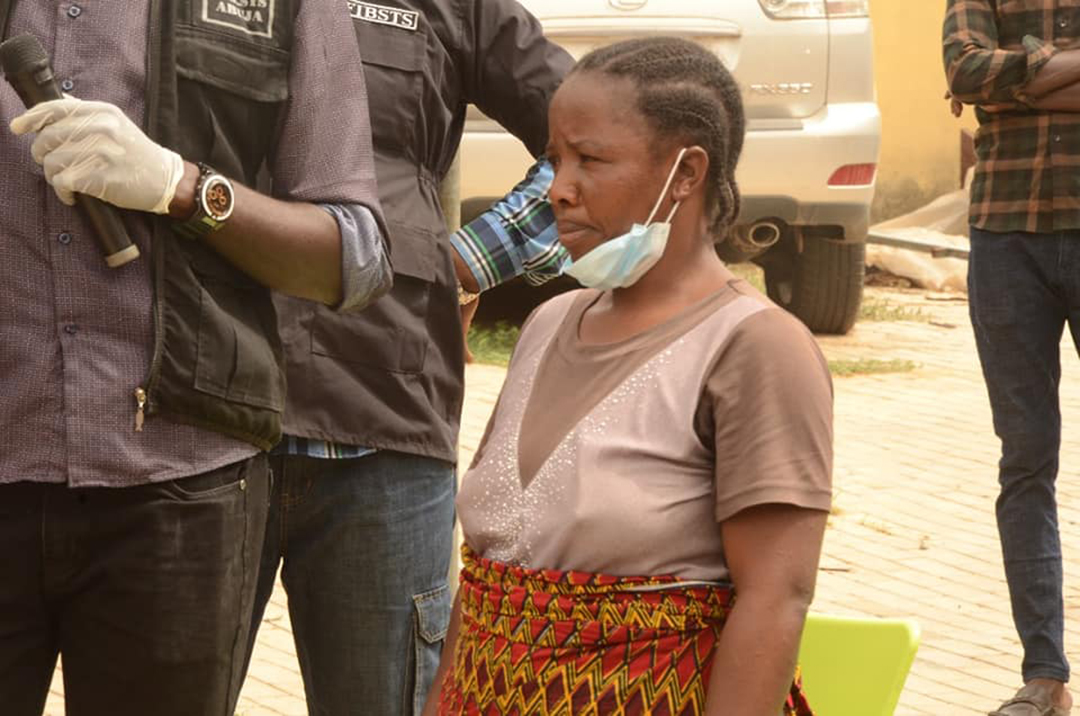 Umaima Abdurrahman, a gender activist in Kaduna State, told the ENACT project that poverty is a key factor that links women to gunrunning.
The recent rise in women involved in arms trafficking is tied to the region's economic downturn, which disproportionately affects women, she said.
Writing for ISS Africa with Sokoto State-based independent researcher Mahmud Malami Sadiq, Ojewale suggested that bandits' increasing use of women is a tactic that originated with the extremist militant group Boko Haram in northeast Nigeria.
"Boko Haram militants have resorted to disguising as women to evade attention of security forces while transporting arms," Dr. Freedom C. Onuoha wrote in an analysis for the Al-Jazeera Centre for Studies.
"They have equally recruited women (sometimes wives of members) as arms couriers. The women hide AK-47 rifles on their backs covered with their veils (himar)."
In the wake of Nvou Michael's 2022 arrest, investigative journalist Babajide Otitoju urged the police to take female suspects more seriously.
"Crime knows no barriers, no genders," he said on Lagos-based TVC News. "People do not want to believe that it is possible for a woman to go to that length of selling weapons or funneling weapons to terrorists.
"But when you won't give her the attention that you give a male suspect, that's why they are getting away. She smiled at the policemen, they allowed her to go because they think, 'You're a woman. You are the weaker sex.' There is no such thing."