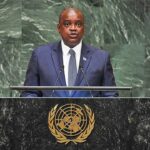 President Mokgweetsi Masisi of Botswana spoke to Soldiers of the Botswana Defence Force at Sir Seretse Khama International Airport in Gaborone on July 26, 2021,
as they prepared to leave for service in the Southern African Development Community Mission in Mozambique. His remarks have been edited to fit this format.
I stand here before you as the commander in chief of the Botswana Defence Force [BDF] and the current chairperson of the SADC [Southern African Development Community] Organ on Politics, Defence and Security. It is a formal institution of SADC, which was launched in June 1996 with a clear mandate to support the achievement and maintenance of security and the rule of law in the region.
Today this mandate is being put to a test by a geopolitical environment and security landscape not dissimilar to that of the formative years of our country during the years of the minority apartheid regime. As complex as the security situation in the SADC region may be, as in the past, Botswana's foreign policy goals have been, and remain, very clear. Botswana's security can never be attained without that of its neighbors. When Botswana took the leadership of the SADC Organ on Politics, Defence and Security troika, I laid out our country's role in leading our region's efforts to underpin stability in political, defense and security by applying our universal diplomatic and security capital to our region's vexing problems.
Today we witness yet another milestone in our objectives of propelling the peace agenda to our region in following through on the SADC mandate aimed at facilitating the peaceful conditions in the northern part of the Republic of Mozambique, in Cabo Delgado in particular. It is for this reason that I am here this morning to address members of the Botswana Defence Force who, as part of the SADC Standby Force, will be deployed to provide regional support to Mozambique to combat the looming threat of terrorism and acts of violent extremism in the Cabo Delgado region in the northern part of that country, as an element of the SADC Mission in Mozambique, SAMIM.
As stated earlier, our commitment to regional and international peace as a nation remains steadfast and undiminished, as evidenced by BDF's previous enviable involvement in peacekeeping operations in Operation Restore Hope in Somalia, in UNOMOZ I and II [United Nations Operation in Mozambique], as part of the U.N. observer mission in Rwanda, and Boleas in Lesotho.
Throughout these deployments, the BDF received very positive appraisal for their professional conduct in the execution of their military job and also as true and sincere ambassadors of Botswana's historical and enduring national values of being a rule-based society. That remains the historical legacy of your predecessors and the shoes you must now fill — all of you. I therefore implore all to emulate these predecessors, who were involved in previous peace missions, by exhibiting the highest level of professionalism during this deployment as Botswana's flag bearers in Mozambique.
As your commander in chief, I am alive to the fact that you will be facing a deceptive enemy, which is likely to use asymmetric warfare, unconventional and underhanded warfare tactics against yourselves and the population you will be protecting. As professionals, you stand for much more than they do and must avoid emulating them and sinking to their level. And yes, all your training will come into sharp focus.
I therefore demand nothing less from you than to observe the laws of armed conflict as prescribed internationally in your profession of arms, as well as the status of forces agreement, which establishes the framework under which SAMIM personnel will operate in Mozambique. I have full confidence that you will execute your task equitably and will do nothing that will taint the good image of the Defence Force of Botswana.