Recruitment, Rallies Are Signs of Russia's Information War
ADF STAFF
The men purporting to be Central African Republic (CAR) soldiers stood in front of their national flag and pledged allegiance. But they were not pledging loyalty to their country. This was something far different.
"We are ready to go to Ukraine and we will go there with determination," one soldier said.
"My Russian brothers, hold on!" a soldier declared in a second video. "We Africans are coming soon. Courage, courage."
The messages were part of a series of videos shared widely on the secure messaging app Telegram. The identity of the soldiers could not be confirmed and efforts by Radio France Internationale to get comment from the CAR Ministry of Defense about the video were unsuccessful.
What is clear, however, is that Russia is intent on using its efforts in Africa for propaganda gains and, possibly, recruit fighters for its invasion of Ukraine. It is doing so in connection with the Wagner Group, the shadowy mercenary organization with ties to the Kremlin. Wagner has been accused of human rights abuses and has a track record of destabilizing host countries.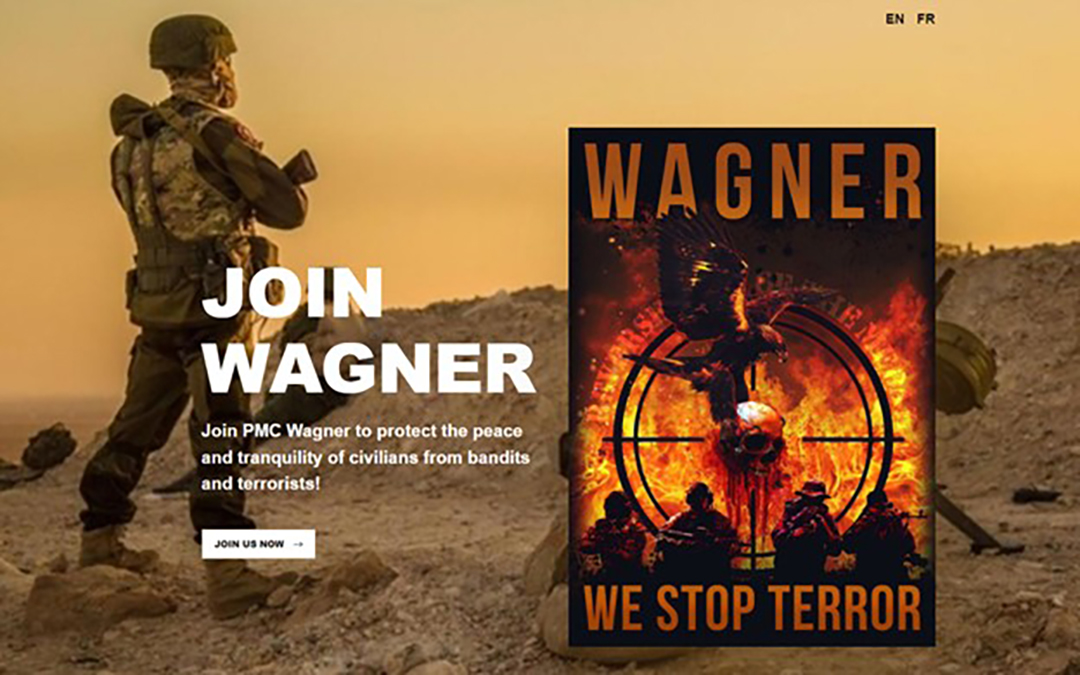 Prior to the invasion, Wagner-affiliated message groups on Telegram lit up with recruitment offers for fighters to travel to Ukraine. The BBC reported that Wagner sent out messages calling for people with "criminal records, debts, banned from mercenary groups or without an external passport" to join. The offer promised these criminals a "picnic in Ukraine" and a taste of "salo," a well-known local pork dish. These promises could be interpreted as invitations to loot or commit war crimes.
Another part of this global effort is a new website urging visitors to "Join Wagner." The site appears to be administered from Bangui, the CAR capital, and includes a map with inflated numbers of Wagner fighters, claiming 32,000 mercenaries are deployed in Africa. The true number is much lower. Banner headlines call Wagner the "strongest (private military company) in the world," and the site uses images of CAR citizens wearing pro-Russian T-shirts. In one graphic, a mercenary is shown protecting a child with the message "Wagner, always on the good side."
The site appears to be echoing content from other pro-Russia propaganda outlets including a CAR radio station sponsored by the Russian mining company Lobaye Invest. The website does not, however, appear to be an actual recruitment portal, according to investigative reporters with France 24. Emails and information sent through the site did not elicit responses.
"The website 'join-wagner.com' does seem to be feeding into the channels that the group uses to spread information and is also picking up images from those channels. These clues suggest that this isn't an isolated initiative, but part of a wider propaganda machine," France 24 reported in an investigative series called The Observers.
Wagner may be using other methods to recruit on the continent. The Daily Beast reported about 200 former fighters from a rebel group known as the Union for Peace in the CAR have gone to Russia to train at a Wagner camp. Some have returned to the CAR while others may be deployed to Ukraine, the news site reported. "These former rebels will receive combat training, including how to handle Russian-made weapons, and then return home before being deployed to places where Russian instructors work," an anonymous CAR security official told the Daily Beast.
Russia has also sought to bolster appearances of local support with street demonstrations designed to look spontaneous. One such event in Bangui on March 5 saw people carrying signs reading "It's NATO's fault" and "Russia and the Central African Republic against Naziism."
But away from the demonstrations, opinion in the country is divided over the alignment with Russia. Many fear that close ties to the country are not in the CAR's best interest.
"We have to be wise," student Trésor Koyamba told the news agency DW.com. "We have to remain impartial. This war, this is the war of great powers and the CAR has to be very careful not to get itself involved in this affair."