CAR at Center of Russian Disinformation Effort
ADF STAFF
Several thousand people gathered in the stands of Barthélemy Boganda Stadium in the Central African Republic (CAR) capital of Bangui to watch a Russian movie called "Touriste."
According to Russian media, "Touriste," which was filmed in the CAR, was financed by Yevgeny Prigozhin, an oligarch close to Russian President Vladimir Putin. Prigozhin also is reportedly the financier and head of the shadowy paramilitary Wagner Group, which experts believe is a tool of Russia's foreign policy.
Screening a movie in a stadium that wasn't even one-quarter full might appear insignificant, but the event included several high-level government officials giving pro-Russian speeches. Experts say it is just one part of a nationwide propaganda campaign being waged in the CAR.
Hundreds of attendees were given freshly printed T-shirts bearing an image of the movie poster. Several were interviewed for pro-Russian social media videos after the show.
"Touriste" glorifies and skews the story of Russian soldiers helping to fight off a rebel offensive in the CAR days before elections in December 2020. Notably absent are the executions, torture and abuses of which Russian operatives have been accused.
Jack Margolin, program director with the Center for Advanced Defense Studies, said propaganda disguised as an action movie has a nuanced intention.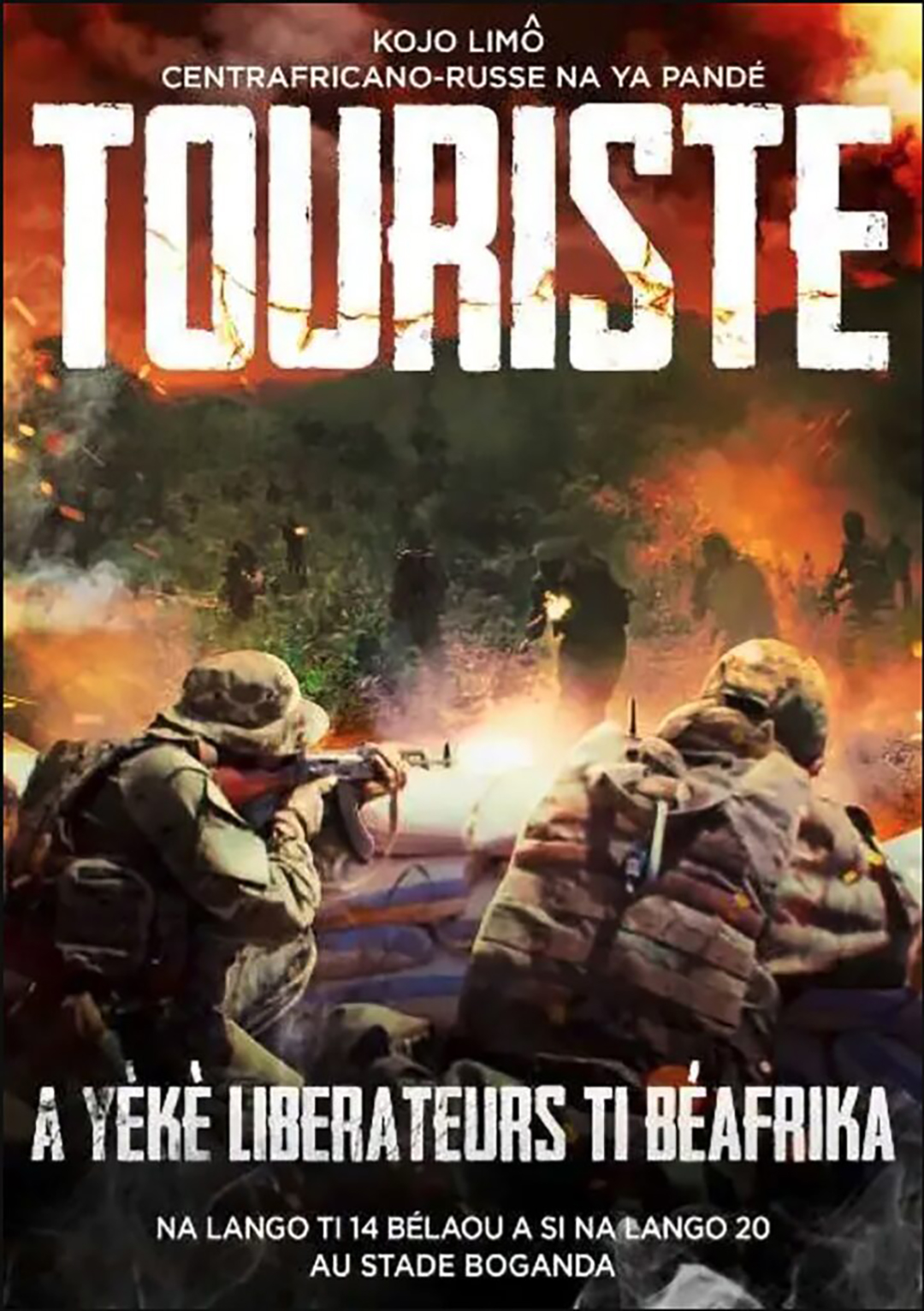 "It feels like a made-for-TV movie, but it's main purpose is to valorize and provide an overarching narrative for what Russian mercenaries were doing — why they're in these countries in Africa, what Russia's interests are, and how they're actually helping people on the ground," he told Voice of America.
The movie also depicts United Nations peacekeepers as incompetent and the French as devious neocolonialists — the same kind of propaganda that Facebook linked to Prigozhin and removed in December 2020.
Alexander Ivanov, the official representative of Russian military trainers in the CAR who also reportedly has close ties to Wagner, screened a second propaganda movie in Bangui in late January 2022.
Titled "Granite," it's about the private military contractor's foray into Mozambique's Cabo Delgado province in 2019. Similarly inspired by the true story of Wagner fighting against insurgents, it falsely depicts a successful mission when the reality was a humiliating defeat and withdrawal by the Russian mercenaries.
Although Russia seeks to glorify its fighters on film, it has made strides to hide their existence elsewhere.
The CAR government and the Kremlin deny the existence of the Wagner Group, but the landlocked country in the heart of Africa recently has found itself in the center of a large, coordinated Russian disinformation blitz.
Mattia Caniglia, a fellow at the European Council on Foreign Relations, told ADF that Russia's concerted information warfare efforts are tied directly to its ambitions to expand its presence in Africa.
"The Kremlin is focused on advancing partnerships between Russian state media and African media," Caniglia said. "This is much more dangerous because they're not as obvious, but they are having a greater impact and pushing narratives that are more subtle."
Targeted disinformation campaigns are designed to distract from and cover up allegations of atrocities and human rights violations committed by Russian private military contractors.
Since they deployed in the CAR, Russian operatives have focused on the local media. What started with pro-Russian billboards and leaflets handed out in the streets of Bangui evolved into the funding and use of radio and social media as propaganda weapons.
Former Russian intelligence official Valery Zakharov, who was appointed by CAR President Faustin-Archange Touadéra as presidential advisor on national security in early 2018, brought in propaganda and political communication specialists.
It is a poorly kept secret in Bangui that Zakharov pays local journalists to write pro-Russian stories.
A Wagner recruitment website that first appeared in November 2021 recently was linked to the CAR capital in an investigation by France 24's website.
"There are lots of little clues that make it likely that the Join-Wagner site is a mini operation carried out by the wider Prigozhin ecosystem," researcher Colin Gérard told France24. "It's always complicated to figure out exactly who is behind these actions, but this isn't the first time that I have seen these media outlets act as information channels serving Prigozhin's interests.
"Generally, a propaganda effort like this is carried out to support some kind of political action. That's the case in the Central African Republic with Lobaye Invest, a mining company owned by Prigozhin. This company sponsors the Central African Radio station Lengo Songo."
The images on the recruitment website look similar to the movie poster for "Touriste."
Cheap action movies aren't the most dangerous thing happening in the CAR, but they are evidence of a bigger picture.
"Is it appalling to Russia's enemies to watch? Yes," Caniglia said. "Does it tell us something about how organized these [disinformation] efforts are? Yes."