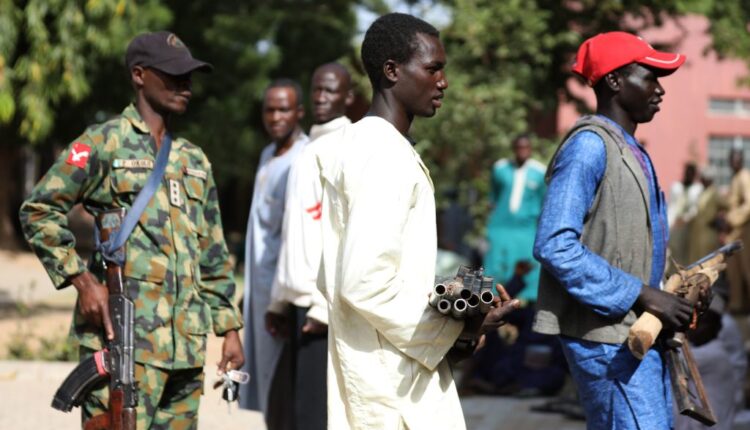 Reading Time:
2
minutes
ADF STAFF
The kidnappers wore masks and fired guns randomly while blocking the Kaduna-Abuja road, a major highway in Nigeria, on the afternoon of September 14.
In what has become an all-too-familiar scene in a country wracked with insecurity, two people were injured and several more were taken hostage from their vehicles, according to police.
Among them was Emir Alhaji Hassan Atto of Bungudu in Zamfara State.
People reacted with outrage. The breaking news screamed across headlines. Nigeria's Vanguard newspaper wrote: "No one is safe anymore."
What Nigerians call "bandits" have turned kidnapping for ransom into a lucrative business and a growing security nightmare.
The threat has overtaken Zamfara state in the northwest and is spilling into neighboring states. It's diverting the attention of police and military forces that had been focusing on putting down the country's stubborn Islamist insurgency in the northeast.
The groups referred to as bandits often are composed of armed gangs, nomadic herders and unemployed young people. Some government officials insist they are not Nigerians and blame the country's porous borders.
The infamous Islamist terror group Boko Haram also has made inroads and forays into the northwestern region.
For more than a decade, Fulani herders and Hausa farmers in north central and northwest Nigeria have clashed over water, land and grazing routes. Thousands have been killed.
"The population in the state, which is mainly made up of herders and farmers, have been affected heavily as they have been unable to carry out their economic activities," Zamfara-based political commentator Yusuf Anka told web magazine Quartz Africa. "There is arbitrary taxation on the communities by the bandits before they can plant and harvest crops. Everyone in Zamfara has suffered a personal loss to this banditry."
Zamfara Gov. Bello Matawalle claimed April 3 that there were 30,000 bandits and more than 100 camps across his state.
He lamented a decade of terror inflicted upon the population, saying 2,619 people were killed between 2011 and 2019, 1,190 people kidnapped and more than $2.3 million paid in ransom.
"People were traumatized. The economy of the state was devastated by the crisis," he said. "This is in addition to the proliferation of both light and heavy weapons, with a high influx of bandits from the neighboring countries and no solution in sight. The crisis has defied all forms of solution."
Bandits in Zamfara made international headlines in February when they abducted 279 girls from a boarding school in Jangebe, although they were returned a few days later. Hundreds more have been kidnapped since, further emboldening the heavily armed bandits to escalate their attacks.
Bandits have ambushed security forces and stormed bases, killing dozens. One group shot down a military jet in July. Nigerian forces retaliated with airstrikes in August that killed at least 78 bandits.
Matawalle said his administration chose to negotiate with the bandits for conciliation because of a "shortage of manpower in the security sector and a very poor intelligence network."
In April the dialogue led to 62 bandits reentering society, but repeated attacks caused Matawalle to repeal his peace offering.
On August 26, he suspended weekly markets, banned bicycles and motorcycles from carrying more than one passenger, and set up mobile courts to prosecute violators.
In early September, the state imposed a two-week suspension of telecommunication networks, cutting off all banking, mobile phone and internet services to aid a military crackdown on the bandits.
"It's a total operation," a source with the Nigerian Air Force told Reuters. "We are clearing these elements fiercely and decisively."