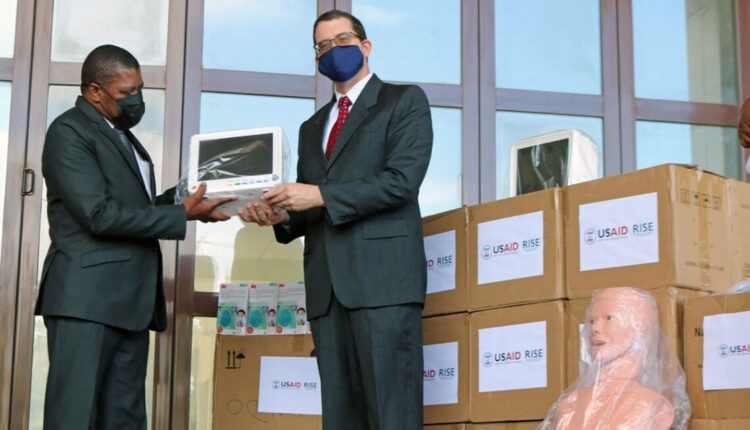 Reading Time:
2
minutes
ADF STAFF
As Mozambique struggled to cope with a third wave of COVID-19 infections, the U.S. stepped up in early July, donating $600,000 worth of medical equipment and funding to hire more nurses and physicians to staff coronavirus treatment centers.
The donation included personal protective equipment for health care workers, cardiorespiratory monitors, oximeters and devices that support the ongoing use of U.S.-donated ventilators. The delivery was made to the capital city, Maputo, in southern Mozambique, far from the country's battle-scarred north.
"These medical supplies will ensure that doctors, nurses and other health teams have more flexibility in treating patients severely affected by COVID-19 and with specific needs such as oxygen," Martin McLaughlin, United States Agency for International Development (USAID) acting director of the Mozambique mission, said during a handover ceremony.
About a week after the U.S. donation, Mozambican President Filipe Nyusi announced that the country acquired 11 million more doses of COVID-19 vaccines that should reach the country by the end of August. Nyusi did not say where they would come from or whether they were purchased or donated.
The government plans to vaccinate 17 million of its 30 million people by the end of the year.
"This mass vaccination will allow our country to make a safe and gradual transition to a situation close to normality," Nyusi said in a Mozambique News Agency report.
Mozambican Health Minister Armindo Tiago urged all eligible health care workers to accept the vaccine.
"The acquisition by the private sector plays an important role in the National Vaccination Plan," Tiago said in a statement. "It will allow protection of productive units at risk from the spread of COVID-19, eventually contributing to lower rates of absenteeism and guaranteeing greater productivity."
Since the pandemic began, the U.S. has donated nearly $33 million to Mozambique's COVID-19 response.
In May, the U.S. invested $320,000 into a program that will provide solar power to 92 rural health facilities in Sofala, a coastal province in central Mozambique, where 90% of health facilities don't have regular access to electricity. The Power Africa grant covers operations and maintenance of the off-grid solar-powered electrical systems for one year.
The most recent donation came shortly after Nyusi announced the extension of a national curfew and encouraged public and private institutions to allow their staff to work from home where possible.
"Let us adopt the new ways of living," Nyusi said in a report by the Mozambique News Agency. "Let us embrace technology to solve the problem of COVID-19."
Nyusi implied that the third wave of infections was spreading rapidly because people had grown careless about prevention measures.
"We have forgotten the disaster that struck us in January and February" at the height of the second wave, Nyusi said, according to the Mozambique News Agency. When the government relaxed some COVID-19 restrictions in May, "many people thought this meant the end of the pandemic," he added.