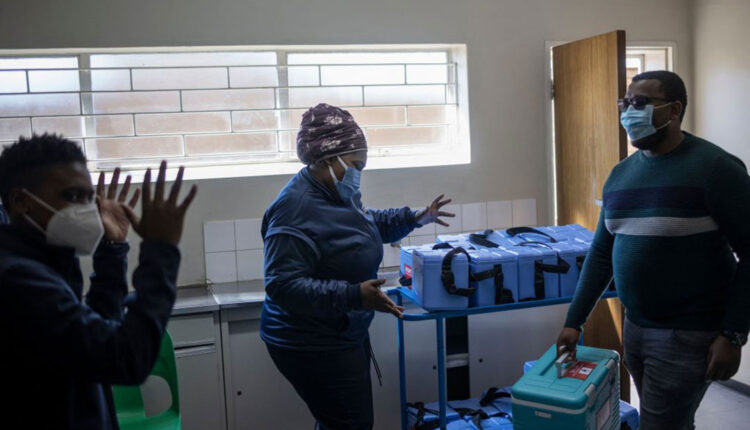 Reading Time:
2
minutes
ADF STAFF
Fueled by the Delta variant, the deadly third wave of the COVID-19 pandemic in South Africa has been peaking in July.
But there is new hope in the continent's hardest-hit country, as the vaccine campaign finally begins to gather momentum. Although just a fraction of the South African population is fully vaccinated, the campaign's numbers are rising daily and so are the country's reserve of doses.
Health workers administered more than 5.3 million doses of COVID-19 vaccines and fully vaccinated nearly 1.8 million people — just over 3% — according to  the government's July 19 statistics.
Acting Health Minister Mmamoloko Kubayi recently announced that public vaccination sites will open on weekends starting August 1, with the goal of reaching 300,000 people a day.
"This has been a big issue from the beginning," said Dr. Nicholas Crisp, the Department of Health deputy director-general, during a July 9 briefing.
Vaccine registration for ages 35-49 began July 8. By the following afternoon, 5.9 million people had signed up.
While those numbers indicate the campaign's pace is about to rapidly increase, the more relieving numbers belonged to the stockpile of doses.
"By Thursday morning [July 8], we had 3.6 million doses in fridges," Crisp said. "That is 18 days' worth of vaccines. This is the strongest position we have been in.
"So we do have vaccine security."
The long-term outlook is promising as well.
In addressing the country on July 11, President Cyril Ramaphosa detailed "a historic agreement" in which South African pharmaceutical company Aspen Pharmacare will deliver more than 17 million Johnson & Johnson doses "to our country and our sister countries on the African continent."
Ramaphosa also lauded the news that the United States will donate 15 million to 20 million doses of Pfizer vaccine to African countries through the COVAX vaccine distribution initiative. Because of that donation, he said, South Africa should have enough vaccines to meet its 2021 targets.
Meanwhile, South Africa and the African Union are negotiating with Johnson & Johnson for all vaccine ingredients to be produced on the continent as well.
"As part of the effort to strengthen health security on the continent, there is a commitment by Johnson & Johnson to adapt the current arrangement," Ramaphosa said, "so that we can produce the vaccine in South Africa under license rather than under contract, resulting in our country and the continent having control over the vaccines."
The Delta variant, which was first identified in India, is driving the third wave of infections. However, the Beta variant that was first discovered in South Africa is still spreading, Kubayi said in a July 2 briefing.
The first three days of July saw more than 71,000 confirmed cases, including a single-day record of more than 26,000 on July 3. South Africa has recorded more than 2.3 million infections and nearly 67,000 deaths since the pandemic began.
In his televised address, Ramaphosa announced two more weeks of tight restrictions, including a nightly curfew, a ban on gatherings and the prohibition on alcohol sales.
"Our health system countrywide remains under pressure," he said.