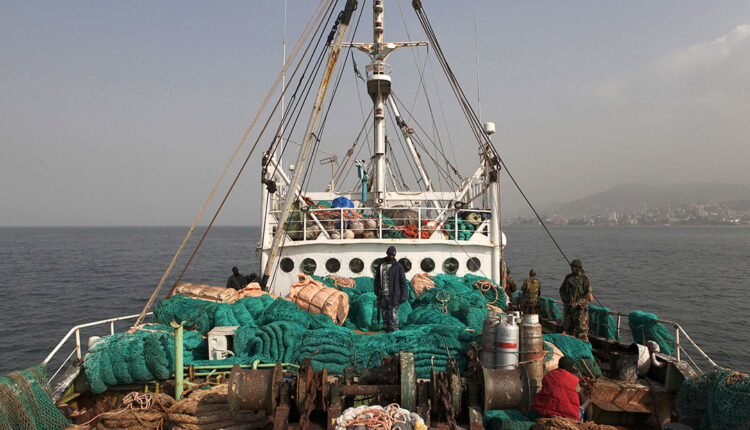 Reading Time:
3
minutes
ADF STAFF
Companies operating in Ghana's trawl fishing industry must reapply for fishing licenses to continue working in the country's waters.
Ghana's Fisheries Commission gave the notice after the country was issued a second yellow card from the European Union (EU), which determined that the country's level of development and engagement against illegal, unreported and unregulated (IUU) fishing was inadequate.
Vessels that must reapply for licenses to fish in Ghana include industrial fishing trawlers, which largely are responsible for decimating Ghana's small pelagic fish populations, such as sardinella, which has dropped 80% in the past two decades, according to the Environmental Justice Foundation (EJF).
An EJF study showed that although all industrial trawlers in the country were Ghanaian on paper, at least 90% of the fleet was linked to China, which is the world's worst IUU offender, according to the Global Initiative Against Transnational Crime. It is illegal for foreign companies to fish in Ghanaian waters.
In a May statement, the European Commission said it had "identified serious shortcomings in the mechanisms that Ghana has put in place to ensure compliance with its international obligations as flag, port, coastal, or market state."
The commission said it observed loopholes in the monitoring, control and surveillance system of the Ghana-flagged vessels. It specified that "saiko," the illegal transshipment of large quantities of juvenile undersized pelagic species from industrial trawlers to large canoes, was a continuing issue in Ghanaian waters.
In 2017, the saiko process was used to remove 100,000 tons of fish from Ghanaian waters, costing the country millions of dollars in revenue and threatening food security and jobs, according to the EJF.
A month after the yellow card was issued, Ghana's Minister of Fisheries and Aquaculture Development Mavis Hawa Koomson said authorities also were trying to procure four patrol boats for maritime monitoring, control and surveillance.
"It is important that the necessary measures are put in place to reduce excessive fishing pressure and for the recovery of over-exploited fish to rebuild the depleted fish stocks," Koomson said in a report by Ghanaian newspaper Daily Graphic.
Because it also is illegal to use chemicals and explosives to catch fish in Ghana, authorities will begin using a Tory meter device to test fish at various beaches.
"With this device, we will know if you used powdered soap, dynamite or any explosive to fish," Michael Arthur-Dadzie, executive director of Ghana's Fisheries Commission, said in the Daily Graphic report.
Ghana's first yellow card was issued in 2013 but was lifted two years later after the country established its 2015-2019 Fisheries Management Plan.
The yellow card initiates a formal dialogue in which the EU and Ghana collaborate to solve issues of concern. If those issues aren't resolved, Ghana could be issued a red card, meaning its fisheries products would be banned from the EU market, where most of Ghana's fish are sold.
"The Commission stands for zero tolerance for IUU fishing," Virginijus Sinkevičius, commissioner for Environment, Oceans and Fisheries, said in a statement. "Ghana plays an important role in fisheries governance in West Africa. Therefore, we stand ready to work with Ghana to address the threats IUU fishing poses to the sustainability of fish stocks, coastal communities, food security, and the profits of those fishermen and women who follow the rules. Sustainable fisheries is key to better ocean governance."
Ghana's marine fisheries support the livelihoods of more than 2.7 million people — almost 10% of the population. More than 100,000 fishermen and 11,000 canoes operate in the country, but there has been a drop in average annual income of up to 40% per artisanal canoe in the past 15 years or so, according to the EJF.