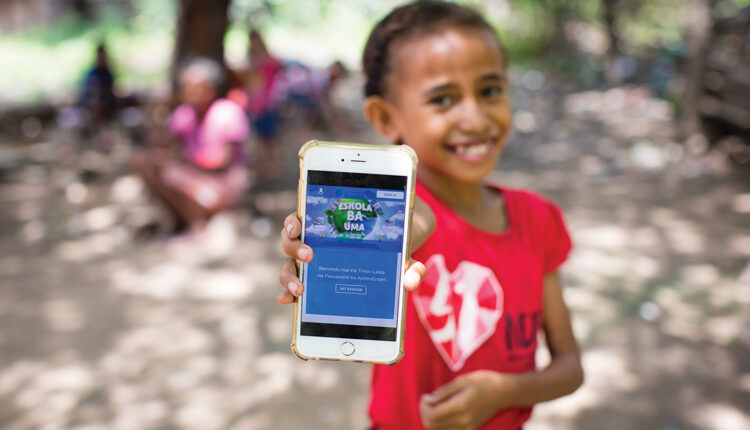 Reading Time:
9
minutes
ADF STAFF
As national economies struggle to reopen from pandemic lockdowns, the African Union is looking to homegrown technology to help businesses while tracking the potential for new outbreaks. 
One technology is a smartphone app called PanaBIOS. It lets governments monitor people's movement — particularly those who may have tested positive for COVID-19 — and curb large gatherings that might turn into superspreader events.
The widespread use of PanaBIOS is crucial to the AU's planned opening of a continentwide free-trade area in 2021. That project, which will let people and goods move across open borders, will require a way to track the potential spread of COVID-19 and similar diseases.
Koldchain, a Kenyan startup, developed the app, and AfroChampions, a public-private partnership, funded it. It has been tested in Ghana since June 2020. Ghana also ran a small test of PanaBIOS during its elections earlier in 2020.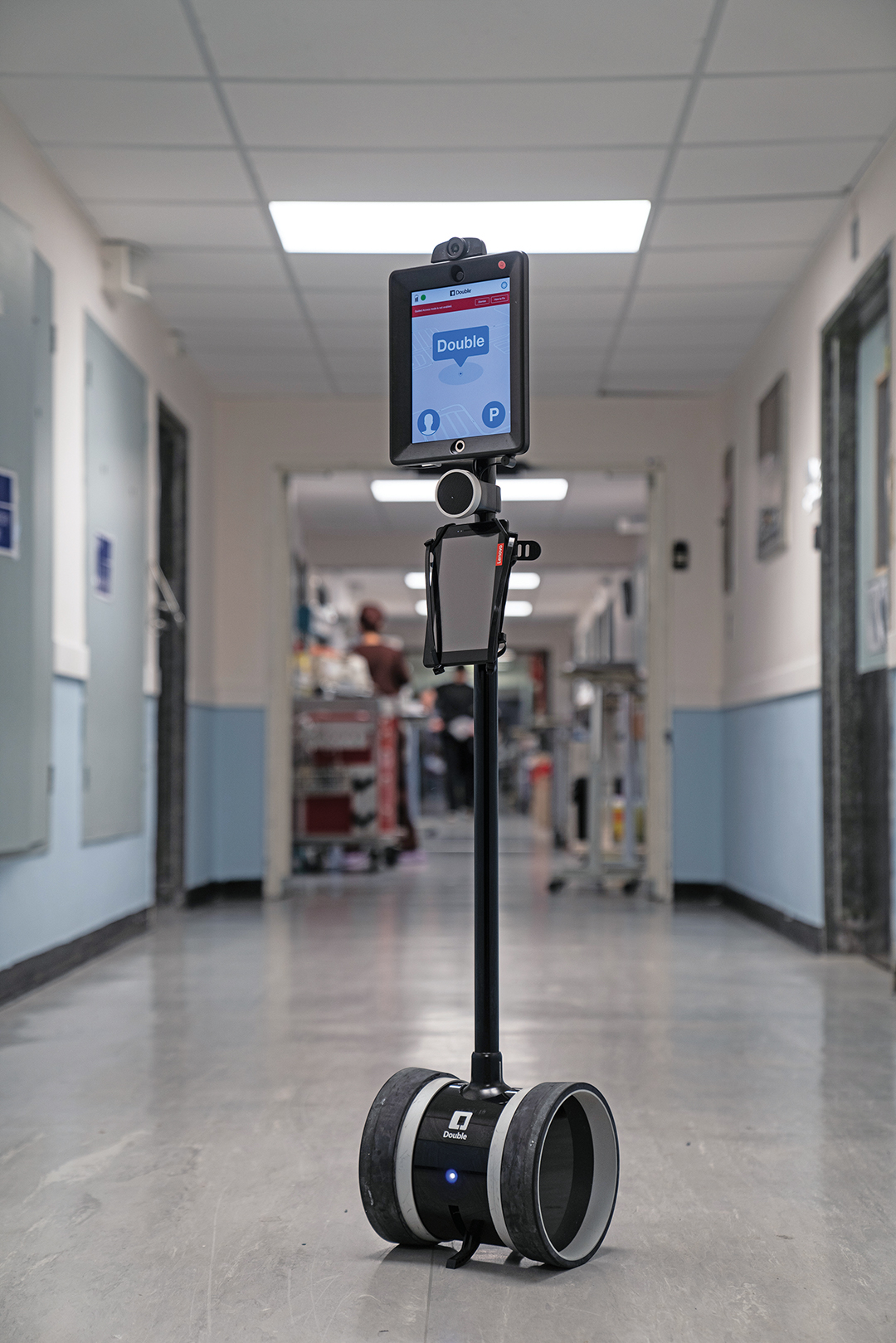 From mobile apps to ventilators to drones, African innovators and health professionals are using new technology to gain an upper hand in the COVID-19 fight. Amateurs, some still teenagers, have developed useful devices, equipment and software to cope with the virus. People across the continent have produced a range of innovations:
In Rwanda, Wilfred Ndifon, an epidemiological mathematician and director of research at the African Institute for Mathematical Sciences, recognized a scarcity of COVID-19 testing kits and used an algorithm to develop a fast, effective and inexpensive method of batch testing people for the virus. 
Ndifon's innovation, which can test up to 100 people simultaneously, has earned global recognition.
"Because [batch] testing allows you to test many people, you can have a clearer picture of your epidemiological data profile," Leon Mutesa, a member of the Rwandan government's COVID-19 task force, told The Conversation Africa. 
Officials mostly conduct batch testing in Rwandan markets, banks, prisons and other places where large groups gather. "It will also help to identify new infection hot spots to enable a rapid response by public health officials," Mutesa added.
In South Africa, robot twins Quintin and Salma have joined the intensive care unit (ICU) at Tygerberg Hospital in Cape Town. The pair provide two-way video conferencing. Imagine an iPad atop a pole with wheels.
The robots let doctors and nurses do virtual rounds with COVID-19 patients without contact, which means saving precious personal protective equipment. Just as important, the robots boost the spirits of patients isolated with the highly contagious disease by connecting them with loved ones. They wheel to the patients' bedsides and connect them with family and friends, sometimes for hours.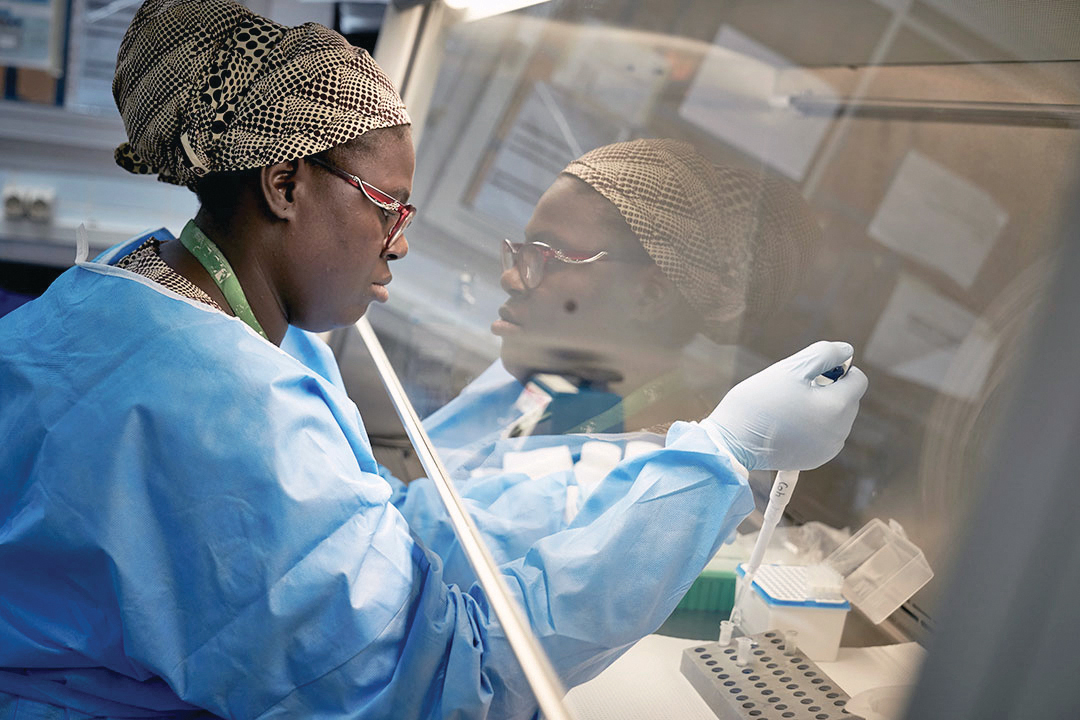 The robots joined the Tygerberg ICU after Coenie Koegelenberg, professor of pulmonology at Stellenbosch University's Faculty of Medicine and Health Sciences, looked for ways doctors and nurses could do virtual rounds.
In Malawi, Sam Masikini, a 23-year-old information technology student, heard about a UNICEF contest to design a mobile app, so he drew from his own experience attending a rural village school. 
"You can have five villages attending one school," he told ADF. "A single teacher is teaching
70 students. I knew what had to be done."
In June 2020, Masikini entered the UNICEF Malawi COVID-19 Youth Challenge, one of four problem-solving competitions in the region the organization sponsors. He designed a mobile app he thinks can help overcome the challenges of educating rural children who, due to COVID-19, might not have access to in-person schooling.
On September 14, 2020, UNICEF Malawi announced Masikini had finished first out of 1,717 participants. He since has worked with experts and mentors in incubation hubs. They have developed the application and anticipate testing it with students and teachers next.
Masikini's winning entry is called Inspire, which helps with e-learning in places with limited internet access and few smartphones and computers. It places Malawi Ministry of Education content on an offline learning platform accessible by basic cellphones.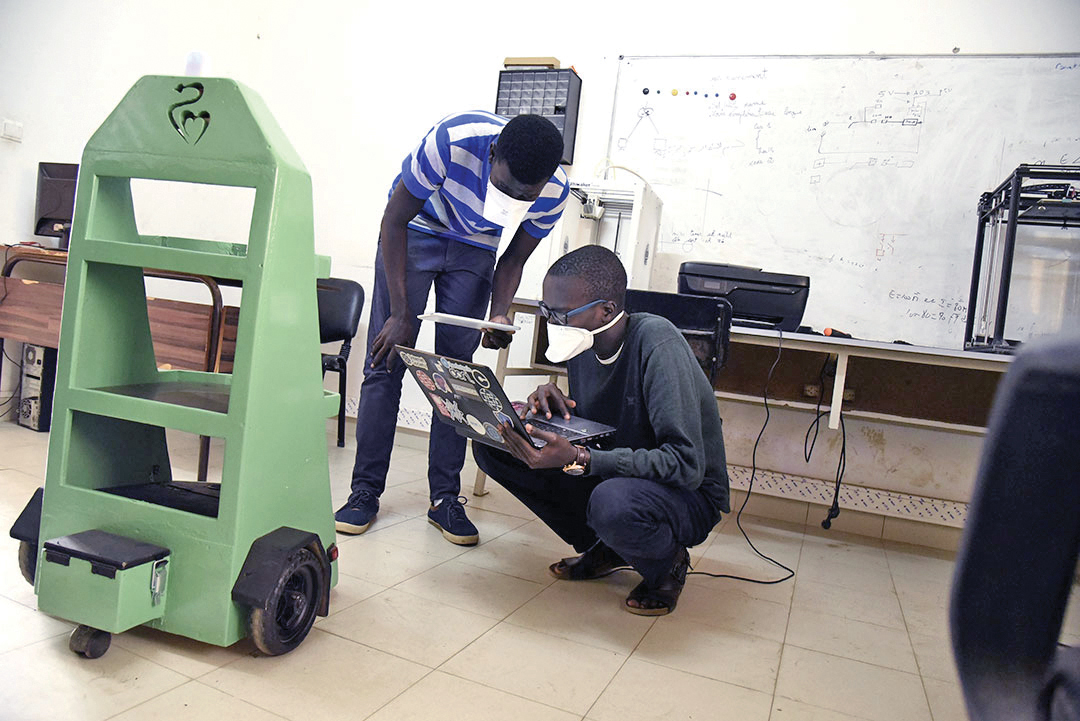 In Ethiopia, three young men and their company, Ewenet Communication, have developed Debo, a contact-tracing mobile phone app. Because people can spread COVID-19 while having no signs of being sick, the infection can spread so fast that it outpaces conventional contact tracing.
With that in mind, Debo uses a Bluetooth "handshake" to communicate with nearby phones. This captures the identity of anyone who comes within 2 meters of the phone's user as part of the contact-tracing strategy should one of them test positive later. 
Ewenet also developed a website to inform people about COVID-19 and a call-center management system to answer the public's questions about the virus through the nation's 8335 phone number. 
With an estimated 14 million smartphone users, Ethiopia has leaned heavily on mobile technology in its campaign to prevent the spread of COVID-19. Mobile phones play jingles reminding people to wash their hands and wear face masks. Mobile phone networks carry religious services, letting the faithful worship remotely.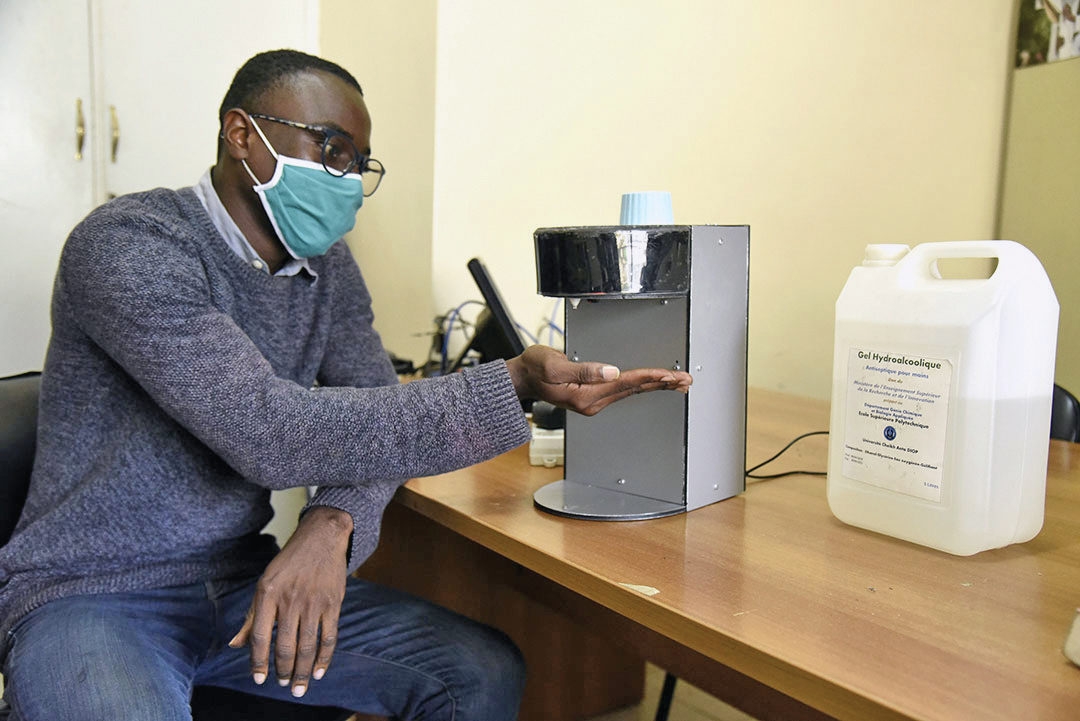 In Senegal, students from the Ecole Superieure Polytechnique have built a multifunctional robot designed to lower the risk of COVID-19 being transmitted from patients to caregivers. The small robot, called "Dr. Car," can measure patients' blood pressure and temperature, reducing direct exposure between patients and medical professionals.
The device is equipped with cameras and is remotely controlled using an app. It also can be used to deliver drugs and food, and doctors can use it to communicate with patients.
The school is considered one of West Africa's finest for engineering and technology. Its 4,000 students come from 28 countries.
In Kenya, 9-year-old schoolboy Stephen Wamukota invented a wooden hand-washing machine to help curb the spread of COVID-19. Users push a foot pedal to tip a bucket of water to wash their hands, allowing them to avoid touching surfaces. 
BBC News listed the hand-washing station as one of the top 10 African innovations to help tackle COVID-19. He later received a request from a local hospital to build another hand-washing station, which he sold for $33.
In June 2020, he was the youngest of 68 people to receive a presidential award from President Uhuru Kenyatta.
Also in Kenya, mobile money agent Danson Wanjohi has built a wooden device that sanitizes cash notes passed through a slot in the machine. He built the device using a motor, a rubber band and gears. It is designed to sanitize all notes being deposited and withdrawn.
Wanjohi told Kenyans.co.ke that the next challenge is acquiring financing to roll out mass production of his machine. 
"Money is one of the weakest links in curbing the spread of the virus because you have to use money, and you never know where it is from," he said. "Getting corona is free, but catering for treatment is not free."
During a COVID-19 lockdown in Ghana, shoemaker Richard Kwarteng and his brother Jude Osei designed a solar-powered hand-washing basin. 
They built their device on a deadline and had less than 48 hours to get the building materials before a lockdown went into effect. As CNN reported, their shopping list consisted of a sink, a faucet, a computer motherboard, a solar panel, a sensor and an alarm.
Kwarteng called an electrician friend, Amkwaah Boakye, to handle the wiring before the brothers programmed the device to release soapy water when hands or other items activated a sensor underneath the faucet. After 25 seconds, an alarm indicates hand-washing is complete, and water is released to rinse before drying, in accordance with the 20-second hand-washing guidance issued by the U.S. Centers for Disease Control and Prevention. 
The machine, called SolaWash, can service 150 people before a refill is needed.
The Ghana Standards Authority certified the machine in four days instead of the 21 days normally required. Ghanaian President Nana Akuffu-Addo has endorsed the device.
Engineers in Tunisia have created an online platform that scans lung X-rays to determine whether a person could have COVID-19. Although it is not the first such platform, its creators say it is the first to be openly available. Engineers told Agence France-Presse that the platform is 90% reliable in noting the probability of infection.
Teachers and students at the Tunisian engineering and technology institute INSAT have been developing the platform, called COVID-19 Exam Ct/XR images by AI, with German, Italian and American technical support.
Researchers have fed thousands of X-rays of lungs of healthy people and COVID-19 patients into the platform, allowing artificial intelligence to learn to recognize marks of the virus on the lungs. Uploading an X-ray and running the test generates a recognition score, requiring nothing more than an internet connection.
Also in Tunisia, authorities have deployed police robots on the streets of the capital, Tunis, to enforce lockdown rules. The Tunisian-made surveillance robots, called PGuards, approach people walking on the street and ask them why they are out. People have to show their identification and other documents to cameras on the robots.
The four-wheeled PGuards have thermal-imaging cameras and light detection and ranging technology, which works like radar but uses light instead of radio waves. The manufacturer, Enova Robotics, told the BBC that it also is producing a health care robot that can give a preliminary visual diagnosis and measure certain vital signs.  
---
We Can Build Our Youth for the Future
Three young Ethiopian men have teamed up to start the Ewenet Communication Private Limited Company and have introduced Debo, an Android-based contact-tracing cellphone app to track COVID-19 cases.
Addis Alemayehu is founder and general manager. Mikiyas Teshome is a software developer and vice manager/co-founder. Natnael Mahetem is a software developer and co-founder. ADF conducted an email interview with the men. The interview has been edited to fit this format.
ADF: When did you start Ewenet? What made you decide to start the company?
EWENET: Ewenet was established with a heartfelt promise made by the three of us to make a difference, not only in our lives, but also in the lives of many Ethiopians and African youths through technology. We did not start Ewenet because of COVID-19, but we are the first startup company to volunteer to join the effort to stop the spread of the virus in Ethiopia, and still we are working. 
We are living in the digital age and information era where technology makes our lives easy or difficult. The way we collect, organize, analyze and interpret data will determine our success, whether we are individuals, companies or government. People prefer that information comes in the best way possible on their fingertips in a cost-effective and efficient way.
ADF: Tell us about Debo. What does it do? How does it work? 
EWENET: Debo is a contact-tracing Android mobile application we developed with the Ethiopian Public Health Institute to stop the spread of COVID-19 in Ethiopia. The application has an easy user interface. The app uses Bluetooth and can trace anyone who uses it within a 2-meter radius. The two phones exchange codes that are saved in each phone. If someone who uses Debo becomes COVID-19 positive, the contact-tracing team will use his/her phone and can easily access the name of the people who were within 2 meters, contact frequency, sex, age and address.
The user can also register his or her immediate contacts, like family members who live together, as well as close friends and colleagues. 
All the functions work offline, and this will avoid data connection costs to users. Debo is working in five languages: Amharic, Afan Oromo, Tigrigna, Somali and English.
ADF: How did you develop Debo? What is your development process like?
EWENET: The development of Debo started with engaging the Ethiopian Public Health Institute COVID-19 contact tracing team. Our team and the tracing team tried to identify all the challenges when tracing contacts using the so-called detective method.
We chose the Bluetooth protocol and Android operating system for the first phase of the application. According to a 2018 report, 92.41% of smartphones in use in Ethiopia were Android devices.
At every stage of development, we tried to engage all higher officials from the Ethiopian Public Health Institute and the Ministry of Health for better output. We also tested the performance of the application on volunteers' phones from the institute. Finally, after a security check made by the Ethiopian Information Network Security Agency, the application launched to the public. We also provided training to more than 250 contact tracers. 
ADF: What does the future hold for your company?
EWENET: Nowadays Africa has started to embrace innovation and science but still has a long way to walk. Some African countries started to support innovation through startups, but this needs a well-developed policy framework with integrated collaboration of all sectors within the economy. Ethiopia is on the verge of developing a policy that will help startups via tax exemption up to five years, and it means a lot.
Ewenet is trying to digitalize the Ethiopian election campaign, and political parties have been encouraged to join the effort. 
 Now is the time for Africa, and we should embrace African talents and innovations. The important thing that every African startup should learn from us is that your first products should be made for the public voluntarily. Our primary agenda should be social concern, but African governments should also pave the way to digitalization of Africa via youth development. As the former U.S. President Franklin D. Roosevelt said, "We cannot always build the future for our youth, but we can build our youth for the future."