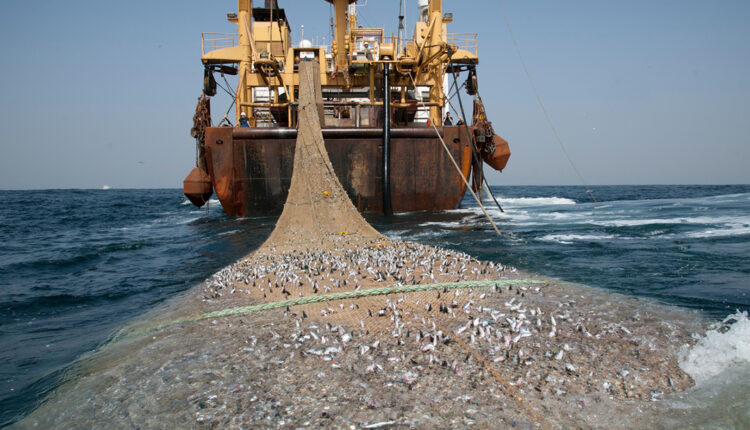 Reading Time:
3
minutes
ADF STAFF
Off the coast of West Africa, foreign ships sweep the sea for sardinella, bonga and other small pelagic fish crucial to the region's artisanal fishing communities.
The fish end up at factories like the Chinese-operated plant in Kartong, in the southwest corner of The Gambia, where they're pressed for oil and ground into powder that is exported to feed livestock and farmed fish around the world.
The farmed fish and shrimp then return to West Africa as expensive imported products while artisanal fishers struggle to survive.
A report recently released by Greenpeace Africa and Changing Markets shows that rampant fishmeal and fish oil production takes more than a half-million metric tons of small fish from West African waters every year, depleting stocks that have sustained local fishing communities for generations.
"The fishmeal and fish oil industry, and all governments and companies supporting them, are basically robbing local populations of livelihoods and food," Dr. Ibrahimé Cissé, a Senegal-based senior campaigner for Greenpeace Africa, said in the report.
The fishmeal industry has grown tenfold along the West African coast over the past decade, according to the report.
"We've calculated that this fish could instead be feeding over 33 million people in the West Africa region," Alice Delemare Tangpuori, campaigns manager for Changing Markets, told EuroNews.
More than 50 fishmeal plants line the West African coast in The Gambia, Mauritania and Senegal. A single factory can process 7,500 metric tons of fish a year. Mauritania agreed in 2017 to phase out fishmeal factories by 2020, but the country's 25 foreign-owned factories have tripled production instead.
The U.S. Department of Agriculture estimates that Senegal exports 12,000 metric tons of fishmeal per year. One metric ton of fishmeal requires about 5 metric tons of fresh fish to produce.
According to the United Nations, 90% of Senegal's fisheries already are fully fished or facing collapse.
Earlier this year, the Sea Shepherd Conservation Society and Gambian authorities inspected a Chinese-operated fishing vessel trawling off The Gambia's coast. The ship was running with its transponder turned off, a tactic common to illegal fishing vessels. Crew members also were not keeping mandatory records of their daily location and catch.
The New Yorker magazine reported the inspections in a video documentary.
On shore, Chinese companies build fishmeal factories like the one in Kartong with the promise of jobs and infrastructure. Local activists say the factories' unbearable odor has ruined tourism. They say the factories destroy artisanal fishing zones when they pump their untreated waste into the near-shore waters.
"What we are seeing is not development," Gambian biologist Ahmed Manjang told The New Yorker. "This is exploitation."
Manjang is a native of Gunjur, a coastal village that established a nature preserve to protect its coastal mangroves and the environmentally fragile Bolong Fenyo lagoon. The protective measures didn't stop the pollution. In 2017, the lagoon turned red, and everything in it died.
Manjang conducted tests that showed high levels of arsenic and levels of phosphates and nitrates 40 times what's considered safe. He determined that the pollution came from the Chinese-owned Golden Lead fishmeal factory nearby.
The Gambian government fined the factory $25,000. To subvert regulations, factory managers installed a new waste pipe under the beach that dumped their waste farther offshore.
In 2018, Gunjur residents destroyed the Golden Lead factory's waste pipeline, which was quickly replaced. In March, a group set fire to a Chinese-owned fishmeal factory and destroyed 40 fishing vessels that served it in the village of Sanyang.
Despite protests and demands for governments to do more to regulate the fishmeal industry, activists say little has changed.
"China has given a lot of loans to Gambia, given a lot of so-called grants to Gambia," Gambian journalist Mustapha Malleh told The New Yorker. "They get away with anything."