Irradiated Rhino Horns Used to Deter Poaching
ADF STAFF
About 2 1/2 years ago, Professor James Larkin was having lunch with friends at a lovely Mexican restaurant in Johannesburg when the subject of rhino poaching came up.
Part of the multibillion-dollar illicit wildlife trade worldwide, rhino horn is worth more than gold. Despite having no medicinal value, it is considered a potent ingredient in traditional Chinese medicine.
"James, why don't you zap them with radiation?" one of his friends asked, knowing Larkin is director of the Radiation and Health Physics Unit at the University of the Witwatersrand in South Africa.
That suggestion led to the Rhisotope Project, which became reality on May 13, 2021.
Larkin injected an amino acid with trace amounts of harmless, nonradioactive isotopes into the horns of two 1.5-ton rhinos named Denver and Igor at a private game reserve about 1,000 kilometers south of Johannesburg.
The first phase of the project is to test the animals' safety. Radioactive isotopes would be used after the team determines the right dosage.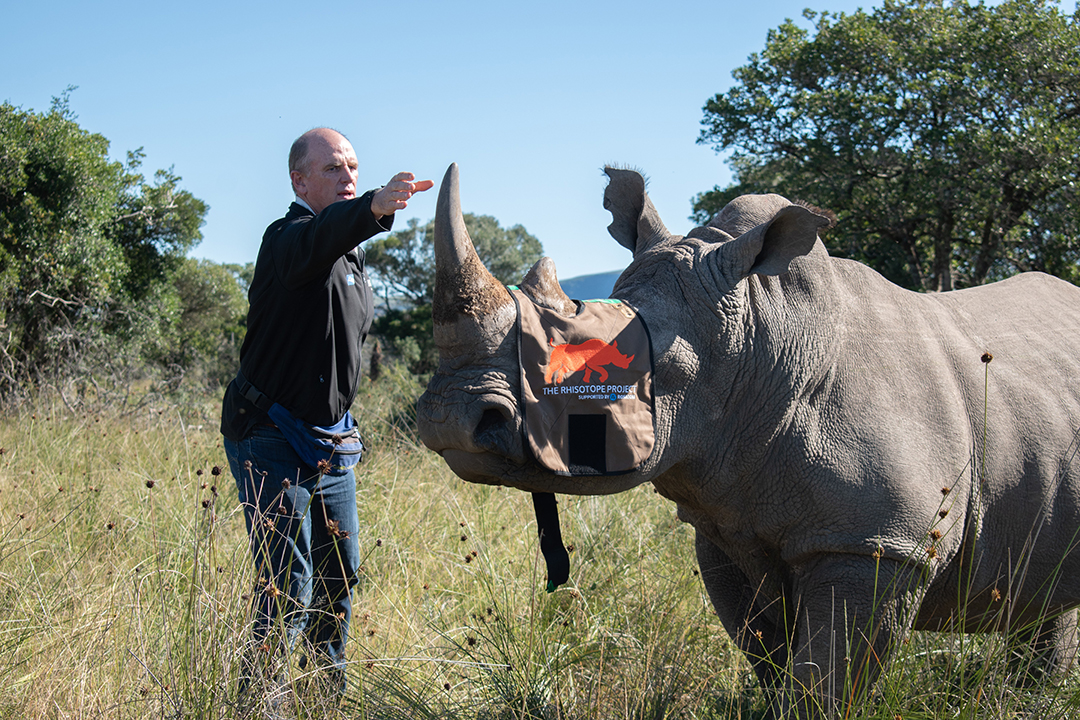 "It would be immensely arrogant to say that this is 'the solution,'" he told ADF. "But I do believe that this will assist greatly in the reduction in poaching and the smuggling of wildlife materials."
Larkin fondly recalls that innocuous question over Mexican food.
"There might have been some alcohol involved," he said with a grin.
The idea was to make rhino horns radioactive with an amount that would not hurt the animal but would devalue the horn as a commodity.
It wasn't completely crazy. Other anti-poaching measures have included poisoning, dyeing, even removing the horns.
The concept lingered in Larkin's mind. Eventually, he said, his nuclear security training kicked in.
Putting a small amount of radioactive material in the horn would make it easily detectable to the 10,000 to 11,000 radiation monitors already installed at ports of entry around the world. It also would add terrorism charges to the crime of trafficking.
"Oftentimes a smuggler won't just be smuggling rhino horn but will put together a whole consignment of illicit goods," Larkin said. "If a detector goes off, it will result in the seizure and loss of all of those goods."
Discouraging end users from ingesting rhino horn powder made sense, too. Anything to save a beloved animal facing extinction.
South Africa is home to 90% of the world's rhino population. From 2010 to 2019, more than 9,600 rhinos were killed by poachers in South Africa. Only about 16,000 remain.
Kruger National Park is home to the world's largest rhino population, but its numbers have declined by 59% since 2013. There are just 3,529 white rhinos and 268 black rhinos left, according to a recent report by South Africa National Parks.
"These shocking numbers have confirmed our worst fears about the number of rhinos in Kruger National Park," said Cathy Dean, CEO of Save the Rhino International. "Kruger's rhinos have suffered immensely since the poaching crisis gripped the country in 2008. Now we're seeing the full and devastating scale of the problem."
Injecting Denver and Igor was step one for the Rhisotope Project — the "proof of concept" stage. The rhinos will be monitored over the next three months to detect whether the isotopes move into their bodies.
Larkin hopes to present a viable concept on World Rhino Day, September 22 — his birthday. From there, the work will be offered to state and private rhino owners on the continent and around the world.
Larkin intends to give any conservation organization that wants to use the technique his team's intellectual property, training and support for free.
"We are aiming to have much of the work completed by the end of the year," he said. "It's a tough ask, but given the interest shown and the offers of cooperation, it might well be possible."