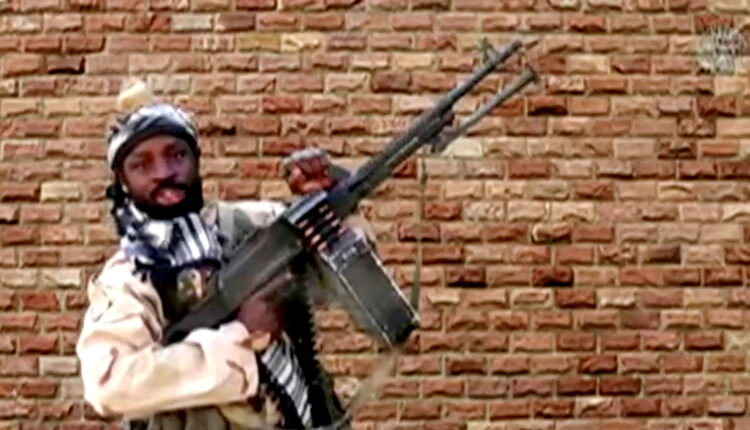 Reading Time:
2
minutes
ADF STAFF
The suspected death of Boko Haram leader Abubakar Shekau in Nigeria in May raises questions about the future of the country's notorious extremist organization and a possible shift in power toward its rival, the Islamic State in West African Province (ISWAP).
The Nigerian military has said it is attempting to confirm ISWAP's claim. This is the sixth time Shekau has been declared dead since 2009. That year, after recovering from an attack in Niger, Shekau returned to Nigeria and took control of Boko Haram.
Under his control, the organization became more violent, killing thousands and driving more than 2 million people from their homes.
Although Shekau has not been seen since his reported death, two days after the battle with ISWAP, an audio recording of him speaking in the Hausa language began circulating in the region.
Boko Haram and ISWAP have been at odds since ISWAP broke away in 2016 after its leaders opposed the brutal tactics Shekau employed against fellow Muslims in the northeast. Since then, ISWAP, which is based near Lake Chad, has grown. The International Crisis Group estimates that ISWAP has 5,000 members to Boko Haram's 2,000.
Since 2019, ISWAP has expanded its territory deeper into northern Nigeria and neighboring Cameroon and has influence in Niger and Chad. The Sambisa Forest remained out of its control with Boko Haram based there until the battle in May.
"They are fighting for supremacy and recognition — who will be recognized by the public," security analyst Bish Johnson told Nigeria's Plus TV Africa. "It's good news that they're fighting among themselves."
But Johnson, like many other analysts, warned against accepting the news of Shekau's death without proof.
"See the body before you declare Shekau dead, then use his DNA to confirm," security expert Ona Ekhomu told TVC News Nigeria.
Although some analysts see the death of Shekau, if confirmed, as likely the final blow to Boko Haram, Johnson believes Boko Haram will regroup and appoint a new leader likely to be as brutal as Shekau, if not more so.
The rise of ISWAP also does not portend a kinder, gentler insurgency, Ekhomu said.
ISWAP began with activities that included collecting taxes from residents across the Lake Chad Basin and claiming to offer protection for citizens in places where the formal security sector was absent. For some time, those actions brought ISWAP the support of some residents in its territory, making it difficult for government forces to uproot it.
Lately, however, ISWAP has shifted toward more violent means of control, attacking government outposts and punishing people who cooperate with the government.
"It's no longer benign jihad," Ekhomu said. "These guys are killers. The current ISWAP is on a killing mission."