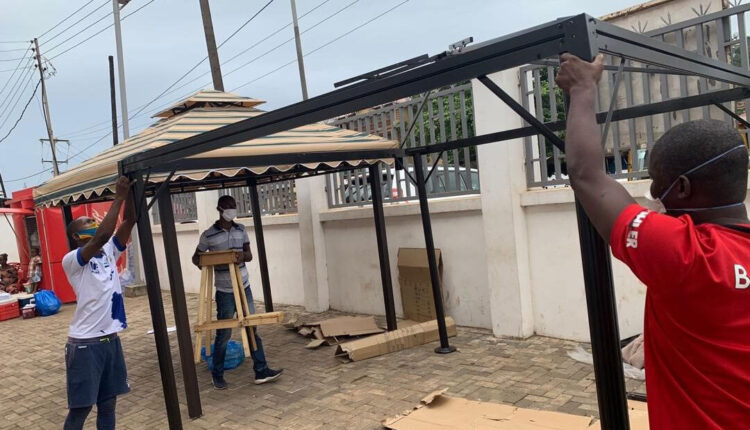 U.S. Boosts Sierra Leone's COVID-19 Response
Reading Time:
2
minutes
ADF STAFF
The United States continues to support Sierra Leone in fighting the spread of COVID-19.
The latest assistance came in the form of $150,000 in equipment and supplies given to the Ministry of Health and Sanitation's laboratory team on December 2 in the capital, Freetown. U.S. Ambassador Maria Brewer presented the aid package to Dr. Mohammed Vandi, director of Health Security and Emergencies.
The supplies are part of the U.S. effort to build up the national lab system and support Sierra Leone's pandemic response. The U.S. also contributes technical assistance to the lab team.
"Diagnostic laboratory testing helps healthcare workers provide appropriate, reliable, and high quality care to patients," President Julius Maada Bio said in a prepared statement in July. "As a government, we remain committed to providing quality healthcare throughout Sierra Leone because it is key to our sustainable and inclusive development goals.
"Every individual has the responsibility to prevent and curtail COVID-19. Only you and your actions can protect you against the virus. These are not normal times, but I thank the healthcare workers for their dedication and service."
As of December 28, the West African country had confirmed 2,560 cases and 76 deaths, according to the Africa Centres for Disease Control and Prevention (Africa CDC). Sierra Leone has administered more than 65,000 tests to its population of nearly 8 million people.
After the country's first case in late March, Bio declared a 12-month state of public health emergency. A three-day lockdown came in early April. Sierra Leone continues to use its Armed Forces and police to enforce compliance with public health directives.
The U.S. gave $2.765 million in pandemic assistance to Sierra Leone in 2020. Among other initiatives, the donations were directed at strengthening detection and surveillance of the virus as well contact tracing and community engagement.
In May, the U.S. provided oxygen concentrators, screening tents and training for health workers.
"We have kept our country's case fatality ratio way under 4%, but COVID remains a clear and present danger," Bio said in a televised address on December 23.
Sierra Leone has focused on improving its public health infrastructure since the country was devastated by an outbreak of the Ebola virus in 2014, which killed 3,955 people. Easy access to hospitals and doctors still is beyond the reach of many people in rural villages.
One of many lessons learned from Ebola was the need for better virus surveillance through laboratory diagnostics.
As part of an international effort, the World Health Organization (WHO) in August helped establish a new molecular testing laboratory in rural northern Makeni City.
At the time, testing capacity in the country was between 400 and 500 tests per day. With the help of the WHO and U.S. aid, the ministry is scaling up to 1,000 tests per day.
"Partnership is critically important in making impact as we have seen in the establishment of the Makeni molecular laboratory, which was made possible with strong collaborative efforts," said Evans Liyosi, the WHO's Sierra Leone representative, on the organization's website.
"As devastating as the impact of COVID-19 can be, I am however pleased that different partners are working together to build institutional capacity and human resources expertise to ensure health security and quality essential health service delivery systems in Sierra Leone."