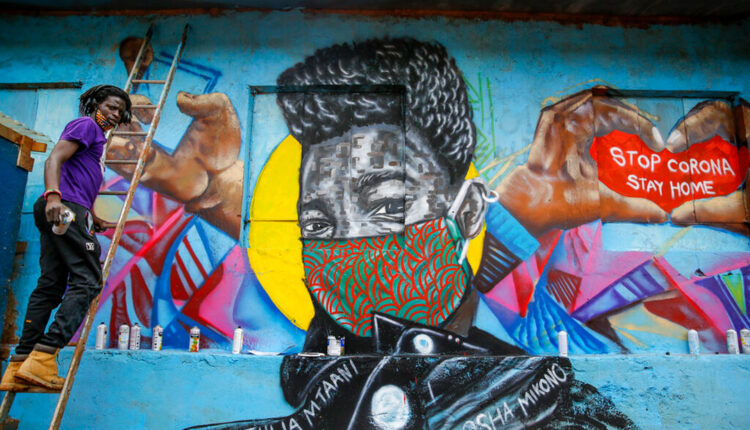 Organization Fights 'Infodemic' With Facts
Reading Time:
2
minutes
ADF STAFF
The World Health Organization (WHO) is setting up a network to fight what it calls an "infodemic" of false information about COVID-19 and other health emergencies in Africa.
The WHO said the Africa Infodemic Response Alliance (AIRA) will bring together 13 international and regional organizations, along with fact-checking groups that have expertise in data and behavioral science, epidemiology, research, digital health, and communications.
When COVID-19 hit the continent at the beginning of 2020, a tidal wave of misinformation followed immediately. People claimed that the virus was invented as a biological weapon. Herbs and potions were touted as miracle cures. And throughout the world, people claimed that effective behaviors to avoid the virus — wearing masks, washing hands, social distancing — were tools for government control.
Health and aid groups working on the ground are reporting suspicion of treatment and a proliferation of conspiracy theories. "When communities receive the wrong information about an illness, it creates fear — in this case of others — and fear can lead to stigma, isolation, poorer health outcomes on individual and societal levels, and in some cases, violence," said Eric Hazard, director of Save the Children's pan-African campaign and advocacy.
The WHO's new African alliance will have a unique reach, along with the knowledge and skills to help halt the spread of dangerous misinformation, said Dr. Matshidiso Moeti, WHO regional director for Africa.
"In health emergencies, misinformation can kill and ensure diseases continue to spread," she said. "People need proven, science-based facts to make informed decisions about their health and well-being, and a glut of information — an infodemic — with misinformation in the mix makes it hard to know what is right and real."
The WHO has examined data gathered by the United Nations on the 47 countries of the WHO African Region. Between February and November 2020, information about the virus was shared and viewed more than 270 billion times online and mentioned nearly 40 million times on Twitter and web-based news sites. Officials concluded that a large proportion of the information was inaccurate and misleading, but people continued to spread it on social media. The information included conspiracies regarding unproven treatments, false cures and anti-vaccine messages.
The WHO said that African fact-checking organizations report that they have debunked more than 1,000 misleading reports since the pandemic started.
More than 1,300 field experts developed key recommendations on infodemic management in early 2020 under the guidance of the WHO's global Information Network for Epidemics. The experts developed 50 key actions that individuals, community leaders, governments and the private sector can use to manage the COVID-19 infodemic.
The alliance will support journalists and media outlets to share information based on scientific evidence and discredit health disinformation. AIRA also will help countries develop tailored infodemic management strategies, including ways to analyze trends and behaviors.
AIRA members include the Africa Centres for Disease Control and Prevention, the International Federation of Red Cross and Red Crescent Societies, and several United Nations agencies, such as UNICEF.
"We are seeing increasing numbers of organized crime groups using misleading conspiracy theories and the resulting public fear to drive scams designed to steal banking details and other identity data," Justin Arenstein, CEO of PesaCheck, an information-verification initiative, told the WHO. "We're also seeing infodemic claims being used by xenophobia campaigners and other hate speech protagonists. This alliance will help us debunk false claims far faster, and get the message out far wider."