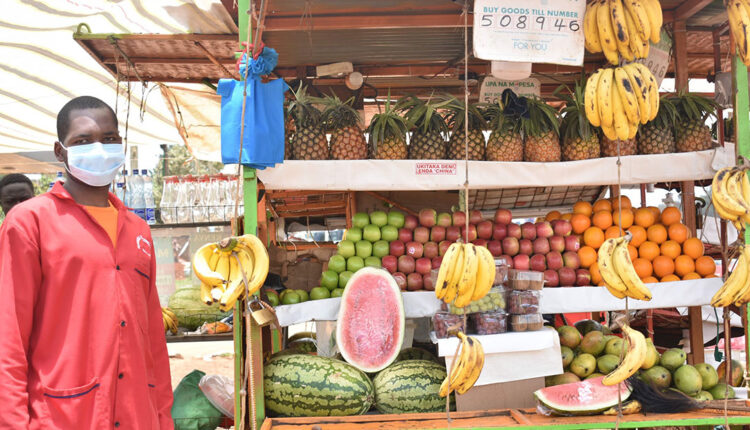 Africa's Digital Revolution Accelerates During Pandemic
Reading Time:
3
minutes
ADF STAFF
When street vendor Patrick Macharia needs to restock his Nairobi fruit and vegetable stand, he picks up his mobile phone and places his order. The next morning, the order arrives fresh from the farm, on time and ready for customers.
It's a far cry from the old days, when vendors like Macharia would wake up at 3 a.m. to get to the crowded wholesale warehouse, haggle for the best produce they could afford, then haul it all back through traffic-clogged streets.
Macharia's supplier, Twiga Foods, along with its clients on the farms and in the streets, is a key player in the technological revolution sweeping Africa. It's a revolution that has picked up speed in response to the COVID-19 pandemic, changing the way people do everything, from buying and selling to visiting the doctor.
"The pandemic's silver lining is the chance to experiment with technologies and co-operative approaches across borders that could lead to safer, more sustainable and more inclusive global futures," Sanjeev Khagram, the Uganda-born dean of the Thunderbird School of Global Management at Arizona State University, wrote in The Economist.
Across Africa, mobile money platforms have grown rapidly as shoppers avoid spreading COVID-19 through hand-to-hand cash transactions. Lockdowns have limited business in crowded markets, where so much of the continent's informal economy takes place, moving it to online orders and door-to-door deliveries.
"Everybody plunged in and decided to try it out, and then they said, 'This thing actually works!'" Juliet Anammah, head of institutional affairs for Jumia, Africa's largest online retailer, told African Business.
Twiga Foods has become a model for the future of business. The 6-year-old technology company connects farmers in 20 counties in southern Kenya directly with vendors through its mobile ordering system.
The system gives farmers a guaranteed market, and vendors get a more reliable supply of produce and dry goods to sell and pay using Kenya's M-Pesa mobile payment app — all at the push of a mobile app button.
"That, for the first time for a farmer, gives them a transaction history," said Mahia-John Mahiani, Twiga's CFO. "For the first time they can say, this isn't just my shamba [farm], this is biashara [a business]. This is a business that they can now leverage to access credit and other services from a financial institution."
CEO Peter Njonjo says that by streamlining the supply chain from farmer to vendor, Twiga has made food cheaper and better. During the pandemic, Twiga began marketing directly to consumers and has plans to expand its offerings beyond food. Similarly, Uganda's Online Butchery moved from selling solely to businesses to marketing directly to consumers.
"If technology could aggregate more of these retailers, imagine the opportunities that would then be created from that," Njonjo said in an International Finance Corp. interview. "Within the continent, there's a significant opportunity in addressing some of the bottlenecks to access the local demand of the local consumers on the continent."
Twiga is not alone in using technology during the pandemic to improve commercial transactions. In Uganda, Market Garden links female market vendors with farmers via a motorcycle-based delivery system. Kenyan-based iMIango satellite network helps children keep up with their education during lockdowns, even in remote villages. Ghana's mPharma provides an online system for buying medicine that avoids the continent's proliferation of counterfeit drugs. In South Africa and Nigeria, telehealth apps make it possible for people to visit a doctor without leaving their homes.
"The unprecedented context [of the pandemic] is simultaneously driving us to become far more reliant on breakthrough digital, biological and physical technologies and far more inventive about how we can use these emerging technologies to create value in new ways," Khagram wrote.
And, across the continent, digital currency is rapidly replacing paper money, with hundreds of millions of dollars' worth of transactions each year passing though payment systems such as M-Pesa, DPO in South Africa and Paystack in Nigeria.
Although COVID-19 may have helped supercharge Africa's booming tech sector, founders and CEOs expect to see even more growth as the pandemic recedes and the African Continental Free Trade Area takes shape.
"What we should aim for is to have one big digital logistics platform," Nigerian tech entrepreneur Obi Ozor told CNN. "That's when we start solving the problem in the economy. If we're fragmented and not partnering, we are not able really to have the skill to solve the problem in the economy."