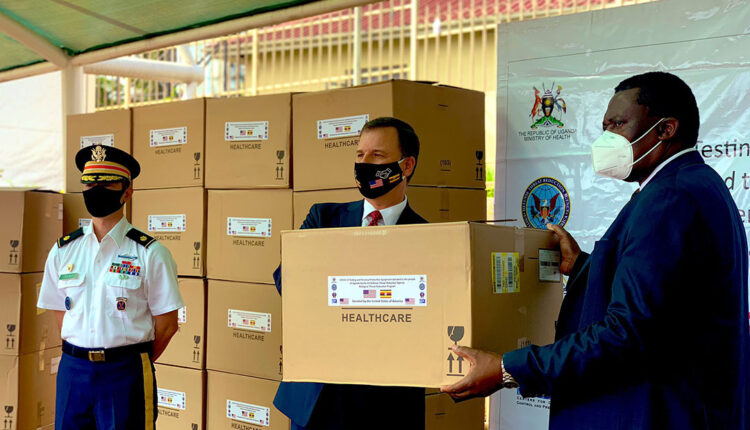 U.S. Medical Gear Supports Ugandan Mobile Lab
Reading Time:
2
minutes
ADF STAFF
A day after Uganda reported its highest number of new COVID-19 infections since the virus was first detected there, the Ministry of Health received a nearly $1.9 million shipment of masks, gloves, face shields and surgical gowns from the U.S. government.
Delivered December 9, the personal protective equipment (PPE) is for use in a mobile laboratory deployed in remote areas to test people for the virus. The lab is staffed by the Health Ministry and Uganda Virus Research Institute.
The U.S. has donated $43 million toward Uganda's COVID-19 battle since the pandemic began, including funds to support refugees and host communities and to strengthen food security.
"We will continue to work hand in hand with our Ugandan partners, and together we will overcome this pandemic," U.S. Embassy Kampala's Deputy Chief of Mission Christopher M. Krafft said during a handover ceremony.
In November 2020, the U.S. donated PPE to hospitals in Kiruddu, Mulago, Jinja and Gulu and to the Makerere University Walter Reed Project Emerging Infectious Diseases Program at the Uganda Virus Research Institute.
Denis Byarugaba, principal investigator of the Makerere University program, was thankful for the U.S. donation amid a global shortage of supplies.
"We watch TVs and we see what is happening in the U.S., and you still find it necessary to come and support us," Byarugaba said in a story on the university's website. "We are very grateful for this. Our influenza research surveillance work puts us at a higher risk because we do sampling for patients that typically show influenza-like symptoms similar to COVID-19. This donation is timely."
Uganda closed schools and banned large public gatherings even before the first COVID-19 case was confirmed on March 21, which helped keep infection rates low in the nation of 42 million people. But by late December, every region of the country was affected as the virus raged throughout East Africa.
Ugandan President Yoweri Museveni pleaded with his countrymen to maintain vigilance in efforts to contain the virus.
"While we are waiting for the vaccine we should not be complacent," Museveni said in a New Vision report.
Ugandan scientists were testing potential COVID-19 vaccines as Museveni spoke.
An immune booster already was in use, while several other products were undergoing trials, including antiviral medicines, which kill a virus and limit its damage, and a bronchial dilator that helps keep a patient's airways open, Museveni said in a televised address.
"Our scientists have also developed two diagnostic tests — one which uses saliva and can give results in 30 minutes," Museveni said. "There is always opportunity in adversity."