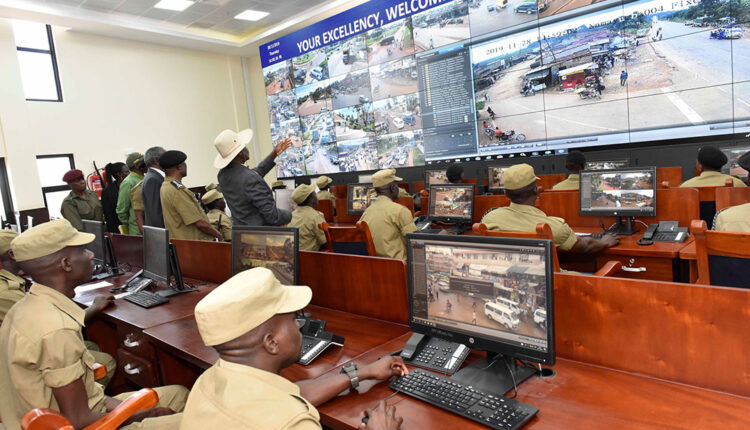 'Safe City' Tech Could Lead to Loss of Privacy
Reading Time:
3
minutes
ADF STAFF
Above the busy streets of Kampala, Nairobi and other cities, closed-circuit cameras keep an unwavering watch on the people moving beneath them.
The cameras are part of Chinese telecommunications giant Huawei's Safe City initiative, which has found buyers across the continent from Morocco to South Africa. Huawei launched the first Safe City project in Nairobi, Kenya, installing 1,800 high-definition cameras across the city.
African nations are increasingly embracing offers from Chinese technology companies to provide high-speed internet, 4G and 5G cellphone services, and closed-circuit security camera networks. Such networks now are in place in more than a dozen countries, with most of those adopting the Safe City package.
As safety-conscious governments adopt surveillance technologies, civil rights advocates say the risk increases that those same governments will follow China's lead, using the technology to track citizens and invade their privacy.
"China is home to nine of the 10 most-surveilled cities in the world, accounting for over half of cameras in use in the world today," Carine Kaneza Nantulya, African advocacy director for Human Rights Watch, told ADF. "By purchasing these systems, local governments may aim to do precisely that as they are preoccupied with 'regime survival,' first and foremost."
In Uganda, President Yoweri Museveni wrote on Twitter last year that the $126 million system had 83 operating centers, 522 operators and 50 commanders in Kampala alone. Earlier this year, the government began extending the system to more than 2,300 communities across the country.
"I tested the system with an impromptu demand that they show me a surveillance feed for Gobero and Namayumba, 33 miles from Kampala, on Hoima Road, which they did successfully," Museveni reported on his Twitter account.
When protests erupted in Uganda in November, police confirmed publicly that they used Huawei technology to locate some of the 830 protesters they had arrested.
Supporters of Safe City in Uganda say it supplements the understaffed police force that relies heavily on witnesses and can be slow to build cases. Charles Twine, a spokesman for the police Criminal Intelligence and Investigations Department, told Reuters that police manpower is "critically wanting."
On top of that, the COVID-19 pandemic has pushed police agencies to use more "eye-in-the-sky" technology to monitor public behavior while protecting their own officers from potential infection.
Ugandan civil rights group Unwanted Witness has called on the government to follow international human rights laws and safeguards implemented to control the use of intrusive technologies such as the Safe City program.
Uganda is not the only African nation using Chinese surveillance technology in ways that might invade privacy or throttle opposition. Activists in Kenya and Zambia have raised concerns about similar behavior as their governments have signed on with Huawei.
Surveillance cameras from another Chinese company, Hikvision, which also use facial recognition technology, are popular in South Africa, Senegal and Kenya. In South Sudan, there are growing allegations that the National Security Service (NSS) is using Chinese technology to track regime opponents and collect intelligence against citizens and entities considered a threat to the ruling parties, Kaneza said.
"The NSS has compelled telecommunications companies to hand over customer data including phone numbers and used that information to tap phones of suspects and other targets or to carry out arrests or pursue prosecutions," she said.
South Sudan and 52 other African countries are signatories of the continent's African Commission on Human and People's Rights. In April, the commission published the "Declaration of Principles on Freedom of Expression and Access to Information in Africa," which calls on member states to follow international human rights standards and protect their citizens from intrusive technology that can invade their personal and data privacy.
As Huawei and other Chinese companies increase their foothold in Africa, citizens and civil rights groups are pushing their governments to comply with international standards and demand legal safeguards, such as seeking judicial warrants for surveillance, Kaneza said.
"The spread of Chinese security and surveillance platforms, which also include facial recognition and technical intelligence collection, can not only put Africans' privacy and civil rights at risk — they can also potentially put lives at risk," Kaneza said.