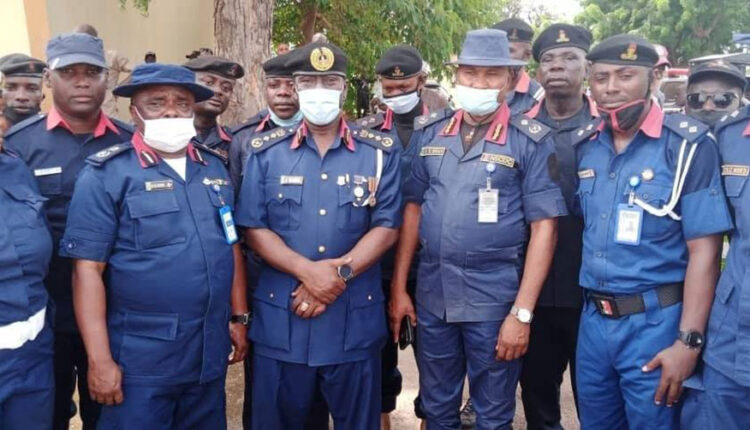 Nigeria's Agro Rangers Shield Farmers from Boko Haram Raids
Reading Time:
3
minutes
ADF STAFF
In the farming communities of Nigeria's northeastern Borno State, Boko Haram extremists have spent years raiding farms, stealing livestock and driving farmers off their land. Now, those same farmers can return to their work without fear: The Agro Ranger Squad has their backs.
Last year, Nigeria's Security and Civil Defence Corps (NSCDC) launched the program that puts well-trained, armed escorts into the fields to watch over farmers as they work. The rangers also patrol the broader region around Bama and other communities on the lookout for Boko Haram fighters. The group travels the area between strongholds in the Sambisa Forest, south of Maiduguri, and the islands of nearby Lake Chad on the border with Chad and Cameroon.
"Bama is one of the most dangerous areas," Civil Defence officer Isa Ahmad Michika, who supervises Agro Rangers in the region, told France 24 TV. "It is the route the insurgents with Boko Haram cross on a daily basis. They have their graveyards not far from this place where they bury their dead."
Since Boko Haram began its campaign of violence in 2009, fighters have killed tens of thousands of people in Nigeria, made 2 million homeless and created food insecurity for 5 million.
The government has trained about 5,000 rangers and deployed them in a handful of local government areas of Borno. Given the program's success, plans call for enlisting thousands more in the coming years to counter Boko Haram and other extremist groups.
The rangers come from a range of backgrounds. Some are former militia members, and others are manual laborers looking for new work. They've all been trained to patrol, conduct conflict resolution and handle a weapon.
"Some do drilling. Some are mechanics, while others are traders," Agro Ranger Musa Bukar told France 24. "But since the insurgency started, we all came together and decided to support the governor and ourselves by protecting farmers. That's why we're risking our lives to flush out Boko Haram in the town — so we can have peace, and people can return to their homes by the grace of God."
In August, the Agro Rangers enlisted their first celebrity when popular Nigerian hip-hop artist Daniel Oyebanjo, aka D'banj, signed on.
"Being myself a farmer of over 15 years, I very well understand the challenges suffered by farmers as incessant and reoccurring attacks stifle production and productivity," Oyebanjo said in a statement as part of his swearing-in by Commandant General Abdullahi Mohammadu. "I find this initiative undertaken by the Nigerian Security and Civil Defence Corps as a wonderful opportunity to serve my country."
Agriculture remains a key component of Nigeria's economy. In Borno State alone, it makes up 65% of the economic output. Boko Haram's attacks have diminished farm production, driving up food prices, which ripple through the nation's broader economy and create the threat of food insecurity as they go.
By spending their days watching over farmers, the Agro Rangers bring stability where they work. In March, Abdullahi said the Agro Rangers had helped more than 1,800 farmers return to their fields across Borno State.
"Farming activities have also resumed in some local government areas, and some communities have returned to their ancestral homes," Ibrahim Abdullah, NSCDC commandant for Borno State, said at a recent celebration of the Agro Rangers' first year on the job. "This year we intend to improve on our successes and close operational loopholes identified for efficiency and effectiveness."
For farmers, the presence of Agro Rangers means they can begin earning a living again by harvesting rice, beans, sesame seeds, maize and other cash crops.
"They stay to make sure everybody is safe before leaving in the evening. That's why most people are returning to their farmland," farmer Sodangi Mohammed told France 24. "Without their protection, farming is impossible."