Since 1978 and 1979, when 10 female cadet officers and 64 recruits enlisted in the Republic of Sierra Leone Armed Forces (RSLAF), more women have volunteered to serve. They have showed us, through more than 40 years of dedicated service to country, uncommon valor, courage, adaptability, selflessness and leadership. They have carried through their pledge to defend and protect this land that we love. 
They have defied traditional strictures, they have battled against stereotypes and unequal treatment, and they have persevered and prevailed. 
When my government, in conjunction with the United Kingdom and the International Security Advisory Team, launched this special female recruitment, it was because we believed that expanding the presence and role of women in the national security sector is good for our national peace, cohesion and development, and good for our expanding role in international peacekeeping and peace support operations the world over. 
The initial intent was to recruit just 50 officer cadets and 250 recruits — a total of 300. We ended up recruiting 332 [60 officer cadets and 272 recruits] because of the very high caliber of applicants and their distinction in the recruitment process.
You enter the RSLAF at a time of progressive change. Internationally, RSLAF is committed to peacekeeping and peace support operations in various countries in the world. At home, the role of the RSLAF has evolved considerably from a traditional border security role to a true partner in development.
As commander in chief, let me formally welcome you into the RSLAF. Let me also assure you that you are coming into this noble institution at a time when there is growing opportunity for female service personnel in terms of career progression, educational development and participation in global peace support operations.
May I remind you also of your responsibilities. The oath of allegiance means that you have agreed to subject yourself to public scrutiny as a Soldier both on and off duty. You have sworn to respect, uphold and protect the national constitution of the Republic of Sierra Leone and to obey all lawful orders from any superior placed over you without question.
You must not involve yourselves in partisan politicking or engage in partisan political discussions. As professional Soldiers, do not allow yourselves to be unduly influenced by politicians irrespective of your personal relationships or other unseemly affinities with them. You serve the Republic of Sierra Leone and no one individual's personal interests or ambitions.
Lastly, to you, our new Soldiers, you have just sworn into one of the finest military traditions and institutions — one that has hewn and shaped patriots, men and women who have fought and made the ultimate sacrifice for our nation in war and in peace. Let us all continue to stand for our country's peace, unity, freedom and justice because we have only this one Sierra Leone.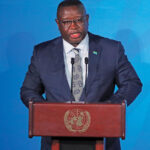 Julius Maada Bio, president of Sierra Leone, spoke during the passing-out parade and commissioning ceremony for female officer cadets and recruits at the Armed Forces Training Centre, Benguema Barracks, in Waterloo, Sierra Leone, on September 7, 2019. His remarks have been edited to fit this format.