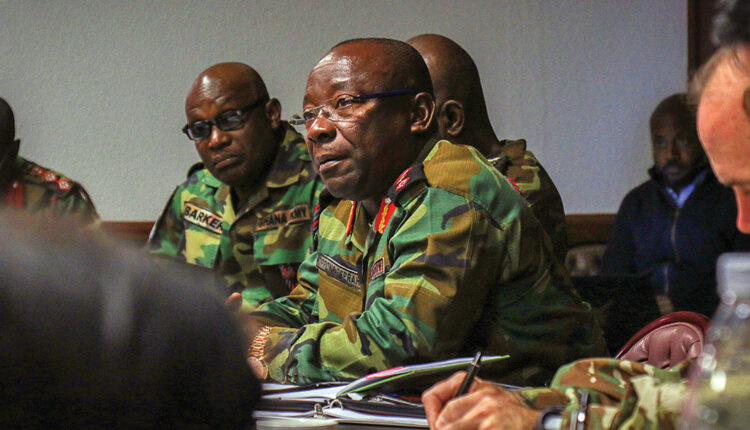 Reading Time:
2
minutes
U.S. AFRICA COMMAND
U.S. Africa Command (AFRICOM) hosted senior members of the Ghana Armed Forces (GAF) to discuss long-term defense and security planning.
Representatives of AFRICOM's five component commands, the U.S Department of Defense, the U.S. Department of State, the U.S. Embassy to Ghana and the Ghana Armed Forces attended and discussed the component commands' three- to five-year training objectives with Ghana.
"The Ghana Armed Forces are well-known in West Africa as professional armed forces," said Ghanaian Maj. Gen. Thomas Oppong-Peprah, chief of army staff. "We have similar values and respect human rights. … The U.S. knows this and sees us as a partner."
Plans include U.S. Army Africa's hosting of a medical readiness exercise to improve the GAF's ability to prevent the spread of infectious diseases. U.S. Naval Forces Africa helped improve the GAF Navy's Maritime Operational Center, which provides constant domain awareness to enforce maritime laws.
Medical training "has really helped our nation to help prevent diseases in Ghana and our neighbors," said Oppong-Peprah. "We have the capability to go to other countries and assist."
Other objectives in the plan include U.S. Air Forces Africa helping the Ghana Air Force expand its operations to support rapid force deployment and aeromedical evacuations. U.S. Marines Forces Europe and Africa is looking to support the ability of the Ghana Navy's Special Boat Squadron to deter and respond to maritime crime such as human and drug trafficking, piracy and illegal fishing.
U.S. Special Operations Command Africa incorporated the GAF in planning for the 2020 Flintlock exercise to help African countries counter violent extremist organizations, protect borders and provide security.
"Some armies in Africa lack the capacity to provide their own security or ability to export security throughout the region, but we have built that capacity over time to assist other countries," Oppong-Peprah said. "We recognize that it is imperative for African countries to complement one another in providing and maintaining peace.