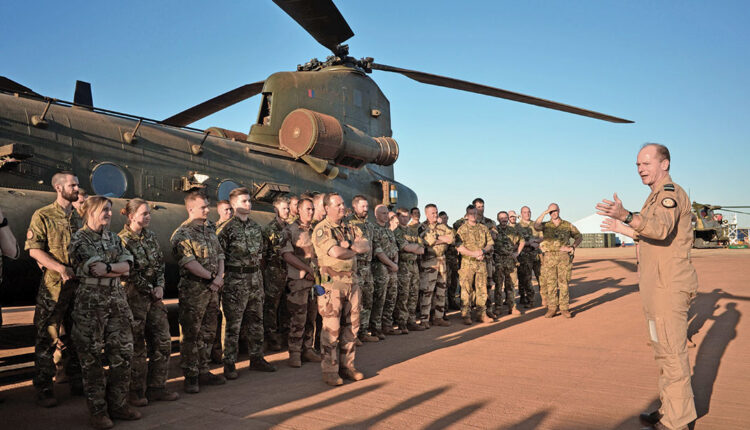 Reading Time:
2
minutes
AGENCE FRANCE-PRESSE
French and British air force chiefs vowed to pursue the joint fight against extremists in the heart of the Sahel, even as the shadow of Brexit loomed over their countries. 
"We've got a long, fabulous history of working alongside each other, and I don't expect anything to change anytime soon," Royal Air Force Chief of the Air Staff Mike Wigston told AFP on a visit to the Malian city of Gao with French counterpart Philippe Lavigne. "If anything, we are going to work stronger together." Backed by 100 British personnel, France has a 4,500-strong Sahel force supporting national armies struggling with a 7-year-old extremist insurgency.
Thousands of civilians have been killed, and hundreds of thousands have fled their homes. Wigston said Mali and its neighbors are "the front line of instability."
France's Operation Barkhane trains and supports local forces, which have limited means and face budgetary challenges.
Britain and France signed a defense cooperation pact in London in 2010, and both sides have repeatedly said it will not be affected by Brexit, the decision by the United Kingdom to leave the European Union.
Since July 2018, London has contributed three heavy-lift Chinook helicopters to France's Sahel fight. As of December 2019, they had logged more than 1,600 hours of flying time and transported about 11,000 personnel and 800 metric tons of freight.
The twin-rotor helicopters can haul nearly 4 metric tons of supplies and more than 30 troops at a time — a vital contribution in a region where road access to front-line troops is long and dangerous, with a high risk of mines and militia attacks.
The helicopter support "allows us to devote ourselves to air combat missions while our British comrades provide logistics, refueling and troop transport," said Col. Loic, who heads France's Barkhane air combat group in Mali.