Insurgents Scatter as Nigeria Rules Air
A Variety of Versatile Assets Helps the Country Take the Battle to Entrenched Extremist Groups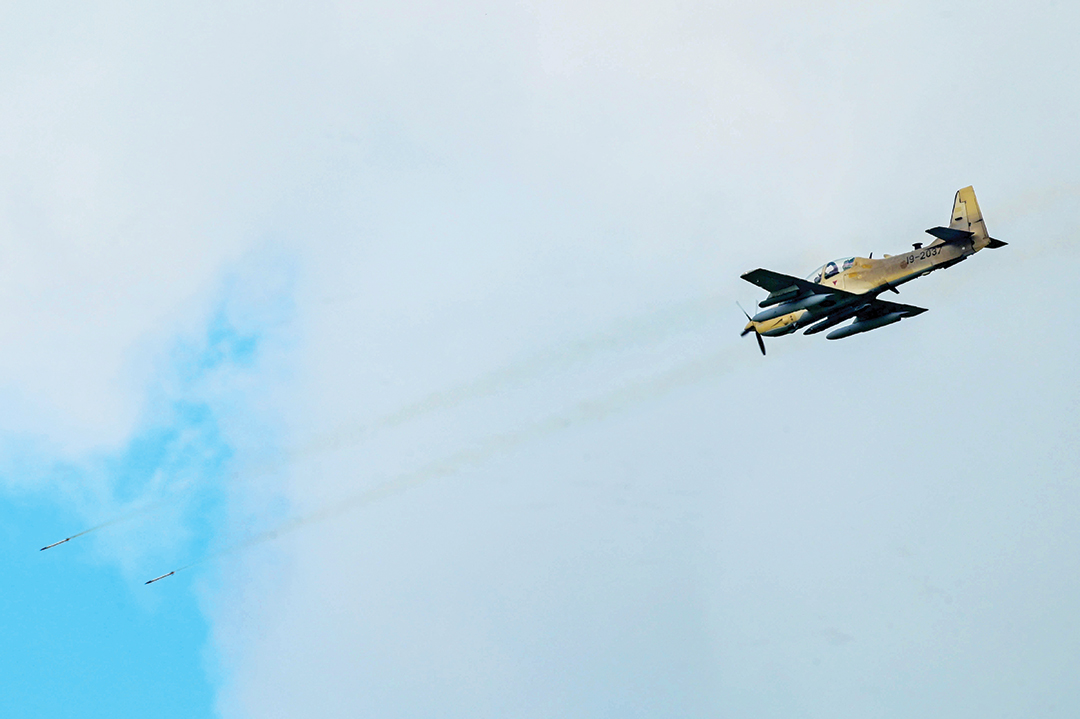 ADF STAFF
Northeast Nigeria's famed Sambisa Forest is known for its low-profile trees and dense thickets, punishing anyone foolish enough to traverse it without a machete. It spreads across 512 square kilometers in Borno State and has served as a refuge for Boko Haram and associated militants.
For years, Boko Haram and the Islamic State West Africa Province (ISWAP) have used the unforgiving forest as a base of operations. Boko Haram kidnapped young girls and hid in the forest. Militants would emerge from the bush, attack security forces and disappear into its cover.
In the past several years, however, Nigerian forces have begun to bombard the forest from the air, bringing militants and their associates running from it in surrender. More recently, newly acquired air assets — especially a dozen A-29 Super Tucano light attack planes — have helped give the army and air force new agility in the area at a reasonable cost.
The Tucanos are part of a growing list of air assets Nigeria is acquiring for all branches of its military and security services. In the past few years, the country has added platforms that help monitor and secure land and sea, including tethered and untethered drones, helicopters, and several types of planes. On a continent where force-on-force warfare is rare, and strategic airlift is a constant challenge, having a versatile array of low-cost aerial assets can help sustain mission effectiveness and value.
High-tech jets can cost millions of dollars to procure and tens of thousands of dollars an hour to operate, which is like "using a Rolex to drive a nail," as one expert told Air Force Times. By contrast, the Super Tucano can stay aloft for roughly $1,000 an hour.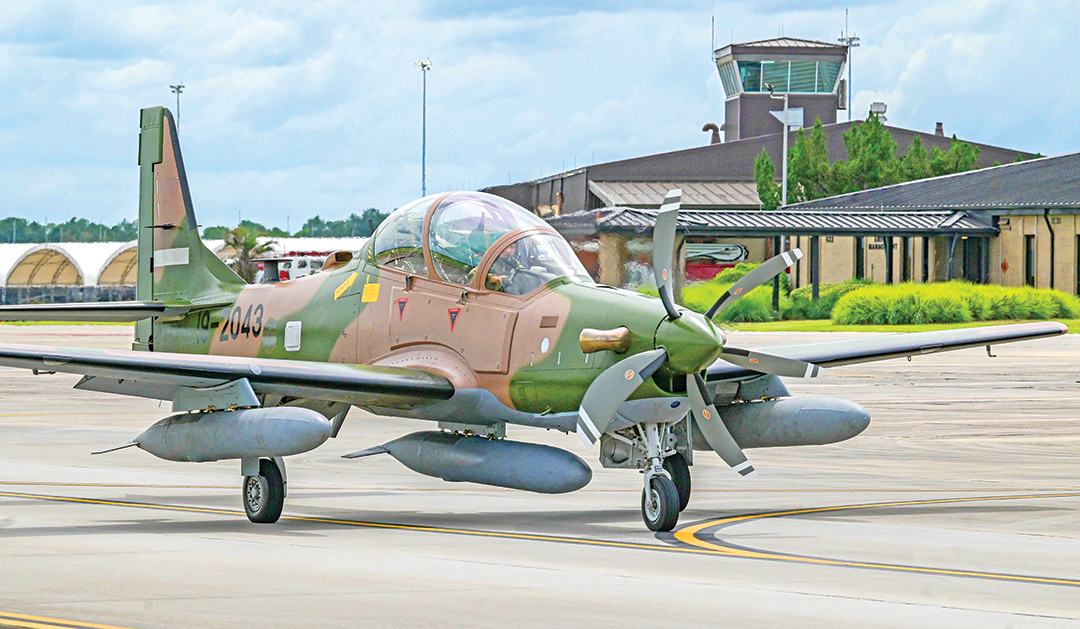 Tucanos also provide a range of weapons options, including wing- and fuselage-mounted machine guns, air-to-air missiles, and laser-guided bombs. 
The dozen Tucanos were part of a nearly $500 million deal with the United States in 2021.
The purchase brought the turboprop planes to Nigeria as part of a package that includes spare parts to support several years of operations, contracted logistics support, munitions and a multiyear construction project to upgrade infrastructure at Kainji Air Base in Niger State. 
The A-29s have been a crucial part of Operation Hadin Kai, an ongoing counterterrorism effort that began in April 2021 when it replaced the six-year Operation Lafiya Dole.
Leadership News reported in February 2023 that two Super Tucano strikes killed scores of Boko Haram militants as they gathered for a meeting in Gaizuwa on the edge of the Sambisa Forest. The A-29s fired rockets and bombs, killing some and making others flee.
As Nigeria conducted air operations between
February 23 and March 9, 2023, more than 1,300 people surrendered, including 699 children, 411 women and
222 men. Nigerian authorities said the total comprised terrorists and their family members.
Voice of Nigeria reported that intelligence showed that some insurgents had planned to attack locations in Gamboru, Kauwa and Monguno in Borno State to disrupt national elections. Instead, a "series of air interdiction operations was carried out at these identified locations," said Maj. Gen. Musa Danmadami, director of Defence Media Operations. "Feedback revealed that the airstrike dealt with terrorists, as several terrorists were neutralized with their logistics destroyed."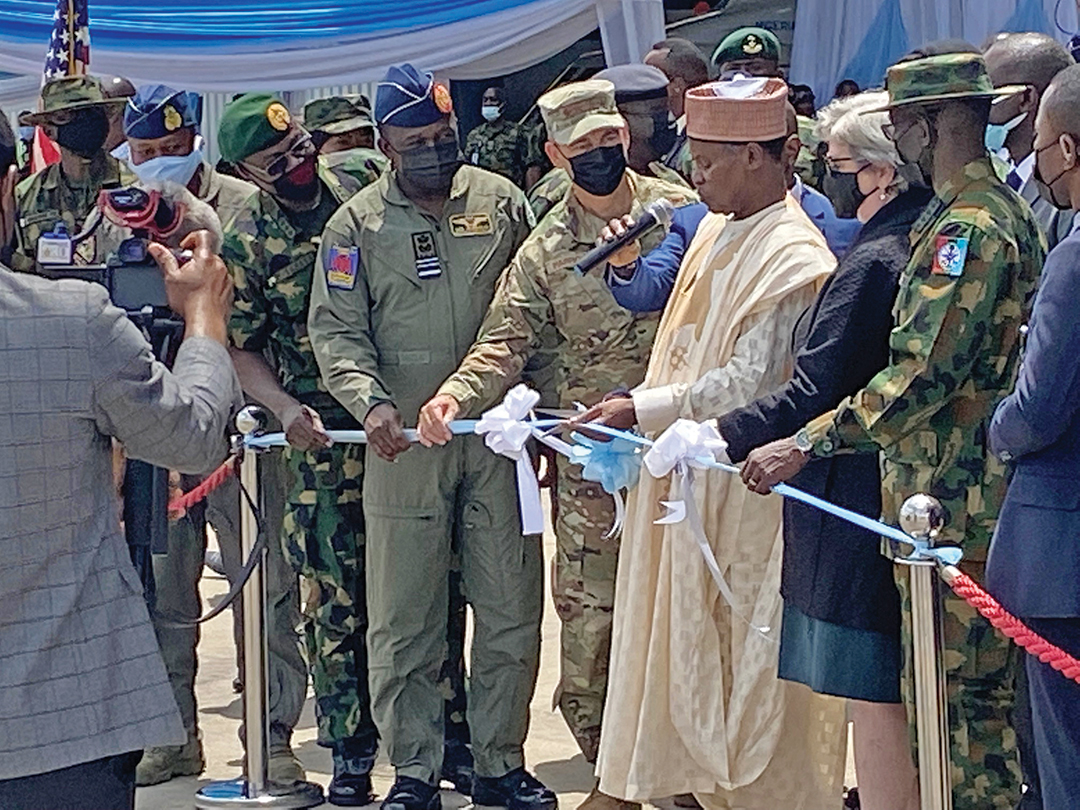 A NIMBLE AIR ASSET
The A-29 Super Tucano offers tailor-made capacity to Nigeria's military for light air support, combat and reconnaissance. Sierra Nevada Corp. builds the planes in the U.S. with its partner, Embraer Defense & Security, a Brazilian company.
The aircraft's durable design makes it ideal for rugged terrain with unimproved runways and at forward operating bases. It can be configured for one pilot in a single-seat version or for one pilot and a navigator or student in a two-seat version.
It has a maximum speed of 593 kilometers per hour and a cruising speed of 520 kilometers per hour. It can fly at a service ceiling of 10,668 meters and has a maximum takeoff weight of 5,400 kilograms. Its external payload is just over 1,551 kilograms.
AN IMMEDIATE RECORD OF SUCCESS
The A-29s were helping Nigerian forces pressure and decimate insurgent forces immediately upon their arrival in 2021. As a truck trundled through the Sambisa Forest region with four Boko Haram extremists inside, the new planes kept watch overhead and waited for the
right moment.
Two of the A-29 Super Tucanos destroyed the truck in the village of Gargash in a two-day operation that targeted three Boko Haram encampments and killed 49 terrorists. The airstrikes on August 30 and 31, 2022, were part of Operation Hadin Kai, the Nigerian Army said.
Airstrikes also targeted hideouts in Minna and Gazuwa, according to Vanguard, a Nigerian newspaper. Lake Chad region counterinsurgency expert Zagazola Makama confirmed the attacks for the paper, noting that strikes killed 29 Boko Haram fighters in Gazuwa and 16 in Minna, in addition to those in the truck.
On December 5, 2021, also as part of Operation Hadin Kai, pilots used Super Tucanos to kill ISWAP commander Abou Sufyan and dozens of his fighters in a series of attacks in Kusuma and Sigir near Lake Chad in Borno State, according to the website Sahara Reporters.
The planes struck an armory base after intelligence and reconnaissance missions detected ISWAP fighters preparing to attack Nigerian troops in the area. Strikes hit a weapons-manufacturing facility, the armory, a fuel dump, and a building filled with vehicles and motorcycles, according to the report.
A week earlier, the Nigerian planes had destroyed gun trucks in the Gajiram area of Borno State, the Daily Post reported. ISWAP fighters there were trying to overrun the town and a forward operating base when Nigerian Air Force pilots struck. Army spokesman Brig. Gen. Onyema Nwachukwu said security forces recovered 10 AK-47 rifles, an anti-aircraft gun, a 60 mm mortar tube and ammunition.
The Nigerian Air Force used the new planes to maintain the pressure into 2022. In January, another Operation Hadin Kai strike reportedly killed ISWAP senior commander Mallam Ari, who was in charge of Borno State's Kirta Wulgo region and oversaw foreign mercenaries who made improvised explosive devices for the terrorists. Super Tucano strikes killed Ari and several other ISWAP fighters and hit a structure in the area, according to Sahara Reporters.
Airstrikes on February 13, 2022, killed Malam Buba Danfulani, another top ISWAP commander, near Lake Chad in Borno State, and others, according to the Nigerian magazine Northeast Star. Danfulani was responsible for coordinating the deployment of spies, collecting taxes and issuing passes.
In the fall of 2022, troops with air support attacked villages outside the town of Bama along the edges of the Sambisa Forest. Fleeing militants ran into the rain-swollen Yezaram river to escape the bombardment, where scores of them drowned.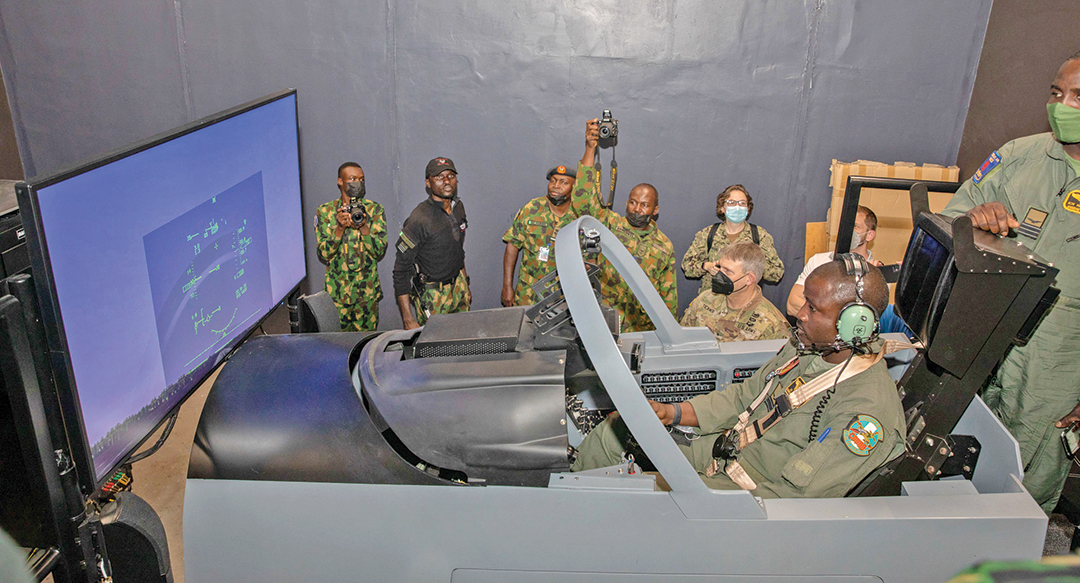 "Most of the Boko Haram elements drowned in the river, and their bloated bodies were found floating on the surface," Bukar Grema, a militia fighter working with the military, told Agence France-Presse in September 2022. "Over 100 of them were retrieved from the river and buried by our men."
Civilians in Borno State seemed to appreciate the increased capacity that the Super Tucanos afforded Nigerian security forces. "We're winning the war with the Tucano," Borno resident Adamu Ali Adamu told The Defense Post. "We'll drive the terrorists into the Sambisa Forest."
Borno resident Isyaku Umar also praised the difference the planes are making. "War happens because evil people want to play games," Umar told The Defense Post. "Kudos to the Tucano for dealing with such evil people here."
As the planes continued to help turn the tide from the air, U.S. officials worked with Nigerian partners to fulfill commitments included in the sale to provide support facilities for the Super Tucanos. In February 2022, Nigerian and U.S. officials broke ground at Kainji Air Force Base on the last phase of a $38 million project to build support structures.
The cost is part of the larger $500 million deal. Construction was to include sunshades to house the Super Tucanos, areas for munitions assembly and storage, and an annex for the A-29 flight simulator. 
Nigeria isn't the only African nation that uses A-29s. Burkina Faso took delivery of three Super Tucanos in 2011 and used them for border patrols. Mauritania's small air force received at least one Tucano in 2012 to replace older craft. Angola has taken delivery of six Tucanos for border surveillance. Mali acquired four Tucanos configured for "light attack and close air support," defenceWeb reported.
OTHER AIR ASSETS
Nigeria was employing a range of air assets before acquiring the A-29s. In February 2016, it used drones to bomb Boko Haram for the first time, according to multiple reports. Police authorities have been using Orion tethered drones since early 2022 to monitor borders and crime scenes, defenceWeb reported.
In March 2023, the Nigerian Air Force confirmed that it had been authorized to acquire more than 50 new aircraft, defenceWeb reported. Among them were: 
Six T129 ATAK helicopters: This twin-engine Turkish attack and reconnaissance helicopter seats two and can deliver 20 mm cannon fire and a dozen antitank guided missiles.
24 M-346 multirole trainer jets: This twin-engine tandem-seat jet offers advanced pilot training through a range of technology. It also lets pilots interact in live, virtual and computer-generated environments.
Two Beechcraft King Air 360 transport planes: This plane can carry 11 people and has a reconfigurable interior that can accommodate cargo or serve as an air ambulance.
Four Diamond DA62 surveillance aircraft: The plane can be used for law enforcement, search and rescue missions, surveillance and disaster management.
12 AgustaWestland AW109 Trekker multirole helicopters: This aircraft's doors allow for rappelling and fast-roping, and it can be used for surveillance and reconnaissance, armed escorts, troop transport, search and rescue, and medical evacuation.
Despite the success of Nigeria's air campaign against insurgents, Air Marshal Isiaka Oladayo Amao, chief of Air Staff, told the media in March 2022 that all branches of the military are essential to the long-term security of Nigeria.
"In any war, one major tactic is to exploit your adversaries' weakness," Amao said. "Our monopoly of controlling the air space gives us a fighting leverage and advantage in the skies. The insurgents and terrorists do not have the means to purchase, fly or maintain aircrafts.
"However, it may be inaccurate for us to conclude that air assets are now more important than land or sea assets. The fight is dynamic, and all the services are building capacity not just for the present events, but to protect Nigeria's territory in the immediate to long term."