'It's Our Navy'
Nigeria's Chief Of Naval Staff Relies On Technology, Cooperation And Discipline To Defeat Maritime Crime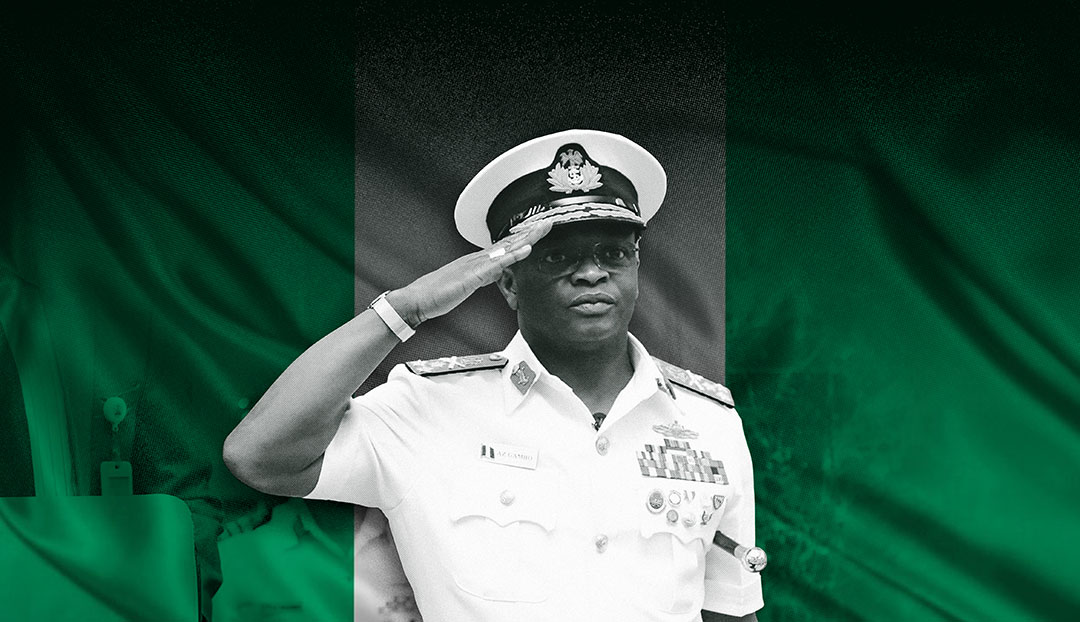 Vice Adm. Awwal Zubairu Gambo has served in the Nigerian Navy for more than 30 years. His career includes time working on naval strategy, intelligence, training and as a defense attache. In 2017, he was the security coordinator for the Presidential Relief Committee on North Eastern Nigeria and was chief staff officer at Headquarters Naval Training Command. In 2018, he was appointed director of procurement at the Defence Space Administration. In January 2021, he became the 21st chief of naval staff. This interview has been edited for space and clarity.
ADF: In 2021, piracy incidents in Nigerian waters fell to their lowest levels in 27 years. How do you explain this drop?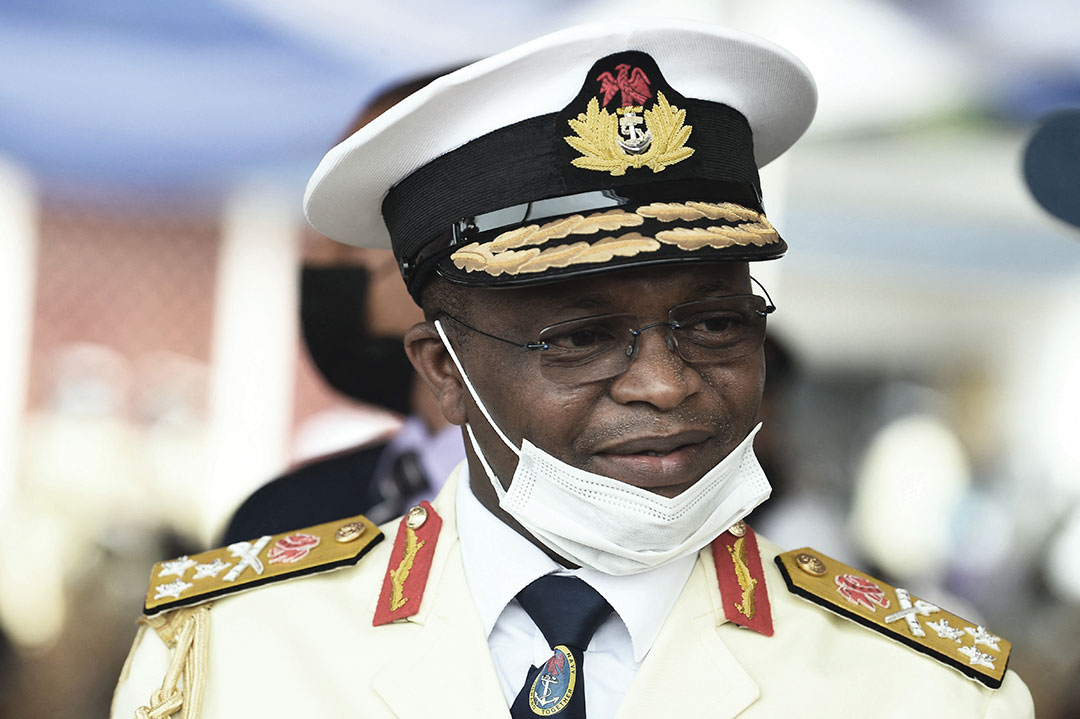 Gambo: It is well known that the nation's maritime domain is replete with criminal elements and economic saboteurs who had freedom of movement and action. This freedom hindered the conduct of legitimate economic activities, which, of course, caused attendant negative perception of the country. According to the International Maritime Bureau, there were 135 kidnapping cases recorded in 2020 worldwide, and 130 of these took place in the Gulf of Guinea. It became expedient for the Nigerian Navy to take drastic measures to reverse the unfortunate trend. The first line of action for me was to bolster the Nigerian Navy presence to dominate the space through aggressive patrols to deny these economic saboteurs freedom of action. Therefore, last year, Nigerian Navy ships were at sea for 32,665 hours compared to the 25,932 hours recorded in 2020. This eventually resulted in a significant decline in criminal activities in the nation's maritime domain. I would say this is strongly attributable to the uncommon support of the Commander in Chief of the Armed Forces of the Federal Republic, President Muhammadu Buhari. Through aggressive recapitalization of the Nigerian Navy we have added over 100 platforms, including flag capital ships, fast patrol boats, in-shore patrol craft and air assets. There has also been the indigenous construction of a seaward defense boat. 
ADF: How do you plan to prevent a resurgence in piracy? 
Gambo: Of course, to keep piracy at these low levels, the Navy must sustain an operationally efficient fleet with robust logistic support. This includes the upgrade of facilities at the Naval Dockyard Limited in Lagos, the Naval Shipyard in Port Harcourt as well as the fleet maintenance groups and fleet support units and our engineering college in Delta State. Additionally, the Navy has revamped the moribund apprenticeship school in the Naval Dockyard in Lagos to further enable the Navy to meet her technical manpower needs and the needs of the maritime industry, which is highly depleted. Lastly, I must not fail to highlight the contributions of my officers and ratings deployed on various ships and shore bases. They are availing themselves of professional training across various specializations, and there are diverse efforts to enhance living conditions and improve infrastructure at our bases, schools and hospitals. The personnel have demonstrated renewed focus in line with my mantra: "It's our Navy." This means we have to do it; nobody will do it for us. So, all hands are on deck. 
ADF: Nigeria has sought to improve its maritime domain awareness (MDA) through use of the Falcon Eye surveillance and intelligence system. This includes radars, cameras, sensors and satellite monitoring of the country's coastline and up to 200 nautical miles seaward. Can you explain how this system works?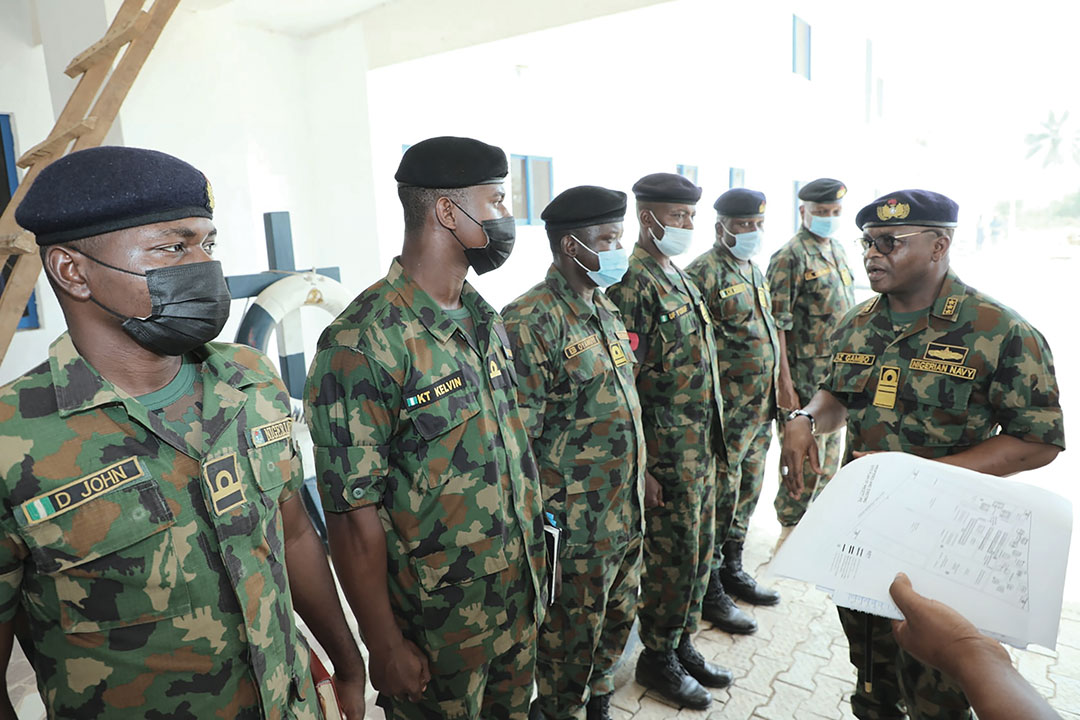 Gambo: I would say the Falcon Eye is state-of-the-art MDA and surveillance infrastructure. The system has sensor sites strategically placed to cover the nation's territorial waters and exclusive economic zone. These sensors cover the entire nation's maritime border and further stretch over the maritime boundaries of our neighboring states in the Gulf of Guinea. The Falcon Eye system enables the Navy to monitor real-time activities of vessels within and around the nation's maritime domain. It always continuously tracks vessels to identify those engaging in illegal activities and, thereafter, our naval vessels are vectored to undertake interdiction operations. Between June 2020 and April 2022, about 7,826 vessels have been tracked with some arrested using the MDA system. The system was instrumental to the arrest of two merchant vessels. We had the MV Chayanee Naree and the MV Karteria. These vessels were tracked and diligently monitored from their ports of departure in Brazil following reports by Interpol that they are involved in smuggling cocaine into Nigeria. There was also the arrest of the Motor Tanker Queen of Peace on March 15, 2022, which was carrying over 3 million liters of stolen crude oil from Nigeria. It is pertinent to state that prior to the arrest, the vessel's suspicious movement was monitored by the Falcon Eye for a month. So this system serves as a veritable force multiplier, which ensures that our operational patrols are intelligence driven, results oriented and cost effective.  
ADF: In West Africa, illegal, unreported and unregulated (IUU) fishing costs the region $2.3 billion per year and has contributed to the loss of 300,000 jobs. Much of this IUU fishing is done by large, foreign trawlers. What is your strategy to clamp down on this harmful activity? 
Gambo: The Nigerian Navy collaborates with relevant government agencies to assist in the enforcement of laws related to fishing within the nation's maritime environment, particularly the Department of Fisheries under the Ministry of Agriculture. The Navy set up a task force in 2016 named Operation Tsare Teku, which has the mandate to combat maritime crimes to create an enabling environment for safe shipping, oil and gas production, and other economic activities. The task force also tackles IUU fishing within Nigeria's maritime environment. Nigeria has some of the best shrimp fishing in the world, which is found around the Bakassi Peninsula shared between us and the Republic of Cameroon. I'm pleased to say that the Nigerian Navy vessels interrogate fishing trawlers within the maritime domain regardless of size to ensure that they are legitimate. Most of the criminal vessels come with fishing carriers where, within hours of fishing, everything is processed and packed for sale outside our territory. So it is a very serious issue globally. I don't want to mention the big players in this IUU fishing, but I'm sure we know. For diplomatic reasons I won't mention any specific country. 
ADF: Nigeria modernized its maritime legal framework with the 2019 Suppression of Piracy and Other Maritime Offences Act. Since then, the law has been used to convict pirates captured in Nigerian waters. How important is it to update laws, and do you hope other countries in West Africa will follow suit? 
Gambo: Legal framework is central to successfully combat maritime crime. Prosecution of maritime offenses involves several law enforcement agencies. These agencies have diverse rules guiding their respective conduct of operations. This gap was identified, as was the need to review, restrategize and develop a unifying document. Consequently, enactment of the Suppression of Piracy and Other Maritime Offences Act, which we call SPOMO, has bolstered the Navy's collaboration with other law enforcement agencies to criminalize and prosecute maritime offenders. It has also further assisted to streamline and harmonize actions and procedures of maritime-related agencies regarding the handling of evidence and suspects of crimes. One notable conviction is the piracy case last July [2021] in which 10 pirates were sentenced to 12 years of imprisonment and financial fines. However, most Gulf of Guinea countries do not have laws to prosecute pirates, while some only allow prosecution of their own citizens. In July 2021, I was in Ghana for an international maritime exhibition and seminar. During the side talk with the heads of navy of ECOWAS [Economic Community of West African States] and ECCAS [Economic Community of Central African States], I presented the template, and they are already reengineering that to situate it to the particularities of their environment for adoption. The European Union visited the naval headquarters a few weeks ago, and we presented this to them as part of their inquiries. They have taken that template with the view of developing a legal framework in line with their own particularities in Europe. There is a lack of legal framework in some countries of the Gulf of Guinea at addressing maritime insecurity, especially when other nationals are involved in these crimes. To this end, we have championed the advocacy regarding the Gulf of Guinea states adopting these acts in tune with the realities of their own situation. 
ADF: You have emphasized the importance of ethical behavior in the Navy. In a speech in 2022 you warned commanders of "severe sanctions" for violations. Since becoming chief of naval staff, what have you done to promote accountability and crack down on misconduct in the Navy? 
Gambo: The importance of ethical behavior and accountability in the Nigerian Navy cannot be overemphasized. My commanders have been enjoined to acquaint themselves with my strategic directives and other relevant Navy statutes guiding their responsibilities. Commanders have been warned of sanctions for acts of indiscipline or connivance with criminal elements in the performance of their duties. Accordingly, they are assessed periodically and assigned key performance indicators to determine efficiency and effectiveness. There are also strategies in place for the judicious and legitimate use of allocated resources. These and other efforts have culminated in the significant reduction in crimes within the nation's maritime domain. I would say everybody is whipped into line, and they know the expectations from the leadership of the Navy and, at the grand strategic level, the leadership of the country. 
ADF: What are your hopes and goals for the future of the Nigerian Navy and maritime security in the region more generally?  
Gambo: The Nigerian Navy is constitutionally saddled with the responsibility of protecting the nation's territorial integrity by sea. My agenda for securing this maritime domain is captured in my vision statement, which is "to leverage on all factors of national location, technology, training, teamwork and synergy to reenergize the Nigerian Navy and enhance her as a well-motivated and ready naval force." The focus is to sustain the Navy's presence at sea and enhance our capacity to undertake cost-effective and result-oriented patrols by leveraging the potentials of MDA facilities. We want to cultivate robust, collaborative engagement, both within and without, with maritime stakeholders. These measures will bolster efforts in actualizing maritime security applications for socioeconomic activity, the well-being of Nigerians and national prosperity.