ADF STAFF
The war between Russia and Ukraine should be a wakeup call for the 38 coastal countries of Africa to prioritize maritime security, according to the chief of the South African Navy.
Vice Adm. Mosiwa Samuel Hlongwane spoke in April 2022 at the fourth Maritime Security Conference in South Africa. He said the conflict in Europe has forced "our European and Global partners" to reconsider and reprioritize national and maritime security, DefenceWeb reported.
Fighting, ship deployment and sea mines threaten Black Sea trade routes. In March 2022, Russian authorities said 420 mines were drifting freely in the Black Sea after breaking loose in a storm.
Even without the European conflict, Africa's coastal nations face an array of threats, including piracy, robbery, drug and human trafficking, oil bunkering, pollution, and illegal, unreported and unregulated fishing.
Although the Gulf of Guinea has been a hot spot for maritime crime, it's not alone. The Gulf of Aden and the Mozambique Channel, and the Mediterranean and Red Seas, also have security issues. Many of the continent's coastal countries struggle to deal with maritime threats and must work with neighbors in a unified effort.
The countries recognize the need to work together and resolve their differences, such as what their borders are in terms of security and fishing rights. But many countries face challenges in enacting laws and rules that are compatible with those of their coastal neighbors. Even cooperating on bringing criminals to justice is complicated by incompatible laws in differing countries.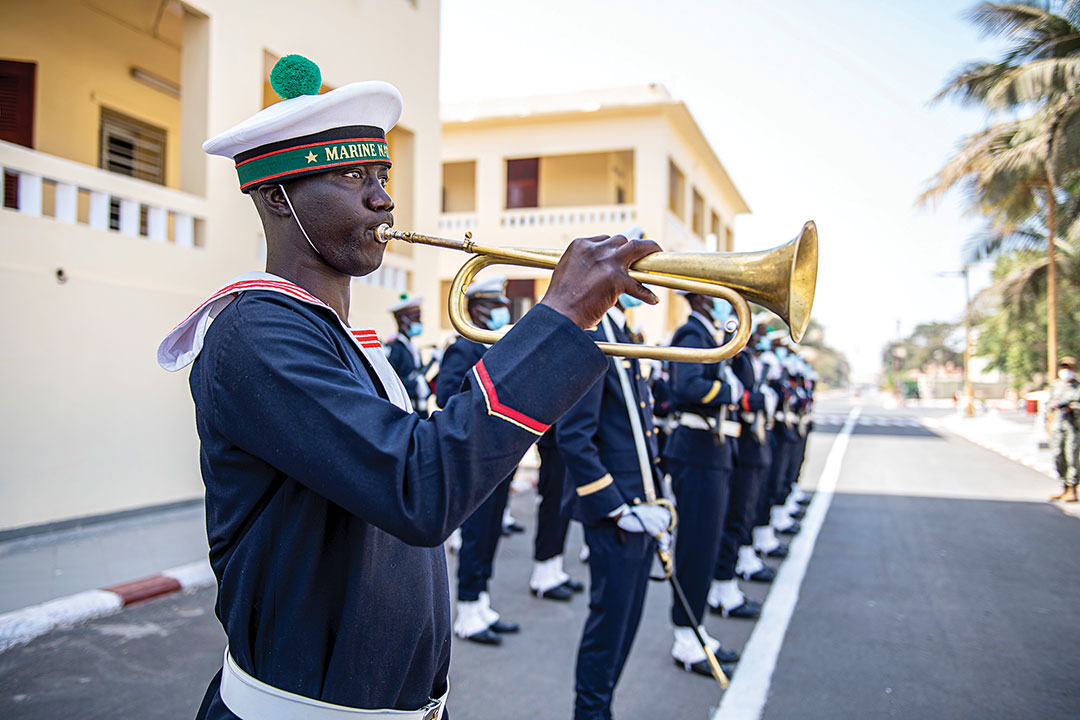 The African Union and Africa's regional economic groups are the logical parties to help improve and enforce maritime security, but they have had mixed results so far. In a report for the Institute for Security Studies (ISS), researcher Timothy Walker pointed out how seldom these groups get involved.
"Major maritime crimes in African waters are often transnational in origin and impact, defying simple, unilateral solutions," Walker wrote. "Yet the African Union and regional structures for mobilising joint action among African states seldom prioritise maritime issues or their consequences for the continent."
Walker said that although Africa is "taking stock" of its distinctive maritime security issues, it seldom takes collective action. He noted that when the African Union (AU) Peace and Security Council (PSC) discussed maritime security in a July 2021 meeting, "it was only its seventh meeting on maritime safety out of the more than 1,000 the council has convened after its doors opened in 2004."
This inaction has led to African countries taking their maritime issues to the United Nations Security Council (UNSC) instead of the PSC. "This gives the impression of a PSC unmoored and marooned from African states' maritime security policies and interests," Walker noted. "In the world's eyes, this is making the UNSC, rather than the PSC, the leading forum for determining how best to fight maritime crime around Africa."
2050 AIM STRATEGY
In January 2014, the AU adopted the 2050 Africa's Integrated Maritime Strategy, also known as the 2050 AIM Strategy, a continentwide integrated maritime plan. The goal is to approach maritime security at all levels, not just piracy and armed robbery at sea. While it addresses illicit activities at sea, it also focuses on sustainable development of the African blue economy.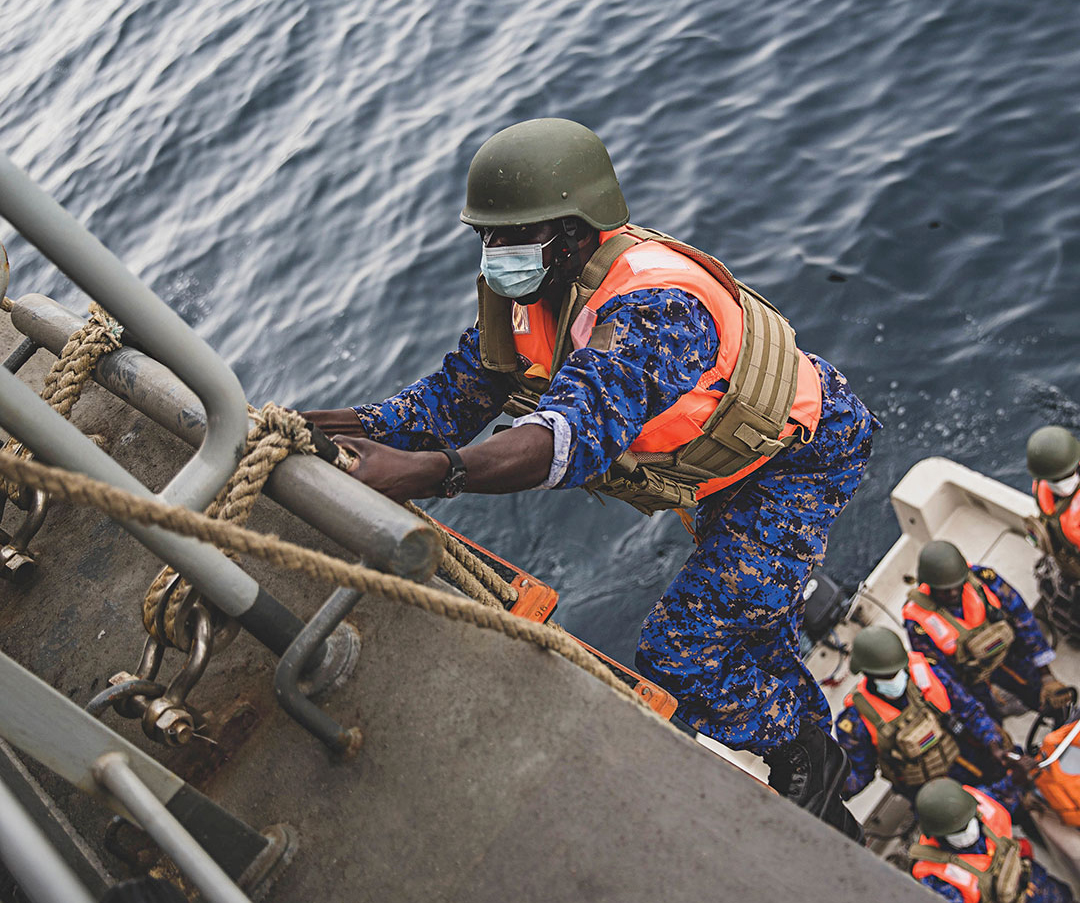 A report in a 2018 Horn of Africa Bulletin noted that the strategy had to go beyond security and protecting trade interests. "Such a bi-dimensional approach would not address other maritime security threats and concerns that may adversely impact the blue economy developmental growth of African states," the report noted.
Researcher Brigid Kerubo Gesami published a study in 2021 entitled, "Maritime Security in Africa: The African Union's Challenge in Implementing the 2050 AIM Strategy." She said that putting the strategy into operation has proved difficult.
"The AU 2050 AIM strategy … is characterized by a variety of linked but separate, disconnected, and uncoordinated policies, resolutions, regulations, and activities that are not coordinated with one another," Gesami wrote. "In addition to the 11 strategic programs, the Plan of Action offered 21 objectives, 61 action targets, and 65 output metrics to assist, quantify and monitor the effect of the 2050 AIM strategy on the regional and national levels."
REGIONAL GROUPS FORMED
In 2004, African and European officials began discussing a partnership that led to the 5+5 Defence Initiative, a collaboration between five African countries (Algeria, Libya, Mauritania, Morocco and Tunisia) and five European countries (France, Italy, Malta, Portugal and Spain). The group's goal, its organizers say, is to "significantly contribute to the solutions that address common concerns in the security and defense field."
European members of the cooperative regularly conduct three military exercises — Canale, Seaborder and Circaete. For the past few years, the Canale exercise has been open to all the 5+5 initiative member countries.
The initiative's areas of cooperation are maritime surveillance, air security, education and research, and armed forces' contribution to civil protection.
"By associating their efforts through close cooperation, the ten countries of the 5+5 Defence Initiative aim to improve their effectiveness in keeping the Mediterranean Sea a safe and secure area of exchange," the initiative reports.
North African political instability, particularly in Libya, has undermined African participation in the initiative in recent years.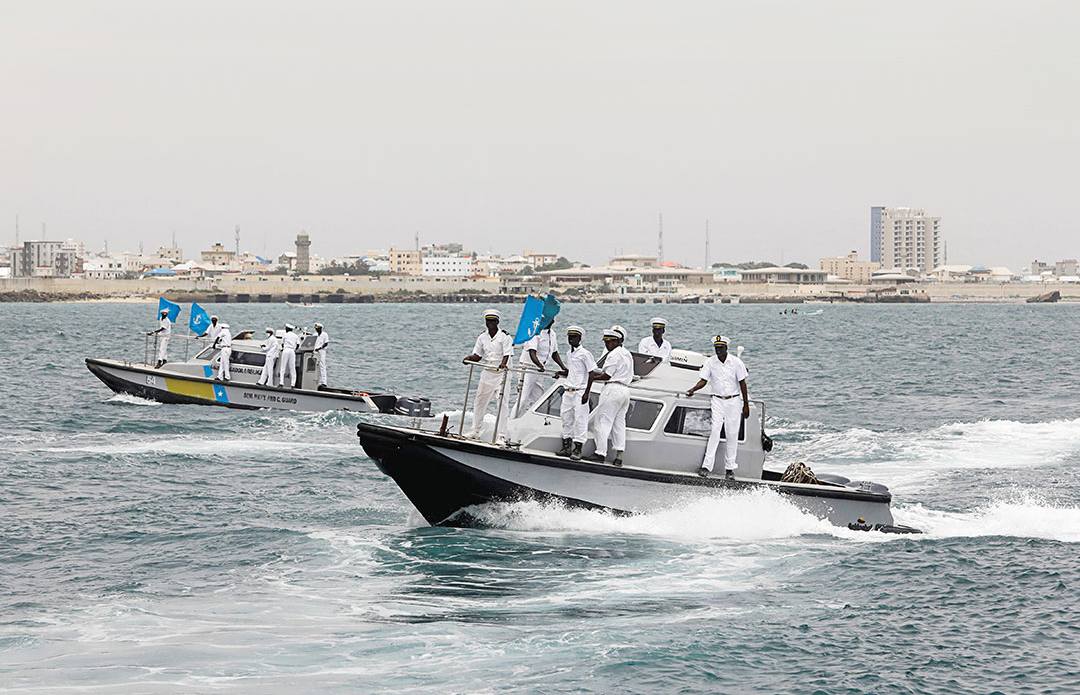 DEALING WITH PIRACY
In January 2009, representatives of Djibouti, Ethiopia, Kenya, Madagascar, Maldives, Seychelles, Somalia, Tanzania and Yemen signed what is commonly known as the Djibouti Code of Conduct.
Comoros, Egypt, Eritrea, Jordan, Mauritius, Mozambique, Oman, Saudi Arabia, South Africa, Sudan and the United Arab Emirates have since signed.
Under the code, participating countries declare their intention to cooperate fully to combat piracy and armed robbery against ships. The International Maritime Organization, a special agency of the United Nations, notes that signatories agreed to cooperate in:
The investigation, arrest and prosecution of people who are reasonably suspected of having committed acts of piracy and armed robbery against ships, including those inciting or intentionally facilitating such acts.
The interdiction and seizure of suspect ships and property on board those ships.
The rescue of ships, people and property subject to piracy and armed robbery.
The proper care, treatment and repatriation of seafarers, fishermen, other shipboard personnel, and passengers subject to piracy and armed robbery, particularly those subjected to violence.
The conduct of shared operations, both among the participating countries and with navies from countries outside the region.
The code provides for the sharing of piracy-related information through a network established in 2011. The network has three information-sharing centers: in Mombasa, Kenya; Dar es Salaam, Tanzania; and Sana'a, Yemen. The network exchanges information on piracy across the region and other relevant information.
The United Nations says that the information-sharing network has played a significant role in countering piracy.
In 2017, the initiative adopted the Jeddah Amendment to broaden the scope of the code. The amendment covers measures for suppressing a range of illicit conduct, including piracy, arms trafficking, trafficking in narcotics, illegal trade in wildlife, illegal oil bunkering, crude oil theft, human trafficking, human smuggling, and illegal dumping of toxic waste.
WEST AFRICA'S REGIONAL CODE
Taking inspiration from the Djibouti Code, the states of the wider Gulf of Guinea, from Senegal to Angola, formed the Yaoundé Code of Conduct in 2013. The nongovernmental organization Stable Seas notes that the Yaoundé Code's goal is to get member countries to cooperate in fighting all forms of maritime crime, from piracy to trafficking to oil theft to illegal fishing — the same measures the Jeddah Amendment addressed later in the Djibouti Code.
The Yaoundé Code took advantage of the maritime zones already established by the Economic Community of West African States (ECOWAS) and the Economic Community of Central African States (ECCAS). These institutions cover the coastal and landlocked states of the two regions.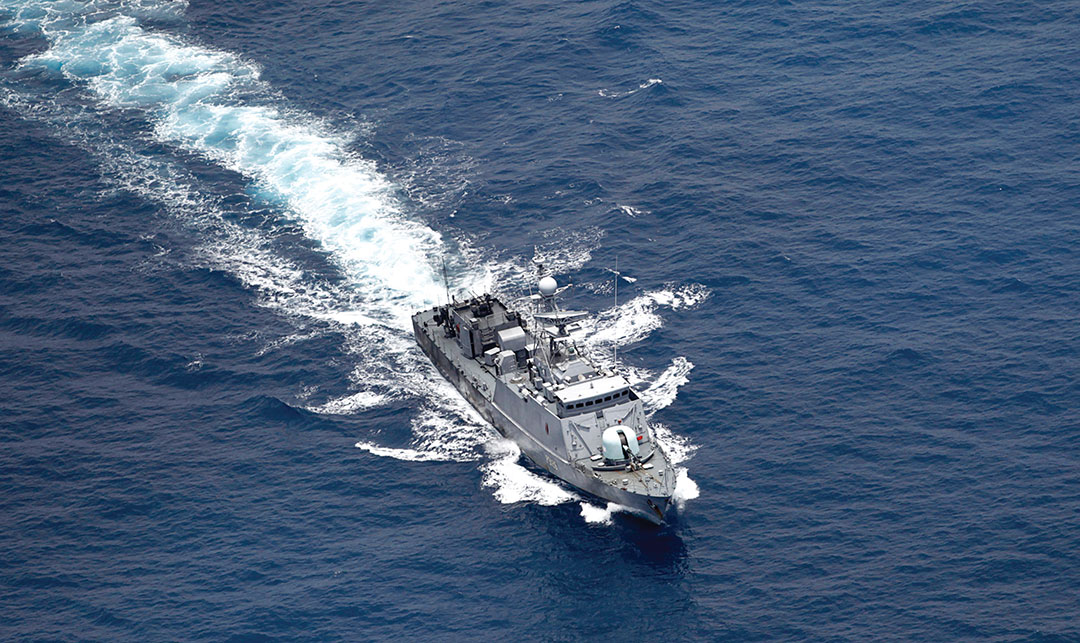 The code has led to the development of two regional information-sharing centers. The Regional Centre for Maritime Security in Central Africa is based in Pointe-Noire, Republic of the Congo, to assist ECCAS countries. The West Africa Regional Coordination Centre for Maritime Security, based in Abidjan, Côte d'Ivoire, serves ECOWAS countries. Coordinating both centers is the Interregional Coordination Centre in Yaoundé, Cameroon.
ECCAS has had some successes in maritime security cooperation. ECCAS Zone D, consisting of Cameroon, Equatorial Guinea, Gabon, and São Tomé and Príncipe, conducts combined operations at sea "virtually every day of the year," according to the Africa Center for Strategic Studies.
Obangame Express, an annual military exercise organized by U.S. Naval Forces Africa, is designed to improve regional cooperation in support of the Yaoundé Code of Conduct. The exercise focuses on maritime domain awareness, information-sharing and tactical interdiction expertise.
Obangame Express 2022 concluded its 11th iteration in March 2022. The exercise took place across five zones in the Atlantic Ocean and Gulf of Guinea, stretching from Senegal to Angola.
ECOWAS MARITIME CENTER
ECOWAS has been developing an integrated maritime strategy for several years.
Kamal-Deen Ali, executive director of the Centre for Maritime Law and Security Africa, has reported that 13 nations exchange information, handle challenges to their maritime domains, and administer three shared operating zones in a collaborative effort.
The West Africa Regional Maritime Security Centre in Abidjan, Cote d'Ivoire, opened in March 2022 in a ceremony organized by ECOWAS in collaboration with the Ivoirian government.
Established by a decision of the Authority of Heads of State and Government on July 31, 2018, the center will be an essential tool for implementing the ECOWAS Integrated Maritime Strategy, which was adopted in 2014.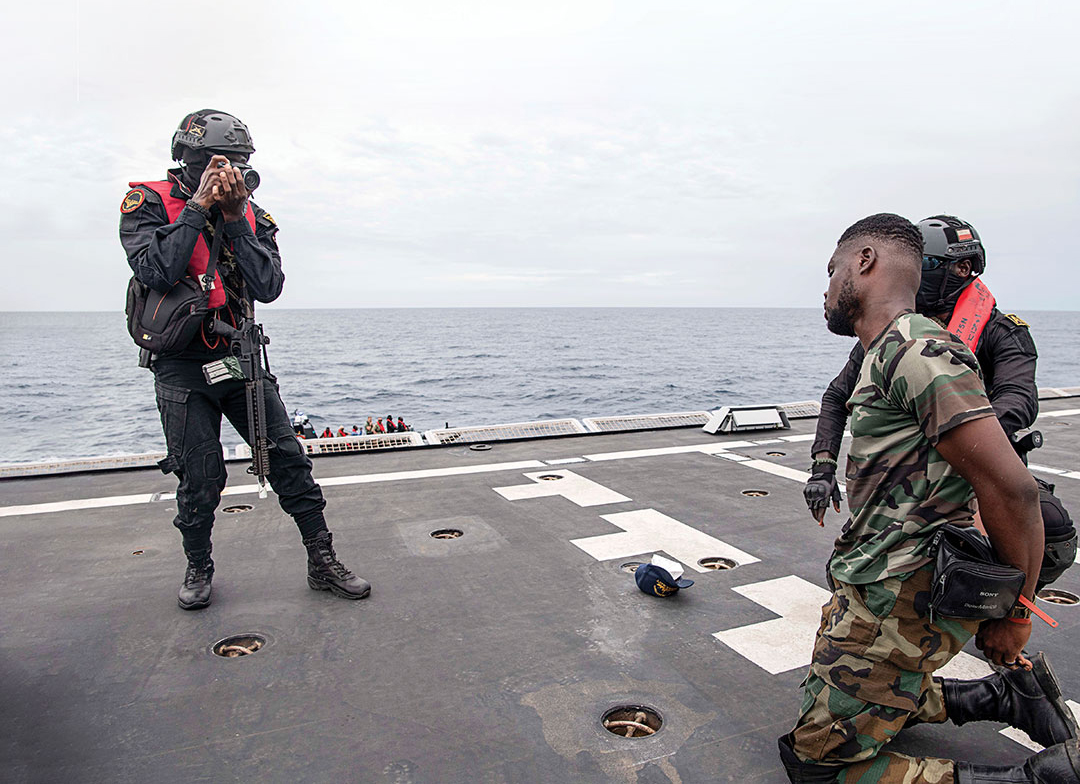 The center provides information management and sharing, operational monitoring, crisis coordination, and training and capacity building. The center and others like it will make up the regional maritime safety and security architecture.
MORE COMMITMENT NEEDED
The Djibouti Code, the Yaoundé Code and the 5+5 Defense Initiative combined include every coastal state in Africa except for Namibia. But experts agree that more work needs to be done to get coastal nations working together to guarantee security. In particular, they say, the AU needs to get more involved.
"The 2050 AIM Strategy is an impressive document that emphasises the multidimensionality of maritime security," the 2018 Horn of Africa Bulletin study concluded. "However, for it to move from 'paper to practice' it must be implemented in a coherent and consistent manner. Thus, it is crucial that there is effective administrative coordination by an established department, proper information flow to relevant officials and stakeholders and that the nexus between the different aspects of the strategy is highlighted and properly communicated."
In his 2021 ISS study, Walker noted that countries need to cooperate more.
"Insecurity at sea makes it difficult for states to secure trade routes, protect and harness the benefits of their blue economies, and ensure economic growth and social development for coastal communities," Walker wrote. "The PSC and AU member states should begin crafting and implementing plans that cross-cut national, regional and continental levels."