Is Arming Civilians The Answer to Nigeria's Insecurity?
ADF STAFF
Zamfara State Gov. Bello Matawalle says more than 30,000 bandits are operating across six states in northern Nigeria, including his own.
Since the federal government designated armed bandits as terrorists, the use of force against these groups is now part of the country's military strategy.
One of Matawalle's approaches in Zamfara, thought to be the epicenter of banditry in Nigeria, is to arm civilians.
"The crisis defied all forms of solution," he said in an April 1 news briefing.
He directed the state police commissioner to issue 500 gun licenses in each of the 19 emirates in the state to those wanting to defend themselves.
"Government is ready to facilitate people, especially our farmers, to secure basic weapons for defending themselves," Matawalle's office said in a June 26 statement.
Bandits, based in remote forests in northwest Nigeria, have become increasingly deadly in 2022 as they have stepped up attacks and kidnappings that target villagers and farmers.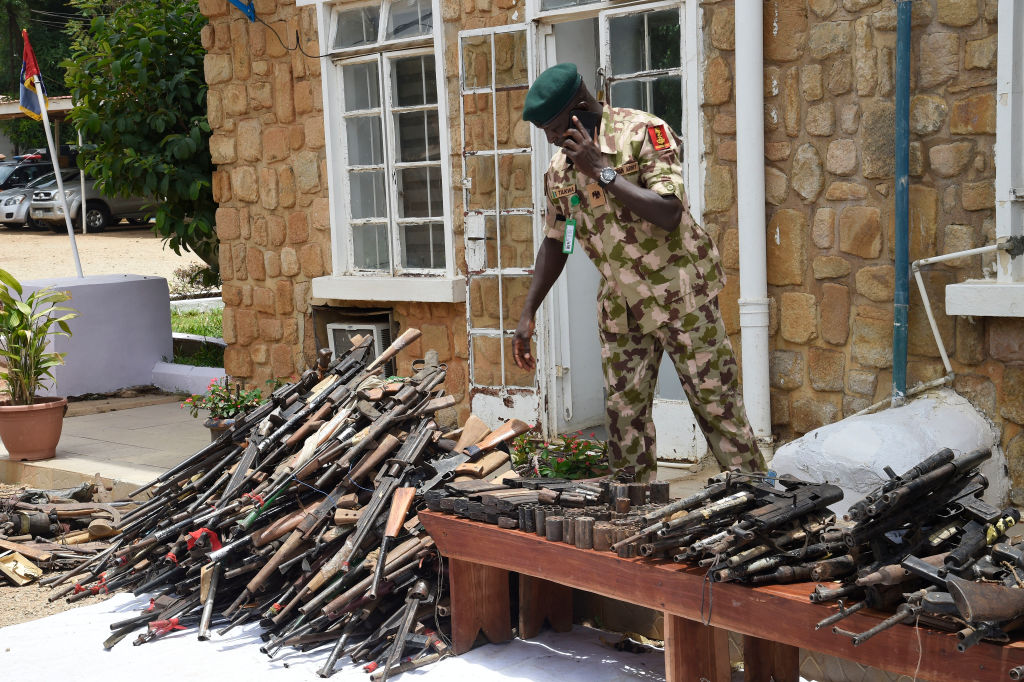 In the northwest and north central regions, 2,331 civilians were killed in the first quarter of 2022. The regions suffered 65% of Nigeria's total number of security incidents in that time, according to Abuja-based security company Beacon Consulting.
The governor's plan has drawn criticism and support.
"You cannot call out individuals to be armed because it will result to lawlessness," retired Nigerian Army Col. Dan Amuta told Nigeria's Vanguard newspaper. "The statement by the governor to me is simply a mistake. It is out of place to call for everybody to be armed. That is not possible."
Bello Galadi, a lawyer in Zamfara State's capital, Gusau, lambasted the governor's plan, saying the average citizen is struggling to feed his family and does not have the money to buy a weapon. He estimated the price of an AK-47 at nearly 1 million naira (U.S. $2,400).
"It is suicidal on the part of your government to proceed with this security arrangement that will allow citizens to own guns," he told Abuja-based HumAngle Media. "It will lead to a state of anarchy and war."
Murtala Abdullahi, head of HumAngle's Armed Violence desk, argued that arming civilians and militias would create more security risks than it solves at a time when Nigeria already is suffering from the proliferation of weapons.
"It would simply mean relinquishing to civilians the government's responsibility, particularly the task of protection and policing of communities," he said. "Moreover, arming civilians or establishing state-backed militias is not a substitute for badly needed investment in building up policing capacity."
Matawalle's initiative to arm civilians comes after amnesty talks with militant leaders failed. The governor also has shut down telecommunications operators in the state for weeks at a time to stymie the armed gangs.
Zamfara State said it is recruiting additional community protection guards to help fight bandits and will set up a new paramilitary unit led by a retired police commissioner.
The state also banned motorcycles and gasoline sales in areas most affected by banditry.
"Anybody found riding motorbikes within the areas is considered as bandits," it said in its June 26 statement.
Adebayo Akinade, director-general of the Institute of Security at the University of Lagos, believes the federal government has forced Matawalle's hand on combating banditry.
"If the federal government had provided adequate security, there would be no need for Governor Matawalle's order," he told Vanguard. "The order was the only option opened to the governor in the circumstance he found himself."