West Africa Seeks Solutions to Stop Fake News
ADF STAFF
The recordings posted online in 2020 claimed to be Ghanaian President Nana Afuko-Addo endorsing several notorious conspiracy theories about the COVID-19 pandemic.
There was one problem: The recordings were fake.
Afuko-Addo's office quickly rebutted the claims, and others online pointed out that the voice was not the president's. But soon one recording had been heard more than 400,000 times in Nigeria alone.
From the COVID-19 pandemic to local politics, fake news pollutes the flow of information across West Africa, with much of it targeting social media channels and their users.
"Those involved do not mean well for the nation," Nigeria's Minister of State for Foreign Affairs Zubairu Dada recently told a gathering of the Nigerian Union of Journalists. "The nation is bleeding because of fake news."
Dada urged journalists to shun fake news and to not spread it.
Along with locally produced misinformation, countries across the continent also must contend with campaigns launched by foreign countries such as Russia and China to spread disinformation within their borders.
The Africa Center for Strategic Studies (ACSS) found Russia-sponsored fake news campaigns in more than a dozen countries from Libya to South Africa. Russia's model is being copied by other actors, the ACSS found.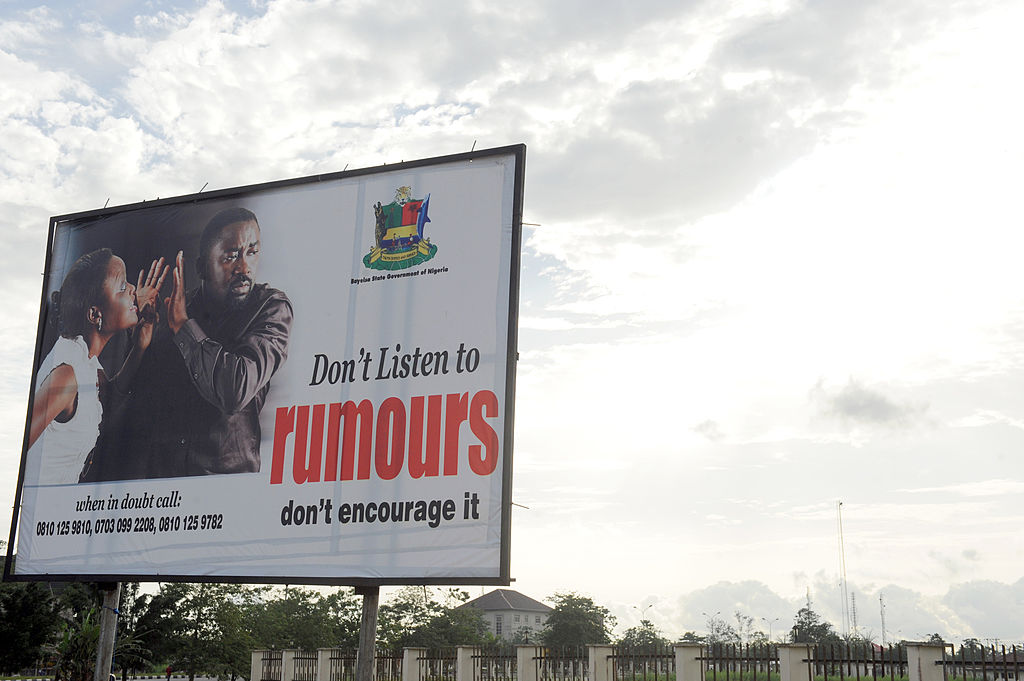 Governments across West Africa confront misinformation every day and continue to struggle with the best ways to address it.
Some, such as Burkina Faso and Niger, have taken the heavy-handed approach and shut down the internet completely to stop rumors from spreading. They are not alone. In the past decade, 12 of the 15 countries in the Economic Community of West African States (ECOWAS), have shut down their internet service for days, weeks or months.
The impacts of those shutdowns go far beyond stifling fake news. Internet analyst NetBlocks estimated that Nigeria lost $1.3 billion in economic activity during the six months President Muhammadu Buhari blocked Twitter.
Free speech advocates argue that shutting down the internet or blocking a website is old-fashioned thinking from the days when newspapers and broadcast outlets dominated the information landscape. They urge countries to try other approaches to confront misinformation.
"Shutdowns hurt everyone and don't really solve the problem," David Akoji, special advisor to the director-general of Nigeria's National Orientation Agency, told African Arguments.
One solution, according to Akoji, is for countries to put more pressure on social media companies to work with government agencies and respond quickly to counter fake news as it appears online.
Critics say social media companies are slow to respond to complaints for fake news in African countries. They also have a limited ability to moderate channels in local languages.
"Platforms need to commit more resources to Africa," Rosemary Ajayi, founder of Digital Africa Research Lab, told African Arguments. Companies need to hire speakers of local languages, and they need to punish the people who spread fake news, she added.
Another alternative is to increase the amount of correct information online to counter the lies, Akoji said. Increased fact checking by journalists can encourage people to look more critically at the news they're receiving, he added.
Since 2012, the website Africa Check has tried to do just that. The site, founded by South African journalist Anim van Wyck, challenges claims that have the potential to mislead people.
Van Wyck told the Reuters Institute that her group challenges leaders and others to provide evidence for their claims and to work quickly to put down rumors in regions where those rumors might fuel violence.
"I think that builds trust in the media," van Wyck said.