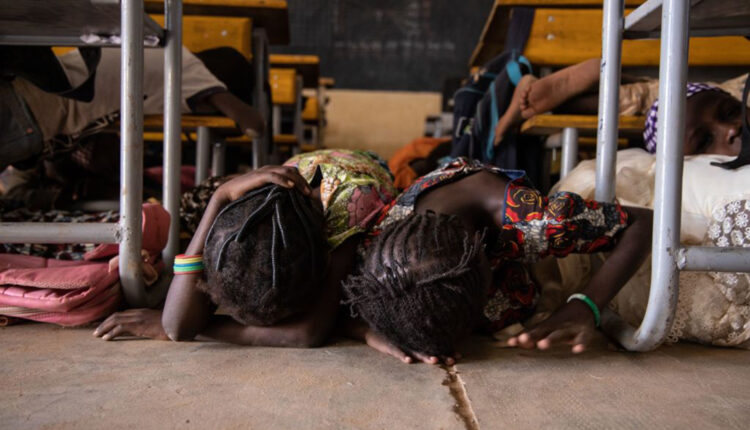 Reading Time:
3
minutes
ADF STAFF
It was 2 a.m. on Saturday, June 5, 2021, when the calm of night in the village of Solhan, Burkina Faso, was interrupted by the sound of motorcycles, then gunshots.
Terrorists opened fire on residents of the gold-mining community, burned homes and markets, and carried out executions until dawn. Local authorities reported a death toll of at least 160 — the deadliest attack since violence spilled into the country in 2015.
The most disturbing detail of the attack was revealed weeks later by government spokesman Ousseni Tamboura.
"The attackers were mostly children between the ages of 12 and 14," he told reporters on June 24 in the capital, Ouagadougou.
Terror groups have unleashed a rising wave of attacks, mainly in northern Burkina Faso, and they are resorting to using children.
More than 2,000 people have been killed and nearly 1.5 million forced to flee their homes. United Nations refugee agency spokesman Babar Baloch said armed attacks are causing massive internal displacement in the country.
"In the first half of this year, some 240,000 people fled their homes to other parts of Burkina Faso, a sharp increase compared to nearly 100,000 registered during the last six months of the year 2020," he said in a July 23 briefing.
The Solhan massacre evoked outrage in the international community.
"We strongly condemn the recruitment of children and adolescents by non-state armed groups," Sandra Lattouf, UNICEF's representative in Burkina Faso, said in a June 24 statement. "This is a grave violation of their fundamental rights.
"Civilian populations should never be victims or targets of attacks. Families and children should be protected everywhere and at all times."
Multiple Islamist terror groups operate in the tri-border region of Burkina Faso, Mali, and Niger — also known as the Liptako-Gourma region of the Sahel — despite the presence of U.N. peacekeepers and other international forces.
A 2020 U.N. report described an "unprecedented" rise in terrorist violence, with more than 4,000 deaths reported in 2019 compared to 770 in 2016. In Burkina Faso, the number of casualties jumped from about 80 in 2016 to more than 1,800 in 2019.
UNICEF reported that attacks killed 152 civilians from March to May 2021. But in June, 178 civilians were killed, including children.
After recent attacks, United States Ambassador to the U.N. Linda Thomas-Greenfield decried what she called "children killing children."
"Children will tell you stories that no child should be able to recount — of being conscripted at gunpoint, of being raped, of being forced to murder their own siblings, their own parents," she said in remarks to a U.N. meeting on children and armed conflict on June 28.
"These children are often no taller than the guns they actually carry. They are taught to commit war crimes before they even know how to count."
Insecurity and attacks on schools, students and teachers had forced the government to close 2,500 schools before schools closed nationwide in mid-March 2020 in response to the COVID-19 pandemic.
Experts say the roots of conflict in the Sahel have shifted from political to economic.
Poverty is among the factors that have Burkinabe children both "in supply" and "in demand" by extremist groups, according to Christopher M. Faulkner, a national security affairs fellow at the U.S. Naval War College, and Center for Strategic and International Studies researcher Jared Thompson.
"Structural conditions like school closures or large numbers of internally displaced persons might increase the pool of potential recruits," they wrote for online magazine Political Violence @ A Glance.
"By addressing economic hardship, encouraging transparent media coverage, and holding recruiters accountable, the Burkinabe government and international partners can help ensure that children are protected — rather than caught in the crosshairs of conflict."