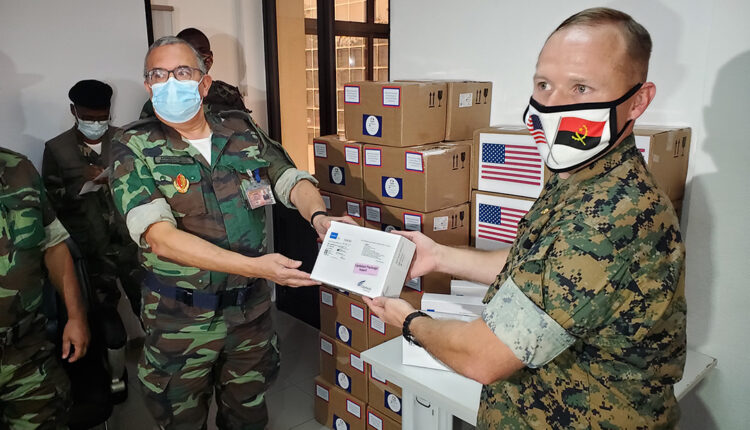 Reading Time:
2
minutes
ADF STAFF
Angola is in the grips of a COVID-19 resurgence.
Fueled by the more infectious delta variant and a relaxing of restrictions, the third wave of the pandemic resulted in a 20% rise in deaths in mid-August.
As part of its long-standing relationship with the Angolan health sector, the United States is supporting the Southern African country's response.
The U.S. Department of Defense donated 1,900 real-time reverse transcription polymerase chain reaction (rRT-PCR) test kits to Angola's Main Military Hospital in Luanda.
The U.S. Embassy delivered the test kits August 9.
"These kits will increase testing capacity and naturally the therapeutic intervention in the country," the hospital's clinical director, Brig. Armando Pinto, said at the handover ceremony. "This gesture from the U.S. government will reduce the time that a patient has to wait for the accurate result of a COVID-19 test."
The donation was made possible through a grant program focused on humanitarian assistance to the Angolan people. It is part of the U.S. government's more than $8 million worth of assistance to Angola through resources, training and institutional capacity building.
"These test kits will continue to add to Angola's capacity to fight and win against COVID-19," U.S. Marine Corps Maj. Ryan Holland said during the ceremony. "The U.S. Department of Defense continues to have a fruitful relationship with the Armed Forces of Angola and continues its long-standing commitment to combat the spread of infectious disease through a collaborative partnership based on mutual respect and trust."
Angola has had 46,340 confirmed COVID-9 cases with 1,166 deaths, according to the Africa Centres for Disease Control and Prevention's August 24 statistics.
In early July, the government eased restrictive measures to prevent and fight COVID-19 in the province of Luanda, where the majority of cases have occurred.
On August 24, the country's Multisectoral Commission for the Prevention and Combat of COVID-19 warned of the impact of new variants and recommended more stringent countermeasures and greater enforcement in border provinces.
Franco Mufinda, secretary of state for public health, hopes the rise in deaths will sound an alarm for Angolans to adhere to restrictions and follow national health guidelines.
"Unfortunately, we have started to have a weekly increase in deaths, especially in the east and south of the country," he said in an August 23 public briefing. "We are calling once again to redouble the measures.
"It is still unwise to move away from individual and collective protection measures in order to control this pandemic. The situation of the variants leads us to have more deaths. So, despite the observation of measures, remember that the pandemic is still there."