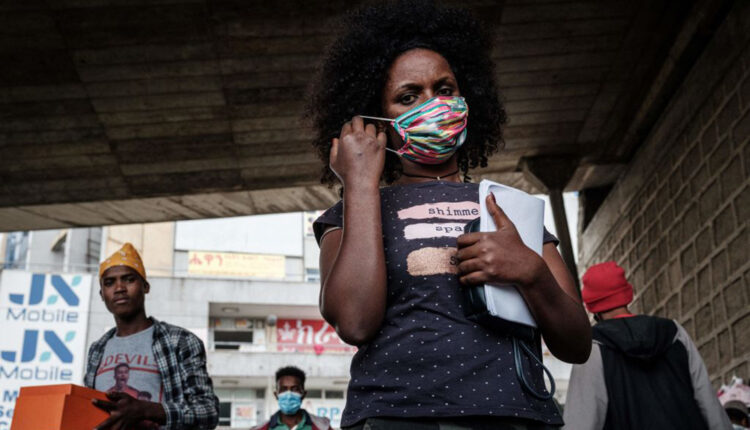 Reading Time:
3
minutes
ADF STAFF
Rumors, myths and misconceptions about COVID-19 have plagued Africa since the earliest days of the pandemic. Despite more than 18 months of progress combating the disease, myths persist as part of the "infodemic" surrounding the pandemic.
"Myths are a way of making sense of reality and in times of crisis, lack of information truthfulness can open the gateways for uncertainties and disorientation," researcher Fabíola Ortiz dos Santos wrote in a 2021 study looking at the ways the Democratic Republic of the Congo has used "Congo Check" to debunk rumors and myths about COVID-19.
Here are five myths about COVID-19 that may hinder efforts to bring the pandemic under control in Africa.
MYTH: Ivermectin cures COVID-19. Ivermectin is a drug that kills parasites, such as the worm that causes river blindness. Ivermectin does nothing to cure COVID-19, which is caused by a virus. According to the Africa Centres for Disease Control and Prevention (Africa CDC), there is "no evidence of its clinical efficacy for the management of patients with asymptomatic, mild, moderate or severe COVID-19." In lab tests, ivermectin killed the virus, but at levels 100 times the safe level for humans. Other tests have been either too small or too poorly run to be scientifically valid.
MYTH: Hydroxychloroquine cures COVID-19. A common and inexpensive treatment for malaria, chloroquine and hydroxychloroquine remain on some countries' list of COVID-19 treatments. A small test in France early in the pandemic suggested the anti-parasitic might work against COVID-19. More rigorous research later showed no such effect at any level of infection, according to the World Health Organization's (WHO's) Africa regional office. Nevertheless, hydroxychloroquine was included in Africa's huge ANTICOV drug trial, which launched in November 2020 to test dozens of common, inexpensive drugs against COVID-19.
MYTH: Masks do not prevent infection. COVID-19 spreads on microscopic droplets people expel when they cough, sneeze, breathe heavily or even talk. A study led by researcher Zohra Aloui-Zarrouk at Tunisia's Pasteur Institute of Tunis confirmed that properly worn face coverings (over the nose and mouth) catch those droplets before they can infect someone else. Although surgical-grade masks offer the highest level of protection, homemade cloth masks can be nearly as effective at preventing infection. Public health experts promote wearing masks because people can transmit COVID-19 even though they have no visible symptoms. Pandemic fatigue and misinformation have caused people across Africa to stop wearing masks as the delta variant has swept the continent. In response, the Africa CDC and pan-African telecom company MTN recently launched "One More Push" to reinvigorate wearing masks.
MYTH: Letting the virus spread creates herd immunity. Herd immunity describes how many people in a community must be exposed to a disease to stop its transmission. In most cases, that means 70% to 90% of a population. In the case of COVID-19, which has a case-fatality rate of 2.5% in Africa, achieving natural herd immunity by allowing the virus to spread unchecked would kill millions of people. Dr. Tedros Adhanom Ghebreyesus, director-general of the WHO, has called that approach scientifically and ethically problematic. "Never in the history of public health has herd immunity been used as a strategy for responding to an outbreak, let alone a pandemic," Tedros said.
MYTH: The COVID-19 virus cannot survive in warm climates. The first COVID-19 outbreak happened during winter in the Northern Hemisphere. That, combined with the virus's slow spread in Africa early on, convinced many that the virus was vulnerable to warm weather. Colder weather pushes people together indoors, making it easier for a respiratory virus to spread. Warmer weather, on the other hand, draws people outside where fresh air reduces their exposure. But, ultimately, air temperature has no effect on the virus, according to the WHO. What temperature does kill the virus? Researchers have found the answer: 65 degrees Celsius for at least three minutes.
Public health experts continue to debunk these and other myths as they try to stop the spread of COVID-19. Separating truth from fiction can save lives, they say.
"In public health crises, misconceptions can have life-or-death effects and make societies and individuals vulnerable to false or misleading information," Ortiz dos Santos wrote.