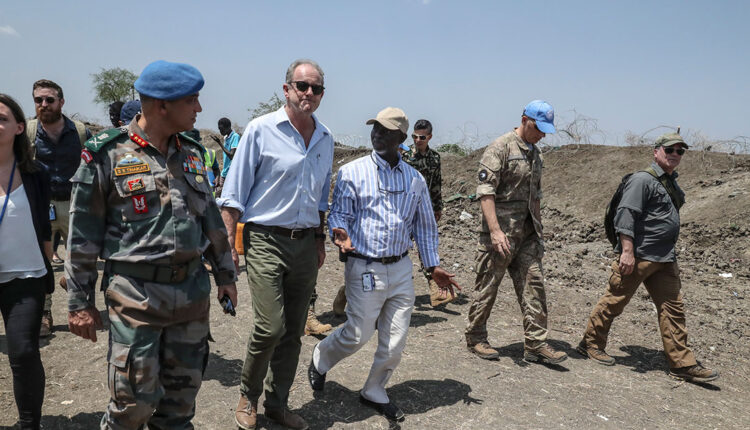 Reading Time:
7
minutes
The United Nations Mission in South Sudan (UNMISS) is a peacekeeping operation established at the time of South Sudan's independence in July 2011. In January 2017, David Shearer of New Zealand became head of the mission and served for more than four years until April 15, 2021. Shearer spent nearly 20 years working for the U.N., managing aid programs to Somalia, Rwanda, Liberia, Kosovo, Afghanistan, Lebanon and Iraq. ADF spoke with Shearer by phone in March 2021. The interview has been edited to fit this format.
ADF: You live and work in South Sudan. What's the mission like?
SHEARER: It's certainly very challenging. I arrived in the country during a period of severe conflict when the mission was working intensively to end the fighting and protect civilians caught between the warring sides. In the last four years, there has been slow but steady progress. A cease-fire has been in place for three years, a peace agreement was signed in 2018 and a transitional government formed last year. There has been a big reduction in political violence, but we remain concerned about subnational conflict. Overall, the peace process is progressing, but there's still much to be done.
ADF: What is the difference between having police there and having Soldiers there?
SHEARER: Due to fighting in 2013 and 2016, thousands of people sought shelter in UNMISS bases, and we gave them refuge. Opening our gates to civilians fleeing conflict was unprecedented in peacekeeping operations. But in doing so, the U.N. saved thousands of lives. We set up what are called "protection of civilian" (POC) sites next to our bases. At its peak, there were about 200,000 people in five camps. U.N. police provided security for those living within the sites while Soldiers protected the displaced families from potential external threats. The work that Soldiers do is much broader than this, though. Their main role is going out to remote areas to provide physical protection, deter violence and help bring stability. That's one of UNMISS' key roles as a peacekeeping operation.
ADF: What are the civilian workers doing there?
SHEARER: The work of our civilian staff falls into two main areas: operational and what we call substantive. On the substantive front, we have a political role, working with government officials, community leaders, the justice system and so forth. We bring parties together to reconcile and build peace, locally and nationally. We also have civilian staff in civil affairs, human rights, gender and much more. Basically, we do all we can to help South Sudan move forward in just about every area of its social and political life. Our civilian personnel also work on the operational side, to support movement logistics, housing and so forth. They make sure the mission continues to run smoothly.
ADF: Is there a target date for ending the mission?
SHEARER: The UNMISS mandate is set by the U.N. Security Council, so it decides how long we are needed. We are making changes, though, to make us more fit for purpose, given the evolving political and security situation in South Sudan. For example, as a result of redesignating some POC sites to regular camps for displaced people, we have been able to redeploy troops from static duties at those camps to conflict hot spots. Essentially, we've recalibrated to ensure that our limited resources have the biggest impact in places where violence has emerged or is likely to emerge. We are also putting resources into building the capacity of local institutions. For example, one of our goals is to help create a more professional police force in South Sudan and to make the justice system more efficient. What we're ultimately trying to do is to provide support, then withdraw ourselves a bit and enable the South Sudanese authorities to take over.
ADF: How many countries are participating in this mission?
SHEARER: More than 100 different nationalities contribute to UNMISS — both uniformed and civilian personnel. It's a large representation of the world.
ADF: How do these countries work together? Aren't there language barriers?
SHEARER: English is the lingua franca here because it's an English-speaking country, but of course nationals from various countries speak their own native languages among themselves. There are challenges when you have such a diverse group, but the strength of this diversity is that the world is, in effect, participating in South Sudan's transformation. That provides an enormous amount of gravitas to our work. UNMISS represents the interests of the international community.
ADF: Are there logistical challenges?
SHEARER: We operate right across the country. And that's no small feat in a country about the same size as France. We have 10 fixed bases and, currently, 10 temporary operating bases, which we set up in areas where there are threats of violence. In addition, our uniformed and civilian personnel are moving out to communities through integrated patrols all the time. Our Soldiers often spend weeks at a time in different remote locations to provide stability in hot spot areas. We do this to provide visibility and deal with any issues that emerge between or among communities.
Logistically, it's a difficult country because the infrastructure is so underdeveloped. South Sudan only has about 300 kilometers of paved roads. In the dry season, we can move around relatively easily because the dirt roads are dry. But when the rainy season comes, most of the country is closed off, and it's almost impossible to travel by road. So, we rely on river barges or air transport to get to remote places.
One area where UNMISS really contributes is road maintenance. Our military engineers from seven different countries are exploiting the dry season to build and improve 3,200 kilometers of roads. This helps South Sudanese communities move around for trade, work and to come together for peace building. I can't overstate the tangible impact of this work. It is an often-overlooked legacy of our peacekeeping operations. Improving roads boosts communication, increases trade and jobs and most critically it builds peace through linking communities.
ADF: What is your relationship with the people of South Sudan?
SHEARER: We have a very strong relationship. An independent research company has done perception surveys to ask people what they think of UNMISS and what kind of job we're doing. The results have been overwhelmingly positive. But having nearly 20,000 foreign nationals working in a country, you're going to rub up against some issues with the host government. For example, when we see human rights abuses, we'll call those out and make them public. That's our job as well.
ADF: What is your job like, day to day?
SHEARER: Much of my work is with the government and various other actors, meeting them and smoothing over any misunderstandings so UNMISS can have a productive and supportive role. Currently, for example, we're supporting the government in drafting the new constitution, among many other political activities. A lot of my work involves reaching out to various South Sudanese across the country to see if we can bring them together and move the peace process forward. I also talk with humanitarians and local civil society groups about their operations to see how we can support them. And I regularly report back to the U.N. Security Council. So, it's a lot of different roles, and each day is different for me.
ADF: The country seems to have been involved in a civil war almost since its inception.
SHEARER: Fighting erupted within the country in 2013 — just two years after it achieved independence. The major fighting continued until South Sudan put a peace agreement together in 2015. Unfortunately, that agreement collapsed a year later, and the country went back to war. Since 2017, there's been a cease-fire, a peace agreement and now a transitional government. It's been a rocky start for the world's newest country. A lot of people have lost their homes, and many have died in the fighting. But I think South Sudan is moving in the right direction now and is on track for a better future.
ADF: Tell me about your role versus the role of the force commander.
SHEARER: While UNMISS falls into the category of a peacekeeping operation, it's ultimately a political operation with peacekeeping enablers. It's a lot more than just military and police, and our work with our political interlocutors is expansive. In terms of leadership structure, we have a force commander who is my deputy on the military side. I also have civilian deputies on the political and the humanitarian sides. And we have a police commissioner who oversees the police component.
ADF: What's next for the mission?
SHEARER: What we're hoping is for UNMISS to provide more support to South Sudan's police and justice system. We want to see a more developed justice system so that people who commit crimes are arrested, brought to justice and, if found guilty, punished. We also want our forces to maintain their mobility so they can move freely to areas where they are most needed, so we can help deter conflict before it happens.
Most important, we're pushing ahead with the peace process, trying to help the country maintain momentum. Many citizens are wary about whether the political will may falter. They fear the positive progress may collapse. It is for those people that the international community must remain united and committed to pushing the peace process forward. We can't sit on the sidelines as spectators. If we look back four years to the height of the conflict, we can easily see what failure looks like and it's in no one's interests to return to that point.
---
More about UNMISS
The United Nations Mission in South Sudan came into being one day before South Sudan officially became the world's newest country. The U.N. commissioned the peacekeeping mission on July 8, 2011, by order of U.N. Security Council Resolution 1996.
In March 2021, the U.N. extended the mandate until March 2022 by adopting Resolution 2567, which also requires that "all parties to the conflict in that country and other armed actors immediately stop fighting and engage in political dialogue, in accordance with the peace agreement signed in 2018."
Nicholas Haysom of South Africa took over as head of mission in late April 2021. Haysom earned a degree in law from the Universities of Natal and Cape Town in South Africa.
Lt. Gen. Shailesh Tinaikar of India has been force commander, in charge of the mission's Soldiers, since May 2019.
The mission's mandate includes support for:
Peace consolidation, contributing to long-term state building and economic development.
South Sudan's government in exercising its responsibilities for conflict prevention, mitigation and resolution, and for protecting civilians.
South Sudan in developing its ability to provide security, to establish the rule of law, and to strengthen the security and justice sectors.
Creating conditions conducive to the delivery of humanitarian assistance.
Staffing as of November 2020:
Soldiers: 14,800
Police: 1,600
Civilians: 2,600
Mission experts: 230
Staff officers: 425
U.N. volunteers: 395
Of the uniformed personnel, 7% are female.
Of the civilian personal, 25% are female.
About 45 countries have contributed police officers to the mission since its inception, with about 15 of those countries in Africa.
About 60 countries have contributed Soldiers to the mission since its inception. About 15 of those countries are in Africa.
The mission has eight fixed-wing aircraft and 20 helicopters.
A typical budget distribution
47% Military and police personnel
28% Operational costs
25% Civilian personnel