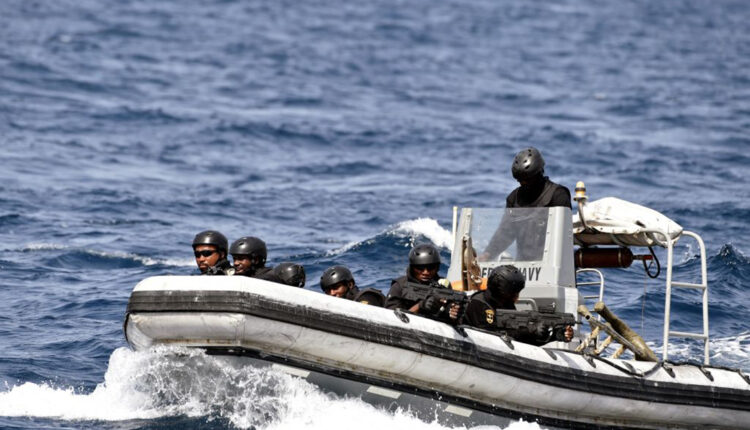 Reading Time:
3
minutes
ADF STAFF
With piracy increasing in the waters of West Africa, Nigeria recently launched its Deep Blue Project, a multipronged approach to confronting piracy in the Gulf of Guinea.
The $195 million project brings together a mix of ships, aircraft and drones to patrol the busy shipping lanes off Nigeria's coast. It will identify potential problem areas and respond quickly to piracy. It comes after the Suppression of Piracy and Other Maritime Offences Act passed by Nigerian legislators in 2019 that strengthened the state's ability to tackle piracy.
"This assemblage of new maritime security assets comes at a critical time when global discussions are centered on piracy and the new dimension it has taken in the Gulf of Guinea region," Nigerian President Muhammadu Buhari said at the June launch of Deep Blue in Lagos.
Among Deep Blue's anti-piracy arsenal are 600 specially trained troops, 16 armored vehicles, four drones and 17 fast interceptor boats, along with other ships and aircraft.
"This project has the potential to greatly contribute to seafarers being once again able to carry out their duties without fear for their safety," Katharina Stanzel, managing director of INTERTANKO, the international association of independent tanker owners, said in a statement.
Buhari praised the project as the latest step in collective security for the Gulf of Guinea.
At the same ceremony, Bashir Jamoh, director-general of the Nigerian Maritime Administration and Safety Agency, said the country will work with the London-based International Maritime Organization to "restore sanity to our waters."
Along with other Gulf countries, Nigeria is part of the Yaoundé Architecture for Maritime Security, a multinational coalition headquartered in Cameroon and tasked with coordinating the response to sea crime across the region.
Eight years after it was created, the Yaoundé system continues to find its footing. It struggles with a lack of staffing and trust among its members, Commander Yussif Benning of the Ghanaian Navy said at a June 29 webinar sponsored by the Institute for Security Studies.
"The coordination is at the surface level," Benning said. "It's not deep enough."
Benning sees Nigeria's Deep Blue Project as a way to deepen regional cooperation and coordination against piracy. As the project gets underway, Nigerian leaders have offered to work with other nations to share their technology and surveillance capacity, he said.
"It will contribute to Nigeria's ability to attack and suppress the threat," Benning told ADF.
Pirates have long used the Niger River delta's network of coastal rivers and forests as a base from which to attack Gulf shipping. As Nigeria has cracked down, pirates have spread their operations across the entire Gulf coast from Côte d'Ivoire to Gabon.
Since 2016, pirates have shifted from stealing cargo, such as oil, to kidnapping ships' crews for ransom. The Gulf of Guinea accounted for 130 of 135 maritime kidnappings in 2020.
The Deep Blue Project is likely to shift piracy from Nigeria's waters to those of its neighbors, pushing them to increase their own response, according to Pascaline Odoubourou, founder and editor-in-chief of Senegal-based Maritim Africa magazine.
"Other coastal states will have to implement similar projects in their own waters," Odoubourou told ADF.
Meanwhile, other nations, from the European Union and elsewhere, are patrolling the gulf to protect ships operating under their flags in accordance with the U.N. Convention on the Law of the Sea.
The arrangement is controversial but necessary until African nations can expand their ability to respond to pirate attacks, according to Jakob Larsen, head of maritime security for BIMCO, the world's largest international shipping association.
In the meantime, foreign patrols can free West African navies to police their territorial waters more aggressively, Larsen said.
Even as Nigeria and other nations boost their ability to act against Gulf of Guinea pirates, Odoubourou said nations must do more to attack the root causes of piracy — poverty and illegal fishing.
Otherwise, "we will be faced with a disease — that is maritime piracy — that is treated only in a shallow way," she said.