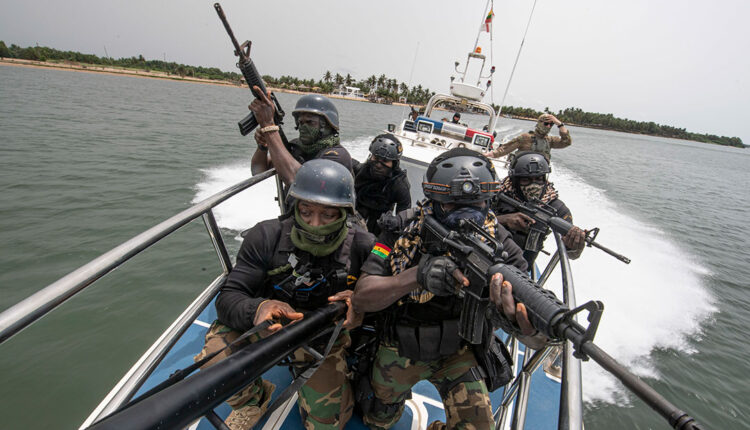 Reading Time:
3
minutes
ADF STAFF
A boat carrying Special Forces Sailors from Ghana sped across the Gulf of Guinea. When it pulled alongside a massive crane ship, the Sailors climbed a ladder and searched the vessel with their guns drawn.
The drill performed alongside Sailors from Poland, Denmark and the Netherlands marked the beginning of Obangame Express 2021 (OE21), the largest international maritime military exercise in West Africa.
OE21, a 13-day exercise in the Gulf of Guinea and the Atlantic Ocean, is sponsored by U.S. Africa Command (AFRICOM), conducted by U.S. Naval Forces Europe-Africa and hosted by the Ghanaian Navy. Last year's exercise was canceled due to COVID-19 restrictions and replaced with a virtual symposium.
The exercise aims to enhance regional cooperation, maritime domain awareness, information-sharing practices and tactical expertise in countering illegal, unreported and unregulated (IUU) fishing, piracy, terrorism, drug and weapons smuggling, and human trafficking.
Training exercises include boarding techniques, search and rescue operations, medical casualty response, radio communication and information management techniques.
"Obangame Express allows us to develop skills, with our regional partners that will have a lasting impact on regional security in the Gulf of Guinea and the Atlantic Ocean," said Rear Adm. Michael Baze, director of maritime headquarters, U.S. Naval Forces Africa. "Our past exercises led to tangible, real-world success stories, and OE21 is a chance to build upon those successes."
The opening ceremony in Accra, Ghana, involved 31 nations including 20 from the African continent. Besides the U.S., the exercise included nations such as Canada, France, Germany, Italy and Spain.
Speaking at the opening ceremony, Vice Adm. Seth Amoama, chief of Defence Staff of the Ghana Armed Forces, noted that there have been 18 maritime incidents including attacks on commercial vessels reported in the Gulf of Guinea since January.
"The maritime security challenges in the Gulf of Guinea need to be considered as a whole because they are interrelated," Amoama said. "Illegal, unreported and unregulated fishing, drug trafficking, smuggling of merchandise and weapons, human trafficking and the menace of piracy and armed robbery at sea adversely affect all countries in the Gulf of Guinea and so the need for an integrated approach to fight these crimes."
Such challenges threaten not only the economies of countries in the region, but also global trade and economic security, Amoama added.
"Historically, whenever a group of nations have faced a common threat, the tendency is that they have unified their efforts," he said.
Countries on the Gulf of Guinea, from Senegal to Angola along more than 6,000 kilometers of coastline, have an estimated 24 billion barrels of crude oil reserves — 5% of the global total. The region is invaluable to international trade, essential to regional economies and viewed as critical to the prosperity of inland nations.
But the abundant natural resources and inconsistent maritime security make the region susceptible to crime.
About 40 tons of cocaine pass through West Africa annually, according to the Organization for Economic Co-operation and Development. And although piracy has declined globally, it is rising in the Gulf of Guinea, where attacks increased 40% between January and October 2020.
For about 20 years, IUU fishing has been a growing challenge in the region, where roughly 7 million people depend on fishing for income and up to 50 million are at risk of food insecurity and malnutrition.
Foreign industrial trawlers have driven fish populations in many areas to the brink of collapse, and African workers aboard trawlers have reported inhumane treatment.
There is a trend for criminal groups to use IUU fishing as a cover for drug and weapons smuggling, according to Ecotrust Canada, a nonprofit organization with a focus on fisheries management.
Now in its 10th year, Obangame Express is one of three regional exercises organized by U.S. Naval Forces Europe-Africa.
The exercise supports the Yaounde Code of Conduct, signed by 25 West and Central African countries in 2013. The code provides the structure for joint operations, intelligence sharing and synchronized legal frameworks.
Togolese Navy Lt. Tchamdga Balakiyem said the exercise reinforces a spirit of collaboration among participating nations.
"We need to train before going to sea because the security situation is not the best," Lt. Balakiyem said. "To face the piracy and armed robbery, there needs to be multiple cooperation between countries."