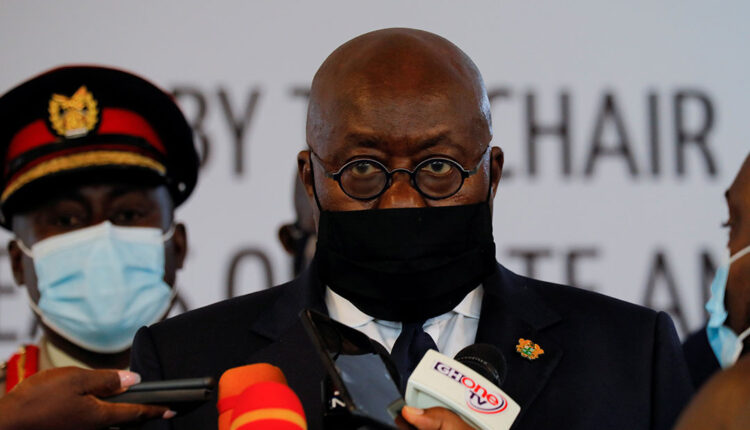 Reading Time:
3
minutes
ADF STAFF
One year after COVID-19 caused a global pandemic that has infected 115 million people and killed more than 2.5 million, a report shows that one African nation has been a model for how to respond and communicate to its citizens.
Ghana was named one of two nations out of 27 studied that displayed the amount of empathy and clarity in communications necessary during a health emergency, according to Darren Lilleker, professor of political communication at Bournemouth University, in an article for The Conversation.
The other nation lauded for its approach is South Korea.
"The transparency of this approach was echoed in the communication style of the Ghanaian president, Nana Addo Dankwa Akufo-Addo," Lilleker wrote. "Akufo-Addo took responsibility for coronavirus policy and explained carefully each measure required, being honest about the challenges the nation faced. Simple demonstrations of empathy earned him acclaim within his nation and also around the world."
The study of 27 nations was published in March in the book Political Communication and COVID-19: Governance and Rhetoric in Times of Crisis. In the book, experts analyzed their respective nations' responses, communication style and civil society actions. Those metrics were matched to the number of cases and deaths in each country. The resulting work found that responses were strongly linked to "existing patterns of leadership," Lilleker wrote.
In short, nations that took the virus seriously, communicated clearly and often, and acted with transparency about actions and challenges had the best results, especially in the early months of the pandemic.
Ghana and its president won early praise for a comprehensive list of proactive measures taken just as the deadly virus established a foothold on the continent.
By March 27, 2020, President Akufo-Addo was addressing the nation on television for the fourth time, carefully laying out the latest government restrictions and personally imploring his citizens to join in adhering to them. He had addressed the nation 13 times by late July 2020, according to the Brookings Institution.
Restrictions imposed at the time largely affected the greater Accra and Kumasi metropolitan areas and required a strict two-week lockdown with limited exceptions.
"This, certainly, is not the time for politicking or the display of partisanship," the president said in his address. "The virus does not care which party you belong to, neither is it, as we have seen, a respecter of persons. The enemy is the virus, and not each other."
The country of more than 32 million people started a contact tracing program as soon as the first two COVID-19 cases were detected on March 12, 2020. Over the next four months, the government issued no fewer than 21 directives aimed at public health, socioeconomic and health system response measures, according to a Brookings Institution timeline.
Public health measures included travel restrictions and curbs on social gatherings. Socioeconomic action included establishment of the COVID-19 National Trust Fund, tax incentives and pension relief. Among health system actions were expansions to virus testing in April 2020, which included the use of drones to transport samples. Ghana was the first country to use the technology for transporting samples over long distances.
Ghana's approach, while not perfect, did attract positive attention beyond its borders. Rather than institute nationwide lockdowns, the government took a "3-T's" approach — tracing, testing and treatment — that gained global attention, according to an article by academics Hagan Sibiri, David Prah and Sanusi Mumuni Zankawah on the National Center for Biotechnology Information (NCBI) website.
The November 4, 2020, NCBI article summarized Ghana's COVID-19 approach with five points:
Limit and halt the arrival of new cases from entering the country.
Initiate measures to halt community spread of the virus.
Quickly isolate and treat those infected to stanch the spread in communities.
Expand domestic capabilities, especially as it regards production of personal protective equipment, by using financial credit and stimulus measures.
Limit COVID-19's effects on social and economic well-being by subsidizing utility bills, extending the tax-filing deadline and reducing bank interest rates.
These measures led to early successes and garnered the attention of global observers. The World Health Organization even studied Ghana's "pool testing" of COVID-19 samples. That technique allows samples from several people to be combined and tested at once, which streamlines the process.
Ghana's decision to favor vigorous contact tracing and surveillance over blanket lockdowns kept its case-fatality rate low through late July 2020 when it was 0.5%, according to the NCBI. At the time, the rate was ranked 1lth in the world and third best in Africa behind Namibia and Rwanda, each at 0.3%.
As of March 23, Ghana had reported 89,893 COVID-19 cases and 734 deaths. It had conducted 975,812 tests, according to the Africa Centres for Disease Control and Prevention.
Through it all, Akufo-Addo has maintained an empathetic tone when addressing his fellow countrymen. As he announced economic and social restrictions in March 2020, he proclaimed, "I assure you that we know what to do to bring back our economy back to life. What we do not know how to do is to bring people back to life."