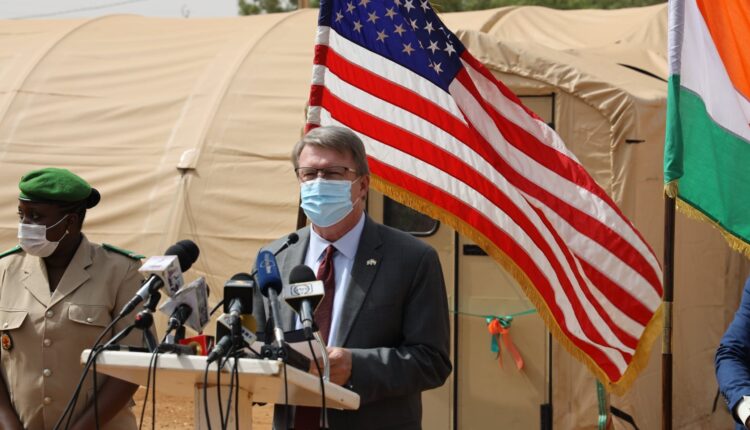 Reading Time:
2
minutes
ADF STAFF
The United States has donated a $1.6 million field hospital to enhance Niger's response to COVID-19.
The 40-bed facility is equipped with negative pressure rooms that ensure patients can receive medical care, including surgeries, without contaminated air flowing out. It was delivered to Camp Garba Hassane in Niamey, where U.S. trainers taught Nigerien teams how to install, maintain, dismantle and move the facility.
Niger later will deploy the field hospital in Ouallam, about 90 kilometers north of Niamey.
"This immense effort is a testament to our enduring relationship, built on 61 years of working together to achieve common goals of peace, security, stability and prosperity," U.S. Ambassador to Niger Eric Whitaker said during a handover ceremony. "This means that together, as always, the United States is here to partner with the government of Niger to help ensure the health and safety of Nigerien citizens."
A second wave of infections hit the country in November 2020, although cases were declining by mid-February 2021. The surge coincided with large numbers of asymptomatic travelers entering Niger who tested positive for COVID-19, according to acting Nigerien Health Minister Botto Ahmet.
"To curb the spread of infections, we strengthened tracing of contacts of travelers who tested positive," Ahmet said on the World Health Organization's (WHO) website. "We also provided a response package comprising treatment, investigation, contact tracing, infection prevention and control, as well as counseling for patients in one site. This helped with acceptance of treatment."
Health officials also increased screening of at-risk groups, such as migrants and people in refugee camps, and isolated COVID-19 patients to prevent them from spreading the virus. To mitigate the surge, multidisciplinary teams deployed to regions where large groups were entering the country and health officials improved testing.
COVID-19 misinformation has meant that some in Niger have refused to follow best practices to avoid the virus.
"Thus, the first measure to ensure cases remain low is to raise awareness of the prevention measures," Ahmet said on the WHO website. "The measures already in place must be maintained and even reinforced."
Shortly after the field hospital was delivered, Niger received its first COVID-19 vaccines through COVAX, the global plan to distribute vaccines equitably. The country's inoculation campaign was scheduled to kick off by the end of March.
"Increased communication has made it possible to face several challenges related to the management of the pandemic," Ahmet told the WHO. Lessons learned over the past year "need to be capitalized [on] and strengthened to ensure the success of the vaccination campaign," he said.