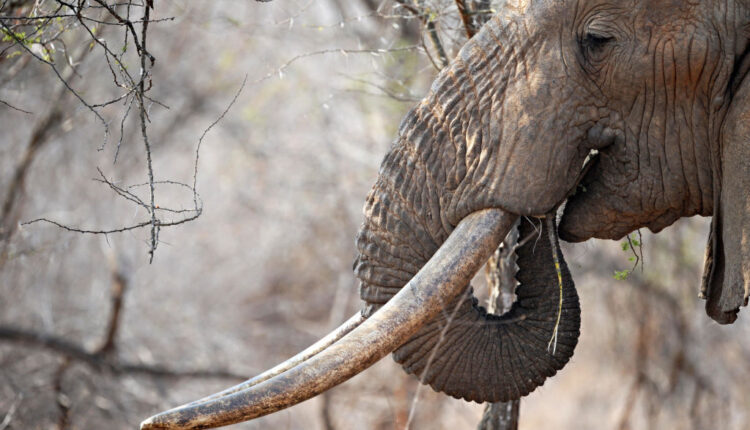 Reading Time:
3
minutes
ADF STAFF
COVID-19 lockdowns led to a sharp drop in illegal wildlife trafficking, according to a new study.
The study by the Center for Advanced Defense Studies (C4ADS), done at the request of National Geographic magazine, found that international law enforcement agencies intercepted far less elephant ivory, rhino horn and pangolin scales in 2020 compared to past years.
Whether measured by weight or the number of seizures, trafficking between African countries and Asian countries — primarily China — dropped from nearly 1,000 seizures in 2019 to nearly half that in 2020.
The study showed that authorities confiscated 18 metric tons of pangolin scales in 2020, about a fifth of what they confiscated in 2019. By weight, rhino horn seizures dropped 90%. Ivory dropped 72%.
That may be good news in the short term, but it has some anti-trafficking groups worried that a surge may be on the horizon as the pandemic wanes. Others think a post-pandemic boom in trafficking might not materialize as traffickers work through stockpiles left behind by lockdowns.
In Malawi, where authorities broke up the Lin-Zhang poaching gang in 2019, Director of Parks and Wildlife Brighton Kumchedwa sees the potential for trafficking to rise as lockdowns loosen.
"As more and more countries open up, that could give rise to wildlife crime," Kumchedwa told ADF.
Malawi has built connections with its neighbors, including Zambia, designed to thwart poaching and illegal wildlife trafficking in parks along their borders.
Kumchedwa said high-profile enforcement actions such as the Lin-Zhang arrests and sentencings also might discourage local people from working with international poaching gangs.
Elephant ivory trafficking was down in 2019 and 2020 after major seizures in 2019, according to Chris Thouless, director of the Elephant Crisis Fund at Kenya-based Save the Elephants.
"It is not clear whether this was because there was still significant demand but stockpiles could fulfill it and so there was no great pressure to kill elephants," Thouless told ADF, "or whether it was because there was little demand but Asian traders wanted to stockpile in what they perceived as safer locations in Asia."
Thouless noted that although seizures were down in 2020, international shipping — a key way smugglers move poached items — remained largely unchanged for the year.
"It is by no means certain that there will be a major increase in trafficking in 2021," Thouless said. "I imagine that most people are taking a wait-and-see approach."
Traffickers frequently mix contraband with legitimate goods before loading them onto freighters. In Nigeria, for example, customs officials opened a shipping container in early 2020 expecting to find furniture supplies. Inside, behind a load of wood, they discovered more than 160 sacks of pangolin scales. Nearly 60 other sacks held ivory, lion bones used in traditional Chinese medicine and other wildlife parts.
"It's a snapshot of what's to come," Steve Carmody, chief of investigations at the Wildlife Justice Commission, told National Geographic.
The Nigeria bust happened before pandemic-related lockdowns reduced air travel and ship traffic. By the end of 2020, the C4ADS study showed, seizures of maritime shipments of ivory, rhino horn and pangolin scales had fallen by half compared to previous years — from nearly 4% of all seizures to less than 2% of seizures.
That decline may reflect less trafficking, but it could also mean law enforcement is less capable of interdicting illegal shipments as governments shift scarce resources toward fighting COVID-19, according to the C4ADS study.
The study suggests pandemic-related lockdowns have pushed the illegal wildlife trade away from conventional transportation routes and toward online commerce where items can be shipped in smaller volumes through the mail.
According to Gretchen Peters, founder of the Alliance to Counter Crime Online, the illegal wildlife trade has remained robust online.
"None of my members report anybody talking about difficulties getting supply," Peters told National Geographic.