CAPT. NOLUKHANYO NDLELENI, LESOTHO DEFENCE FORCE
Women are a crucial part of the Lesotho Defence Force (LDF). They make up about 16% of uniformed personnel, and they populate the ranks from junior levels to brigadier. But the women do not work only in military "support services." They also are deployed in combat arms, and a majority work in infantry battalions. In addition to their many LDF duties, they show selfless service beyond the military by improving the lives of those in the community, especially children.
The country of 30,000 square kilometers and about 2 million inhabitants has few global security concerns, but the LDF deals with plenty of domestic security issues. Its chief duty is to protect the territorial integrity and sovereignty of the nation, while also upholding the Constitution. Day-to-day duties of the LDF include patrolling the border with South Africa. Soldiers keep an eye out at certain hot spots to prevent illegal cattle crossings and livestock thefts, and firearms and cannabis smuggling. The force also provides security at public facilities such as dams.
The LDF has secondary roles of assisting other government ministries. During natural disasters such as heavy snowstorms, the LDF works with the nation's Disaster Management Authority to help vulnerable citizens. Also, those over age 70 are entitled to a monthly Old Age Pension, which is disbursed at about 300 payment points across the country. The LDF delivers the money to the payment points by air and provides security.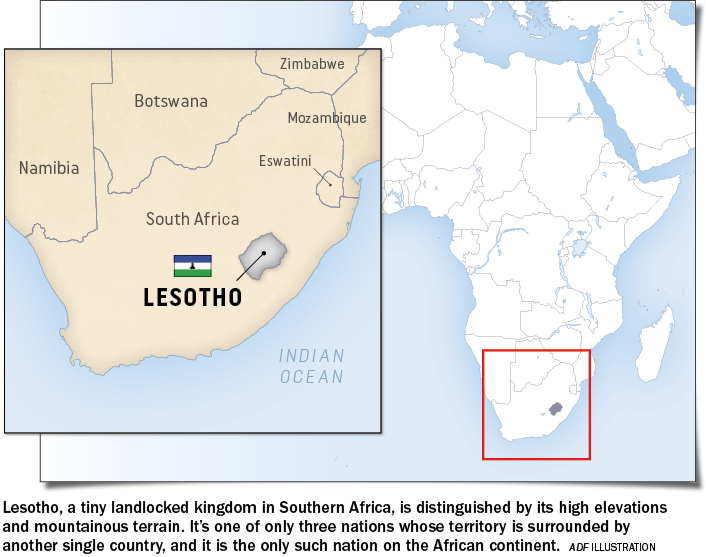 In recent months, LDF personnel have participated in COVID-19 efforts by screening Basotho nationals returning from South Africa and other parts of the world, most of whom use unofficial border crossings. Soldiers also provide security at quarantine facilities.
Lesotho's gross national income per capita is estimated at U.S. $3,319, which is relatively high for a developing country. But the distribution of wealth is highly unequal. One of the main repercussions of this inequality is the high prevalence of poverty in the country. About 57% of the population lives below the national poverty line.
Because of those demographic realities, Lesotho needs people who can think outside the box, people who are willing to serve rather than just be served. The women of the LDF have decided to harness their fighting spirit to work beyond the borders of their regular duties.
INSPIRED TO ACTION
A tragic incident served as the inspiration for those women to take on a new duty: that of helping the nation's most vulnerable people — its orphaned children.
It was 2010 when a female private in the LDF, who was a mother to one young son, was murdered by her male companion. After her death, her son had no other family members to take care of him, but he soon was adopted. As the female Soldiers contemplated the tragedy of this event, they came up with ways to support families that were raising orphans. They set up a system to prevent a recurrence of the event by giving female Soldiers a way to seek counseling when abused. The female Soldiers looked beyond the one case in 2010 to find similar cases and brought social workers on board to help women who served.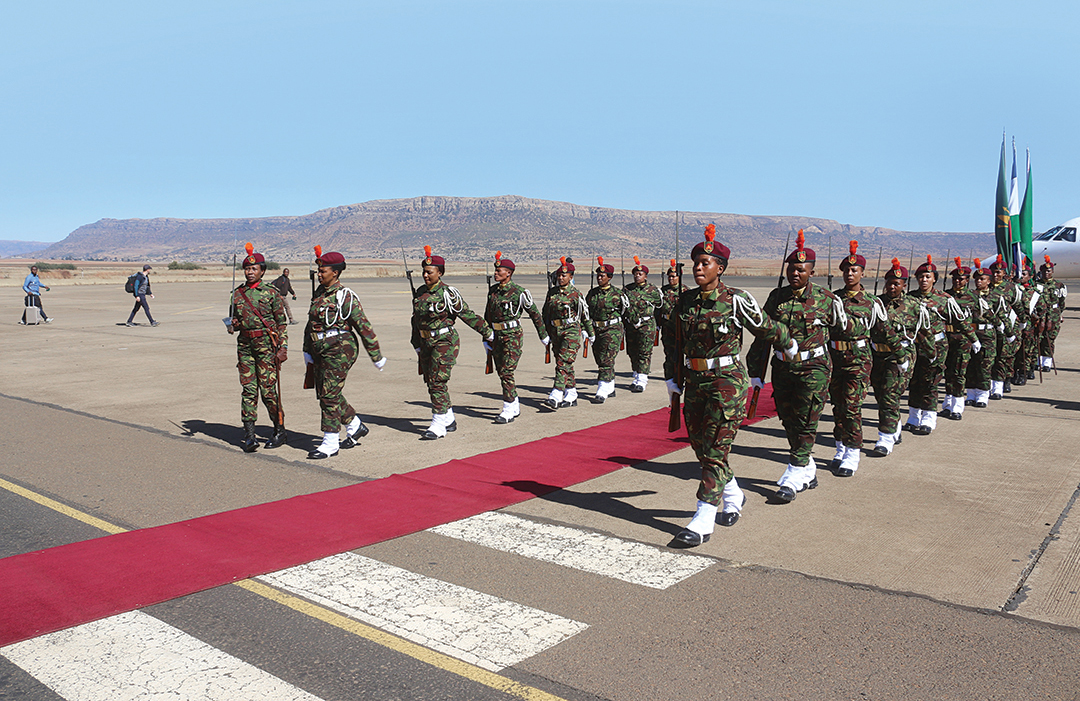 All the women, except for those who are undergoing recruitment training, participate in caring for orphans and underprivileged children in the country. They do so by raising money and donating it to the children, as well as by donating personal commodities such as sanitary pads, clothing, school supplies and other items.
Through these monthly contributions, the female Soldiers and officers are determined to address community social issues such as poverty, illiteracy and the high incidence of children orphaned by HIV/AIDS, to mention but a few. One of the ways the women raise money to support children is through activities known as Mokhibo, a traditional female group dance performed in a kneeling position during celebrations. The women perform this dance and charge admission to raise money. They also accept clothing and other donations at the events.
The women perform another Basotho traditional dance called litolobonya, a form of song and dance exclusively for girls and married women. The girls' version of litolobonya can be performed in the open and watched by anyone. The version for women, however, is highly secretive and is performed only by those who have given live birth and only in front of other women in a presentation known as pitiki.
The women of the LDF accept donations of cash and commodities. Orphans receive necessities each year such as school supplies, clothing, food and other donations. Orphans of military personnel can access health services through Makoanyane Military Hospital. So far, all the aid has come from the salaries of female LDF Soldiers and dance performance admission fees. No outside funding has been used yet.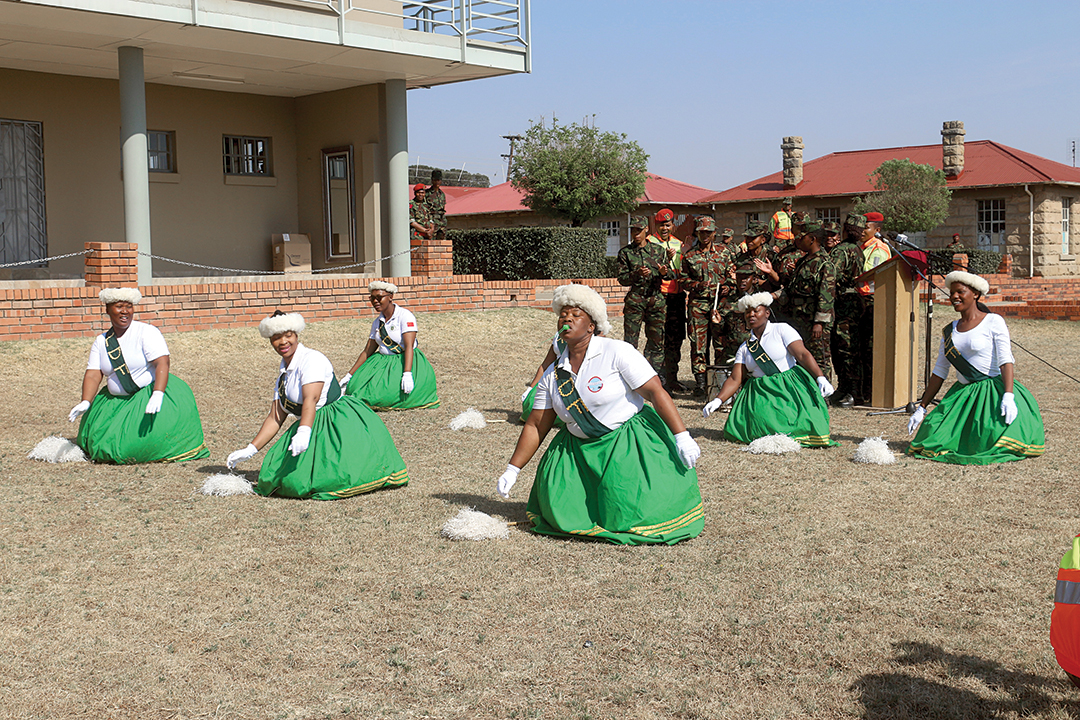 How long will these efforts continue if it's something that is done out of kindness and not within the parameters of normal duty? These women have shown selfless service, discipline, commitment and dedication toward positivity. They also have set up a way to ensure that their efforts are properly managed. Their initiative has a solid structure and a 14-member committee to oversee its efforts composed of female LDF Soldiers and one civilian from the accounts section. There is a chairwoman, her deputy, a secretary, two treasurers, a public relations officer and eight members who represent various LDF units.
The women have had unwavering support from the LDF's higher command. The nature of their humanitarian work requires them to step away from regular duties from time to time, and commanders have supported them by allowing that flexibility. In 2019, the commander of the Lesotho Defence Force, Lt. Gen. Mojalefa Letsoela, handed out gifts on behalf of the women during the celebration of African Women's Month, demonstrating his support for the female Soldiers' efforts.
These women have shown not just love, but sacrificial love, for their country and its most vulnerable people. A true Soldier puts the safety of others first. The efforts of these Soldiers go unnoticed most of the time. The fact that they have dedicated their lives to the betterment of others is inspiring. They should be applauded for going the extra mile by sacrificing their finances and time to address these important social issues.
Although it started small, this effort has grown into something of which the women of the LDF — and all of Lesotho — can be proud.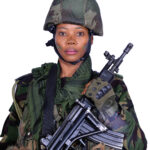 About the author: Capt. Nolukhanyo Ndleleni has been a member of the Lesotho Defence Force since 2003. She took her cadet training in 2009-2010 at the Officers Training Academy in India, where she received a best international student award and many other awards. She holds a master's degree in business administration from Wits Business School in Johannesburg, South Africa, and is a doctoral student at the same school, with a focus on military social investment. She is married and has two children.