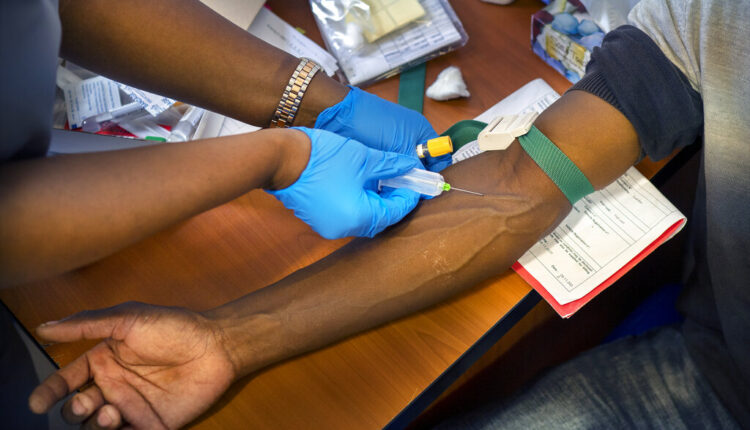 Reading Time:
2
minutes
ADF STAFF
The African Union secured an additional 400 million COVID-19 vaccine doses as the continent grappled with surging infection rates and new strains of the virus.
Combined with doses previously procured by the AU and those the continent will receive through the World Health Organization's (WHO) COVAX distribution plan, Africa has secured 1.27 billion doses. It will need 1.5 billion doses to immunize 60% of its population, the threshold for herd immunity, the BBC reported.
COVAX is scheduled to send almost 90 million doses of the AstraZeneca vaccine to Africa in February in what will be the continent's largest-ever vaccination campaign. That's enough to immunize 3% of the continent's population in the first half of 2021, beginning with those most in need of inoculation, including health workers.
"Africa has watched other regions start COVID-19 vaccination campaigns from the sidelines for too long," Matshidiso Moeti, WHO's regional director for Africa, said on the organization's website. "This planned rollout is a critical first step to ensuring the continent gets equitable access to vaccines. We know no one will be safe until everyone is safe."
The lead investigator in South Africa for a trial of another vaccine developed by Johnson & Johnson said that a government regulator was processing an application for it too to be used for emergency use, Reuters reported. The vaccine, which requires only one shot, was shown to be effective in a clinical study of 44,000 South Africans.
About 320,000 doses of the Pfizer vaccine, which has met the standards for emergency use, have been allocated to Cabo Verde, Rwanda, South Africa and Tunisia, which have the capacity to store and distribute doses at minus 70 degrees Celsius, according to the United Nations.
Officials said the vaccine procurement announcement gives African governments time to plan their distribution and mass vaccination efforts.
"Regulatory processes, cold chain systems and distribution plans need to be in place to ensure vaccines are safely expedited from ports of entry to delivery," Moeti said on the U.N.'s website. "We can't afford to waste a single dose."
The AU announced in January that it had secured 270 million vaccine doses that are available for all member states to order. The African Export-Import Bank will provide advance guarantees of up to $2 billion to manufacturers AstraZeneca, Johnson & Johnson and Pfizer, according to the Africa Centres for Disease Control and Prevention.
African nations are expected to pay between $3 and $10 per vaccine dose, Reuters reported. Countries can pay back the loans in installments over five to seven years.