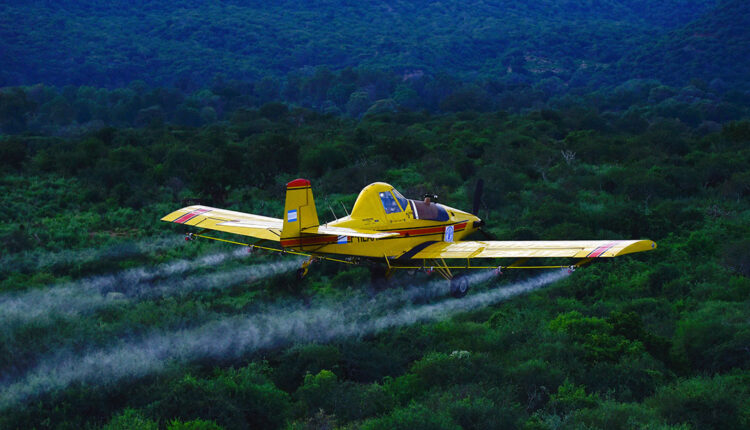 New Locust Swarms Threaten East, Southern Africa
Reading Time:
2
minutes
ADF STAFF
A locust invasion has laid siege to East Africa since December 2019, and it could get worse.
Hundreds of billions of the insects destroyed crops across the region in early 2020, multiplying by a factor of 20 per generation, according to the United Nations Food and Agriculture Organization (FAO). A second generation in March and April numbered in the trillions.
Now ideal conditions have cultivated another wave that threatens crops and livelihoods across the eastern and southern parts of the continent.
"Early and ongoing rains have led to a new cycle of breeding, and fresh swarms are forming in Ethiopia and Somalia," said FAO Senior Locust Forecasting Officer Keith Cressman in late October on the organization's website. "Immature hopper bands have also been identified in Eritrea, and the Sudan is likely to form new swarms.
"The winds over the northern portion of the Horn of Africa are now starting to blow southwards again raising concerns they could again reach Kenya later in the year."
Long stretches of dry weather followed by rain and wind create a perfect breeding ground for locusts. Swarms can reach colossal sizes, with tens of billions of the insects covering kilometers of vegetation and feasting on everything in sight.
Cyclone Gati brought flooding to northern Somalia in November, fueling further locust infestations. Hatching is underway and is expected to continue until mid-January. New immature swarms could start to form in early February.
The FAO in mid-December reported outbreaks in Angola, Botswana, Namibia, Zambia and Zimbabwe. Officials in South Africa also announced December outbreaks in the central and western provinces. Algeria, Mauritania and Niger even treated small swarms during December.
"The threat to the Sahel and West Africa has been averted, which is great news for a region wrestling with other threats to food security," Cressman said.
Tens of millions of people in the affected areas already deal with severe food insecurity and poverty. The FAO's pesticide spraying campaign covered more than 1.3 million hectares and spared an estimated 2.7 million tons of grain, enough to feed 18 million people a year.
The FAO is coordinating with the Southern Africa Development Community and the International Red Locust Control Organization for Central and Southern Africa to help governments fight the locusts.
"In those areas of East Africa where the threat persists, countries are today in a far stronger position to manage and contain the infestations than they were just 10 months ago," Cressman said. "National capacities have been significantly strengthened. All the pesticides that are needed to carry out controls has been sourced and deployed across the region.
"Countries now have fleets of aircraft and ground vehicles for surveillance and control in place and operating. FAO is now helping them scale up fleets again ahead of the winter rainy season."
Technology also is helping to better pinpoint response efforts, as satellite data, drones and several mobile apps are used to track swarms.
"We have achieved a lot, but the battle against this relentless pest is not yet over," said FAO Director-General Qu Dongyu. "We must not waiver. Locusts keep growing, and risks are exacerbating food insecurity for vulnerable families across affected region."