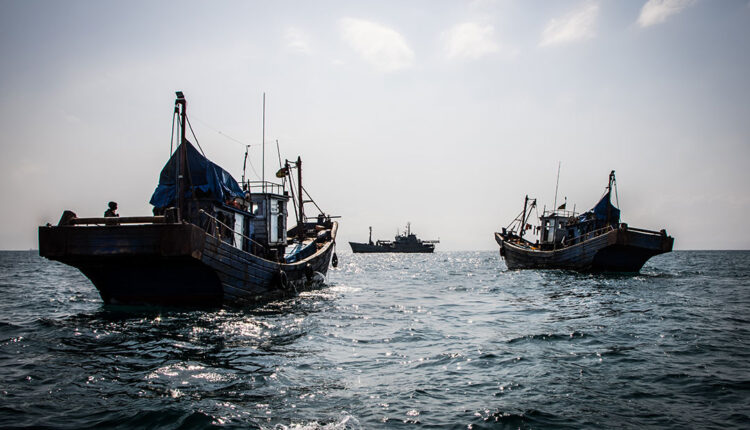 Environmental Groups Lead Charge Against Illegal Fishing
Reading Time:
2
minutes
ADF STAFF
Nongovernmental and volunteer organizations such as Sea Shepherd Global and Greenpeace are playing critical roles in the battle against illegal, unreported and unregulated (IUU) fishing in Africa and around the globe.
China, which operates the world's largest distant-water fishing fleet, is the most notorious IUU fishing offender, supporting fishing vessels that steal food and income from nations that have insufficient maritime security forces.
In West Africa, Chinese trawlers have decimated fish stocks to the brink of collapse, but more countries are contracting with Sea Shepherd, a direct-action group that operates a fleet of vessels that help local authorities track and arrest illegal trawlers.
On December 12, Sea Shepherd helped Beninese authorities arrest two Chinese trawlers with their nets still in the water. The trawlers were not licensed to fish in Benin and were surveilled on Sea Shepherd's radar for several nights as they moved closer to the Benin-Togo border.
"The element of surprise was critical to the success of the mission," Navy Capt. Maxime Ahoyo, the maritime commissioner of Benin, said on Sea Shepherd's website. "By watching the two vessels for several days, we got to understand their modus operandi and knew that it was just a question of time before they'd try their luck and poach in our waters. That's when we sprung our trap."
Sea Shepherd also partners with the governments of Gabon, Liberia, Namibia, São Tomé and Príncipe, Tanzania and The Gambia. Since 2016, Sea Shepherd has helped arrest 62 vessels for fishing crimes in African waters, most of them Chinese. Because Sea Shepherd operates on donations, the partnerships cost African nations nothing.
"We provide the civilian offshore patrol vessel, the operating crew and the fuel," Peter Hammarstedt, Sea Shepherd's director of operations, told ADF in an email. "The government provides the law enforcement agents who serve on board the vessel, and the patrols are under the direction of the government."
Partnerships generally begin after a country contacts Sea Shepherd. The parties agree on a memorandum of understanding involving a country's Ministry of Defense or Ministry of Fisheries, sometimes both.
Also operating on donations, Greenpeace has for years shined a light on illegal tactics employed by China's distant-water fishing fleet around West Africa and beyond through in-depth investigative reports and awareness campaigns.
As the COVID-19 pandemic raged in October, Greenpeace issued a report detailing the ways foreign trawlers continued to plunder West African waters during lockdowns that reduced maritime security efforts.
The group has consistently surveilled illegal trawlers in African waters and in 2015 identified China National Fisheries Corp. as an IUU fishing culprit off the coasts of Guinea, Guinea-Bissau and Senegal.
Chinese trawlers "were taking advantage of weak enforcement and supervision from local and Chinese authorities to the detriment of local fishermen and the environment," Rashid Kang, head of Greenpeace East Asia's China ocean campaign, said in a report by SeafoodSource.
A report released last year by the Center for International Maritime Security argued that the most effective way for governments to defend their fisheries and strengthen capacity is to enlist the help of volunteers and NGOs.
The money governments can save through such partnerships is critical. Economists say IUU fishing cost West African countries more than 300,000 artisanal fishing jobs and roughly $2.3 billion in revenue between 2010 and 2016, according to Liberia's Daily Observer newspaper.