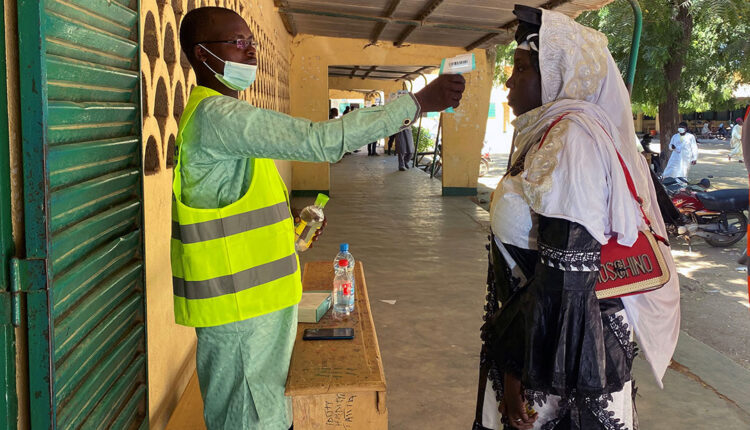 Donated Equipment Helps Health, Outreach Efforts in Cameroon
Reading Time:
2
minutes
ADF STAFF
Cameroon received a U.S. donation of equipment to help fight COVID-19 as the country experienced a sharp increase in infections in late December.
The equipment included 200 infection prevention kits with personal protective equipment and hand sanitizer to help keep health care workers safe.
Other donated equipment will help track, test and educate people about multiple diseases, including malaria. Those items included 300 tablet computers to support data collection, reporting and analysis at community and health facilities; 200 bicycles so health workers can reach communities; and 18 microscopes to enhance laboratory testing.
The items were delivered amid reports that increasing numbers of schoolchildren were being infected during COVID-19's second wave.
"Close to ten months in the fight against the pandemic, we have already hit the 25,000 mark of positive cases and encouraging results with a recovery rate of 95%," Dr. Georges Alain Etoundi Mballa, director of disease control at the Ministry of Public Health, said in a Journal du Cameroun report. "However, new breeding grounds of contaminations have been identified in schools in the Littoral and West Regions."
Etoundi Mballa criticized people for not practicing social distancing or wearing face masks in public areas.
"The increase of the number of cases in the past weeks is proof that COVID-19 is far from over," he said. "This deplorable situation is explained by the fact that there are more and more social interactions as the end-of-year feasts approach."
Public health officials say many people still need to be educated about the virus. In September, a Deutsche Welle (DW) television report showed countless people on the packed streets of Yaoundé without face masks. Six months after the first COVID-19 case was reported in Cameroon, many residents refused to believe the virus was real.
"There's talk of coronavirus cases in Cameroon, but we don't really see proof of these cases," Ngamani Marcel, a trader, told DW. "In Europe, when you hear of the pandemic, you hear of hundreds of people dead from the virus. In Cameroon, we don't see that."
Another trader was seen waving away a medic offering him a free COVID-19 test, while other health workers walked through the city in protective clothing and face masks to inform residents about the virus.
"One of the main challenges is we have to test the maximum amount of people as possible because people are hesitant to get tested," health worker Irene Dgeadeau told DW. "They say we are part of a secret cult and bringing the disease to them. Making people aware of this pandemic is a great challenge."