Preparing for Tomorrow's Security
The African Land Forces Summit Challenges Military Leaders to Look Ahead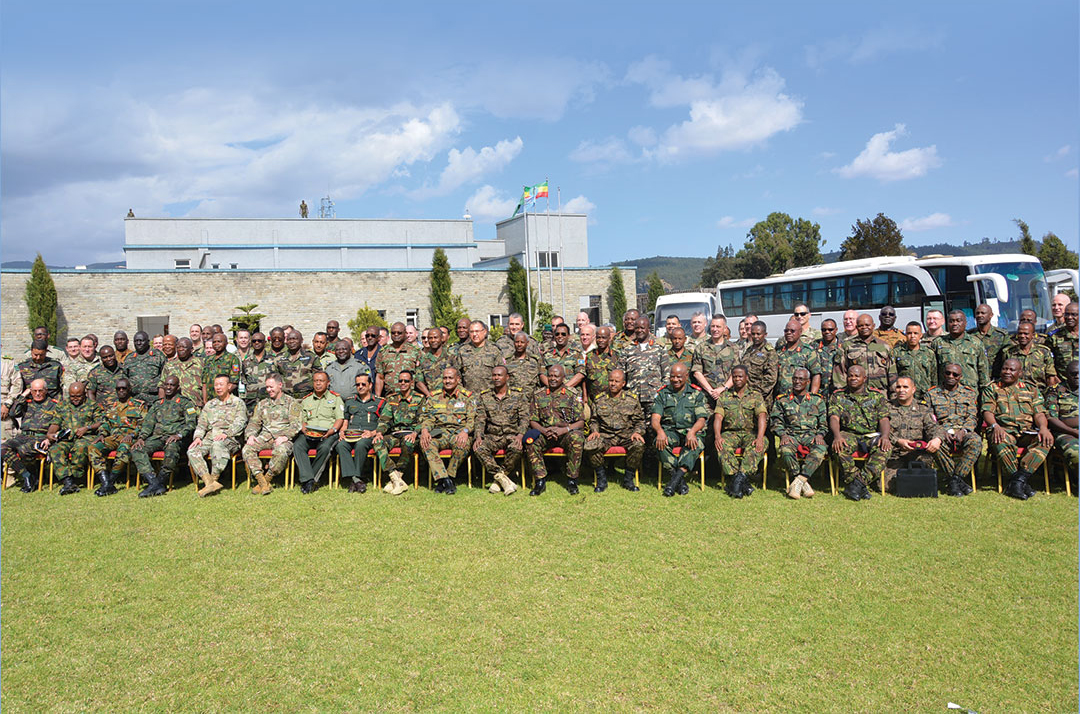 ADF STAFF
Twenty years ago, few had heard of cyber warfare. Religious extremism was not considered a threat to most countries. And piracy was thought to have been eradicated a century earlier. 
Things can change quickly. 
As land forces chiefs from across Africa gathered in Addis Ababa, Ethiopia, in February 2020, they were looking to the future. The four-day African Land Forces Summit (ALFS) sponsored by U.S. Army Africa (USARAF) and co-hosted by the Ethiopian National Defence Force (ENDF) was an opportunity to look over the horizon and begin to prepare for the threats that will be most prevalent years from now. 
"It is always easier to anticipate than to fix," Gen. Birame Diop, Senegal's chief of defense staff, told the assembled leaders. 
Anticipation was on the agenda. The theme of ALFS 2020 was "Tomorrow's security demands leadership today." Topics included preparing for natural disasters, case studies in multinational peacekeeping missions and modernizing military education to meet 21st century demands. Each day included breakout sessions in private rooms moderated by subject matter experts. There, defense leaders had the opportunity to speak freely and build relationships with their counterparts from across the continent.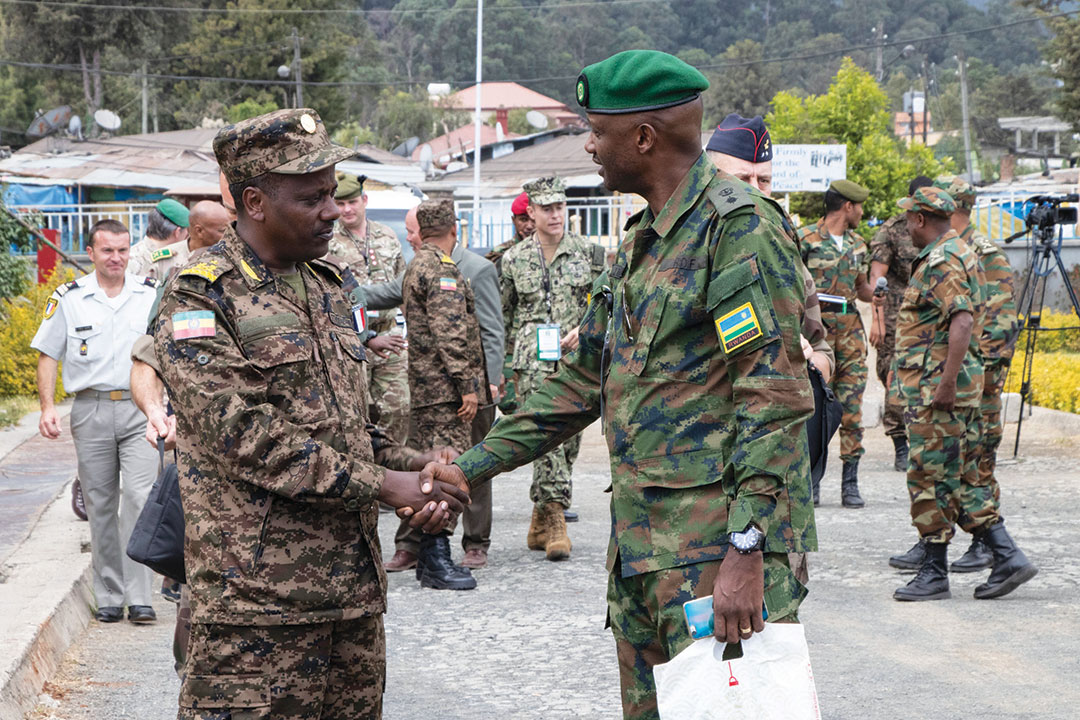 "It creates a conducive environment for African security chiefs to meet each other," said Lt. Gen. Molla Hailemariam, the ENDF ground force commander and co-host of the event. "It gives us the chance to build and continue relationships."
The 8th ALFS set attendance records with 42 African land forces chiefs attending, eight allies and global partners from Europe and other parts of the world, and 12 U.S. state partners.  
Molla said he has confidence that the alliances built during the event will endure. "It has been a good chance for us to see how we can complement what other countries are doing," he said. "We are interacting at a one-to-one level but also regionally. It is very crucial."
One highlight of the week was the Command Senior Enlisted Leader forum, which took place concurrently. USARAF Command Sgt. Maj. Charles W. Gregory Jr. said building an empowered noncommissioned officer (NCO) corps in Africa will be vital to improving training and the use of technology in national militaries. He told the audience that "every commander has a sergeant," and an empowered sergeant can help the commander identify the "blind spots" in the force structure to prepare for future challenges.
"If you are always prepared for what you hope and pray will never happen, when that bad day comes you will be ready," Gregory said.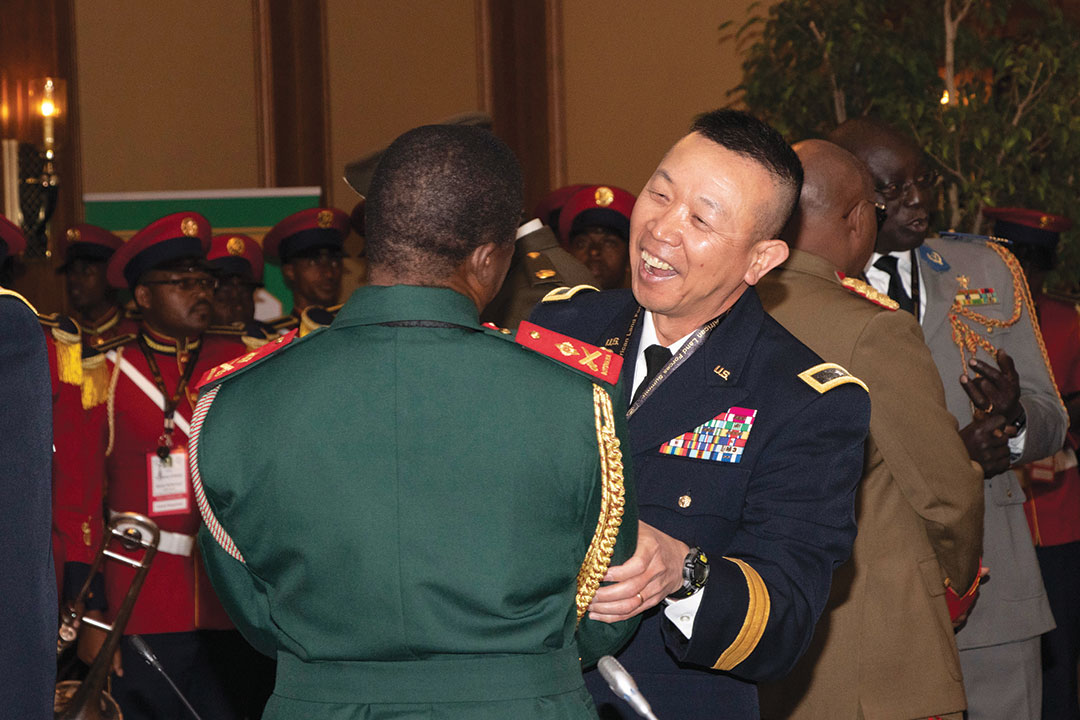 The U.S. has invested in helping African militaries train the next generation of NCOs through its Africa Enlisted Development Strategy, which works to standardize NCO training in countries including Kenya, Morocco, Mozambique and Senegal. Gen. Stephen Townsend, commander of U.S. Africa Command, calls a professional NCO corps "the backbone" of an effective armed force.
The event included the first female NCO participant, Jr. Warrant Officer Menbere Akele Kibret of Ethiopia. She told the audience that women are making progress in the Ethiopian military, particularly in the cyber domain, but she would like to see more. 
"In the Ethiopian Air Force we have a lot of women technicians, engineers and so many experts. But it's not enough; it's too small in number," she said. "So how to enhance it and include more women participation and empower them in every aspect of the military? Especially in professional or leadership roles."
In closing remarks, Townsend highlighted the importance of the timing of the event. He pointed to the impending transfer of security responsibilities in Somalia from the African Union Mission in Somalia to the Somali National Army in 2021. He discussed the intractable civil war in Libya. And he referenced the terror threat plaguing the Sahel. The leaders who will address these and other security threats, Townsend said, "are sitting right here in this room."
"We are at a collective decision point with respect to Africa's future security," he said. "The future we all wish to see, a more secure, stable and prosperous Africa, centers on African leadership and African militaries providing regional security." 
---
Views from the Summit
During ALFS 2020, commanders spoke to ADF to share their thoughts on the most pressing security issues in their home countries and outlined the lessons they took away from the conference. Below are the views of four security leaders from across the continent.  
Stories and Photos by ADF STAFF
An Army on the Rise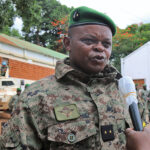 The Central African Republic (CAR) is rebuilding its Armed Forces from the ground up. After a national crisis in 2013 and 2014, many units of the Central African Armed Forces were dissolved, and the country began a national campaign to recruit, train and professionalize the Armed Forces. 
As recently as 2018, the majority of the country was still lawless, controlled by rebels and other nonstate actors. A National Defence Plan signed by the CAR president outlines steps to build a 9,900-person garrison army stationed across four zones by 2022. About half the Soldiers will be stationed outside the capital, Bangui, including many in areas controlled by rebels. 
Brig. Gen. Alfred Service, head of CAR's Special Group for Protecting the Republic, said there is much work to be done, but he is optimistic. "We have a lot of challenges to overcome: development, a challenging security situation in much of the country, armed groups who occupy mineral zones and don't respect the law, bandits who must be brought to justice."
Service said he used his time at ALFS to share experiences with fellow officers about the specifics of working alongside a multinational mission. CAR is home to a 13,000-person United Nations mission. 
"We spoke about the multidimensional aspect of these things: political affairs, civil affairs, protection of civilians. There is also the decision-making process in multinational missions," Service said. "A certain number of things to know in order to move together in one direction."
As he spoke in early 2020, Service eyed CAR's national elections set for December as a benchmark for the country. "The reconstruction of the country needs democracy," he said. "We had the elections of 2015 under the U.N. And now we must continue with elections because to have legitimate authorities, we must avoid the change of power by the use of force. It's the elections that must be valued for the people to give a mandate to leaders."
The path has been winding, but Service said he is hopeful for the future of the country. "There are challenges that remain, but we are going in the right direction because we are in it together." 
---
Hard-Won Peacekeeping Experience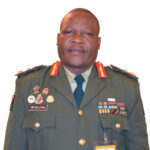 Brig. Gen. Gilbert Mulenga, chief of operations for the Zambia Army, has seen the highs and lows of peacekeeping. He served in missions in Angola, the Democratic Republic of the Congo and Sierra Leone and commanded the Zambian battalion (ZAMBATT) in the Central African Republic (CAR). 
He recalls the despair he felt in 2000 when more than 200 Zambian peacekeepers were held hostage in Sierra Leone. But he also shared in the triumph in 2018 when the United Nations ranked the Zambians as the highest-performing contingent in the CAR mission.  
He said his country brings its rich history to peacekeeping training. "Our training is scenario-based; whatever is happening in the CAR, we give this scenario to the troops and we see how they react," he said. "Those of us who have been on the ground, you guide them. Wherever you see there is a gap, you bridge it through the guidance, which is coming from experience."
The latest deployment of troops, known as ZAMBATT 5, is the fifth Zambian contingent to serve in the CAR. Mulenga said that when training began five years ago, it was 100% run by U.S. trainers and some other foreign forces. Now it is Zambian-led with U.S. trainers serving mostly as observers. 
"Now we are providing the bulk of instructors; most of them have experience from these missions, particularly in CAR, so they also share experiences with the Soldiers," Mulenga said. 
The mission in CAR is not a quiet one. Mulenga said his men have faced rebels firing 107 mm mortar rockets mounted on land cruisers. Preparing for that reality required a change in training. 
"The new rookies who are going to the mission, you have to prepare them psychologically, mentally and physically," he said. "It's not actually an environment where there is a peace to keep, but a peace to enforce."
During his time at ALFS, Mulenga spoke with fellow commanders about the need to adapt to asymmetric warfare, the need to have situational awareness when entering the operational environment and, above all, the importance of understanding the mission mandate. "If you don't understand the mandate, you could be operating outside of it," he said. "The U.N. mandate must be protected at all costs."  
---
Health on the Front Lines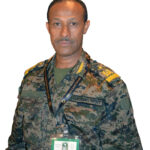 Pandemic preparedness was top of mind during the early months of 2020 as COVID-19 spread across the globe. For Brig. Gen. Tensay Yilma Mequantie, the acting commandant of health for the Ethiopian National Defence Force (ENDF), this is an ongoing concern.  
"The Army is very exposed compared to other sectors," he said. "They are on the front lines, they are moving here and there. They have communication with a lot of society. They are directly exposed to pandemics." 
Before the first COVID-19 case was reported in Ethiopia, the ENDF established a committee to develop a prevention plan and coordinated with the Ministry of Health. The ENDF also relied on the knowledge brought back from the 26 Ethiopian Soldiers who deployed to Liberia during the 2014 Ebola outbreak to provide medical aid. 
"As an Army we are working with a common knowledge, knowing the source of the disease, transmission of the disease, and how we are controlling it," Tensay said. "This knowledge should be transferred to the Army by teaching, by demonstrations." 
The ENDF, like many security forces in Africa, is vulnerable to diseases such as HIV/AIDS, malaria and cholera. Tensay said the ENDF has registered particular success against the spread of malaria. He pointed to a disease early warning system and "steady surveillance groups" in the military that monitor for outbreaks and offer Soldiers training on best practices. 
"Malaria is endemic in our country," he told ADF. "In the past a lot of people died because of malaria, but not today. We have a lot of protection equipment, including jelly used for protection, insect nets, properly treating our uniforms [to repel mosquitoes]."
Tensay said ALFS is an opportunity for Ethiopian military medical personnel to build on partnerships forged during Justified Accord in 2019, a U.S. Army Africa exercise in Ethiopia. During that exercise, doctors from the U.S. Army's 212th Combat Support Hospital, 30th Medical Brigade, trained with the staff of the Armed Forces Hospital in Addis Ababa. Tensay said the partnership between the two countries has strengthened since that time and now includes training on combat casualty care. 
"This is a chance to come together, so in the future during any war time or hard time we have a common knowledge," Tensay said. "We have prepared together."  
---
Preparing for the Worst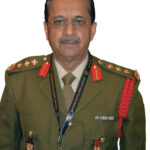 For Mauritius, security begins with disaster preparedness. The small island nation in the Indian Ocean is exposed to cyclones, tsunamis and flooding. 
But if the country has geographic disadvantages, Khemraj Servansing, Mauritius' deputy commissioner of police, believes its preparedness gives it an advantage. "We are exposed to natural disasters. This is nature, and you can't change it," he said. "Our government has invested massively in disaster risk-reduction issues."
Servansing heads Mauritius' Disaster Risk Reduction and Management Centre, which was created in 2015. 
When a threat like a cyclone is detected, the country activates a multiagency National Emergency Operations Center. The country's National Crisis Committee coordinates with local emergency management centers in each of the country's 12 municipalities. The process must be seamless. In the event of a tsunami they will have less than six hours to move citizens to safety.
"The focus now is not only on response," Servansing said. "We don't wait for the disaster to happen. We have to be proactive."
Mauritius also has created a flood risk map and invests 2% of its gross domestic product annually in resilience measures. The preparation has been expensive and is time-consuming, but Servansing believes it is worth it. 
Four years ago the country's response infrastructure made it the world's 13th most vulnerable nation to disasters, according to the World Risk Report. By 2019, that number had dropped to 47th. 
"You reduce the risk, because if you get a major event, the economic losses that the country will incur will be much, much more than what you are going to invest in disaster risk reduction," Servansing said. 
At ALFS, Servansing was most interested in hearing from countries and experts with experience in mass-scale natural disasters. All countries, he said, must have a plan to coordinate the aid they will receive, to oversee the actions of nongovernmental organizations and allow relief goods to clear customs to enter the country. 
"To organize the reception for getting all these organizations into your country, it's not a simple task. It's very complicated," he said. "It's the host country that has to take ownership. You have to direct the operation, not them. So we have to have a plan."